Uberchord 2 — Introducing Songs & World's first Strumming Trainer for Guitar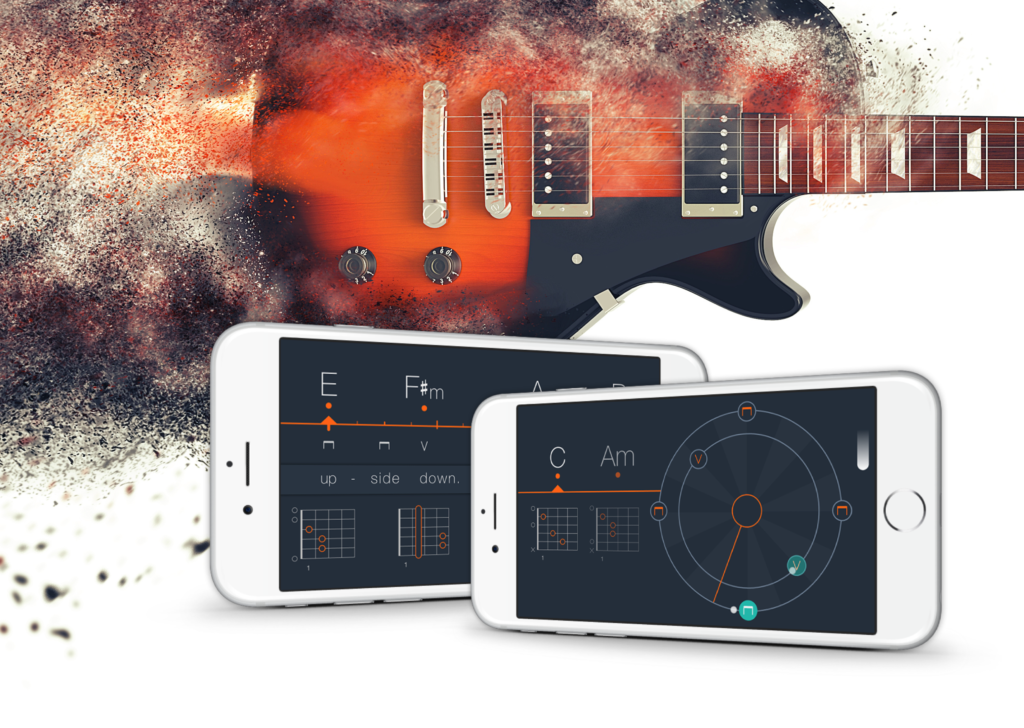 2016 has been a great year for us. Uberchord was selected by the Abbey Road Studios for their first accelerator program which opened a lot of new opportunities for us including a deal with Universal Music Publishing.
After a lot of blood, sweat and tears, Uberchord 2.0 has finally arrived!
This is our biggest release ever and we've added even more exciting features for you to learn better & faster. Here is what is new for you guys:
All New Learning Paths
Beginner, Intermediate & Advanced levels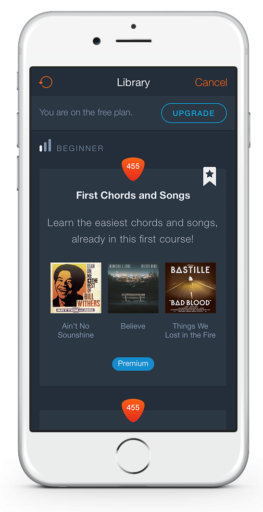 Whether you are a beginner or an intermediate or an advanced guitar player, we have your back. We have all new learning paths with new content suitable to your needs and level. Explore new songs, exercises, chords progressions, full songs courses along with strumming and rhythm trainer.
Starting from simple two finger chords to playing your first song, to learning the complex rhythm and strumming patterns, we have carefully handpicked songs and topics to kickstart your guitar career. As you progress further on this journey, the difficulty level of exercises and songs will keeps increasing, challenging you a notch higher each time.
---
Introducing Songs
With our new licensing partnership Universal Music we can finally offer you all the famous songs you always wanted to learn. Our learning paths already include about a dozen of the finest songs ever created, with handcrafted exercises to prepare your skills.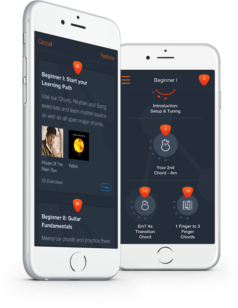 ---
Everybody wants to start learning their favourite songs as soon as they can. But are you learning them correctly? The internet is great for finding out how to play millions of songs, except there's little guarantee you're being shown the right chords and lyrics—unless you learn them here at Uberchord.
Selected songs from the Universal Music's catalogue will be added on regular basis in the app for you. To begin with, Coldplay's Yellow, Metallica's Nothing Else Matters and Bob Dylan's House Of the Rising Sun, are available for free in the Beginner's Course 1. You can learn to play the complete song in the perfect way along with lyrics, and rhythm trainer.
The Strumming Trainer: World Premiere
Get your your right hand to work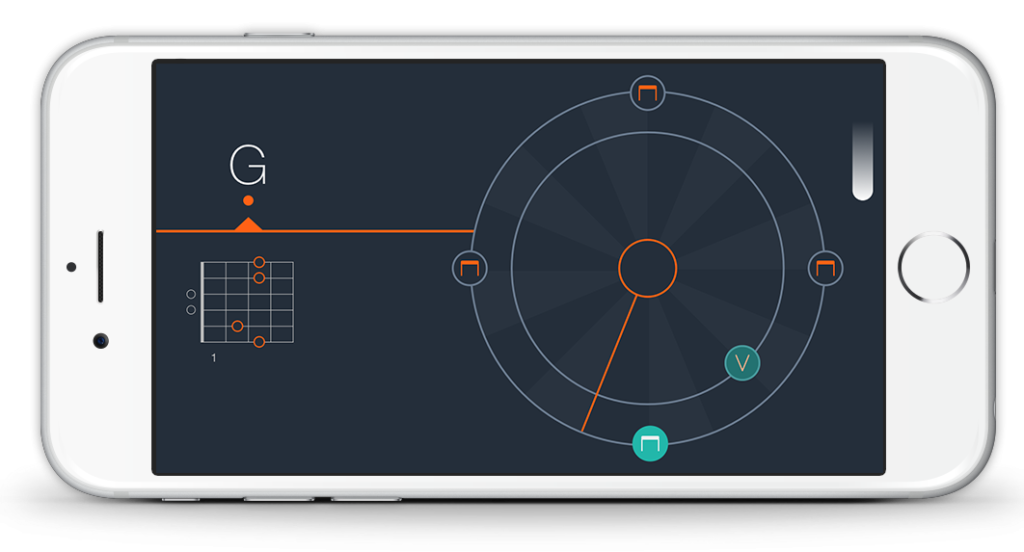 It's one thing to get your chord fingering perfect, but your strumming hand is just as important to get those cool rhythms happening and play some tunes properly. A lot of guitar tutorials don't pay enough attention to strumming, but here at Uberchord we believe great technique with both your hands is essential and focusing on just strumming is a good practice method. So we've developed the world's first interactive Strumming Trainer for guitar to get those rhythm and grooves working for you.
New Premium Content Every Week
While the first Beginner's Course is absolutely free for you to try, for just $ 4.99 per month you can subscribe to our exclusive and premium content and select songs based on artists and difficulty level.
We'll be adding new songs and new learning content every week so that you never feel stuck or bored from learning to play guitar. Keep a look out on our online music platform, newsletter, blog, or any of our social media channels: Facebook, Twitter, LinkedIn, or GooglePlus to get the latest updates and news about us.
Uberchord is personal
Daily Workout and Statistics
To build a great chord repertoire requires a lot of repetition and practice. Uberchord's Daily Workout feature turns a chore into a pleasure. It creates great individual chord exercises for you.
Your personal profile gives you detailed statistics on your overall learning progress, allows you to set reminders and goals, and schedule your practice.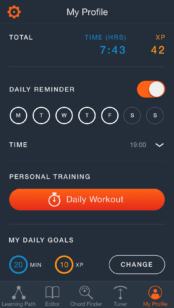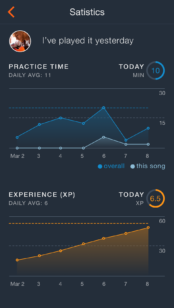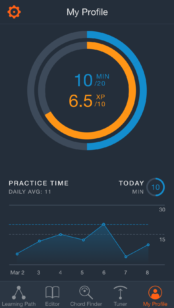 Daily Workout: Uberchord will introduce you to new chords and patterns that you might otherwise avoid for longer than you should. Just ten minutes a day in the Daily Workout Uberchord gymnasium can make all the difference. And the heaviest thing you'll have to pick up is your guitar.
Coming Soon: Uberchord Music
A new music platform for guitar players
Very soon you will be able to browse your favourite songs and artists from our growing catalog along with lyrics and strumming patterns on our brand new online music platform: Uberchord Music.
All of our content will be available as interactive exercises in the Uberchord app — your mobile guitar teacher is just a click away.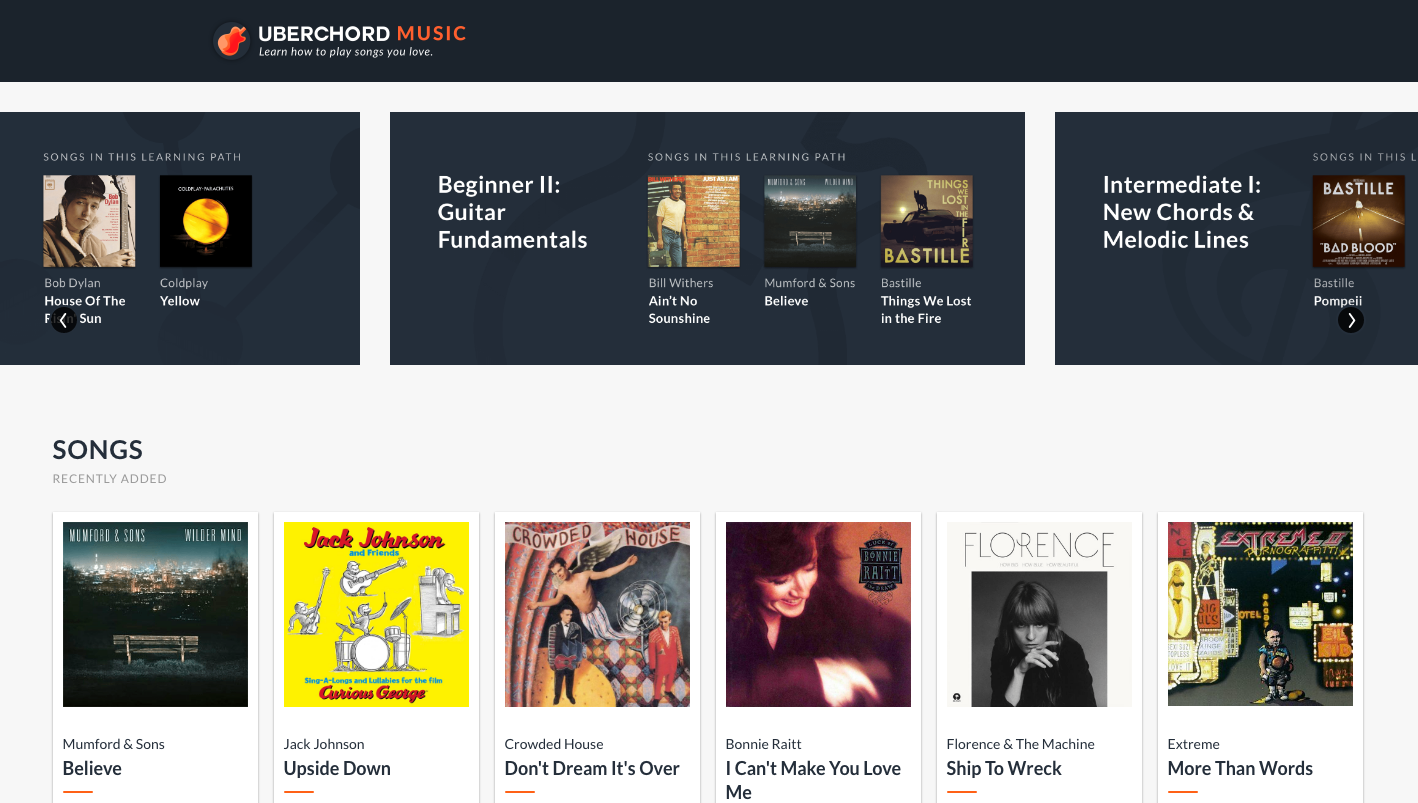 Our fantastic deal with Universal Music Publishing allows us to offer an ever-growing selection of popular songs with accurate chords, lyrics and rhythm trainer. More and more songs will added every week and we're aiming to provide a huge library of songs from which you can choose.
We really hope you enjoy and use our latest additions. Let us know what you think. We're always open to feedback and suggestions.