Russians by Sting | Lyrics and Guitar Chords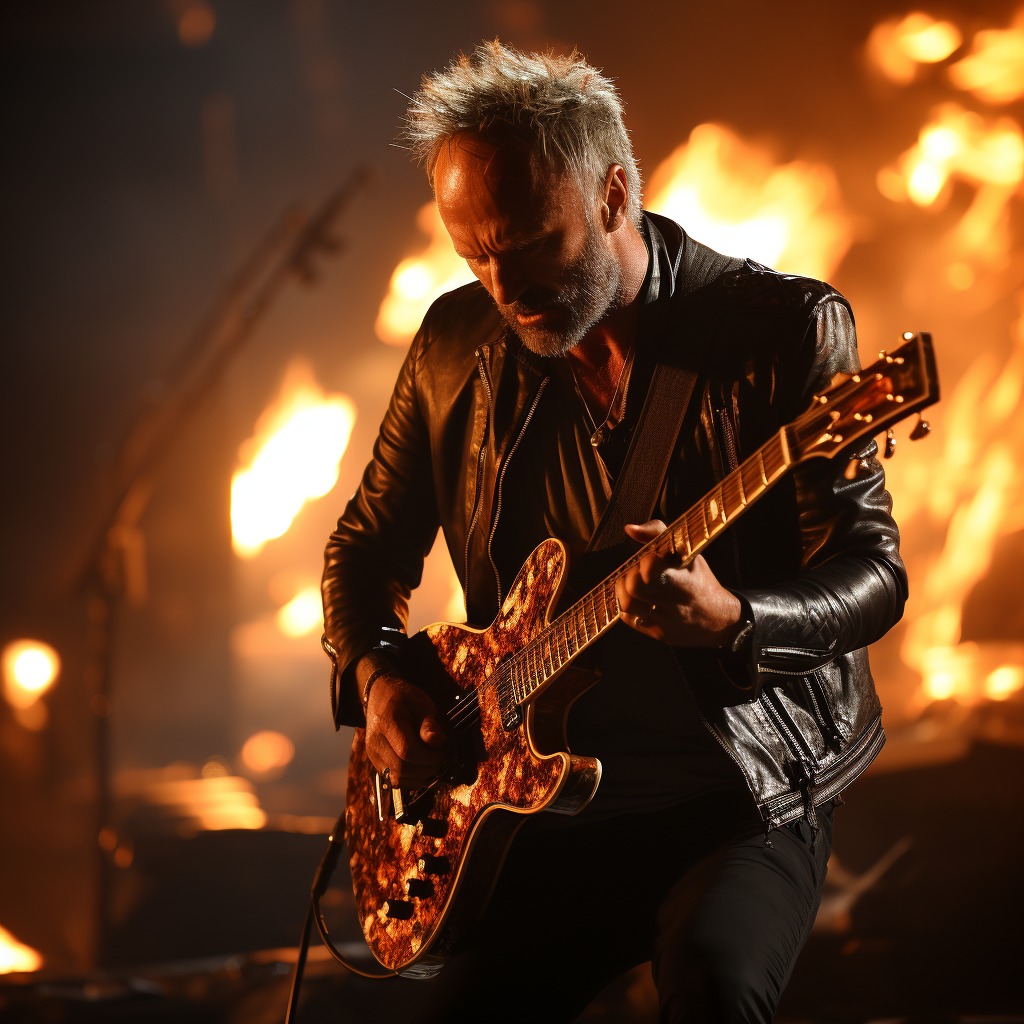 Russians comes from Sting's first solo album The Dream Of The Blue Turtles. The song was a critique of relations between the then Soviet Union and the United States and their policy of Mutual Assured Destruction. Sting says the song also came from watching Soviet TV with a friend who knew how to take their satellite signal. 
In the realm of songwriting, Sting's "Russians" stands as a testament to the power of music in addressing global concerns. Aspiring guitarists might be intrigued by the unique incorporation of Sergei Prokofiev's "Lieutenant Kijé Suite", offering a beautifully haunting melody that sets the mood for the entire piece. While practicing, it's crucial to understand the historical context — set against the backdrop of the Cold War, every chord and lyric in "Russians" resonates with the era's anxieties. However, it's not just about geopolitical tensions. At its core, the song's message, encapsulated in lines like "I hope the Russians love their children too," emphasizes universal human emotions and the desire for peace. As you delve into the chords and melodies, remember the timeless message it carries — one that transcends borders, cultures, and generations. It's a perfect example of how a guitar, coupled with profound lyrics, can drive home a message of global importance.
You can learn the chords you need to play Russians by Sting with the Uberchord app. This app features a guitar chord trainer and a strumming trainer. It listens to your guitar chords and gives you visual feedback in real-time in case you make a mistake.
Key of the Song:
The original key of Russians by Sting is in C minor.
Guitar Chords for Russians by Sting
Many of these chords are slash chords, which will have more challenging shapes many won't be familiar with. Thankfully many of these chords can be played in or close to open position. Just give special attention to the bass notes as that is what will make the chords sound out the best.
Video Lesson
Russians by Sting – Lyrics with Chords
[Verse 1]


   

Cm

     

Cm7/Bb

 

Ab

  

Bb




In Europe and   America


          

Fm

      

Gm

         

Ab

    

Bb




there's a growing feeling of hysteria.


   

Cm

              

Cm7/Bb

 

Ab

      

Bb




Conditioned to respond to all the threats


           

G/B

    

Cm

              

Gsus4

 

G




in the rhetorical speeches of the So-vi-ets.


 


[Chorus]


    

Eb

        

Eb

           

G/B

  

G/B




Mr. Krushchev said we will bury you,


  

Cm

         

Cm

           

G

        

G




I don't subscribe to this point of view.


            

Cm

      

Cm7/Bb

   

Ab

       

Bb




It would be such an ignorant thing to do


       

Fm

                  

Bb

       

Cm

         

Cm




if the Russians love their children too.


 


[Verse 2]


    

Cm

    

Cm7/Bb

  

Ab

     

Bb




How can I save my little boy


     

Fm

   

Gm

       

Ab

     

Bb




from Oppenheimer's deadly toy?


      

Cm

      

Cm7/Bb

    

Ab

     

Bb




There is no monopoly of common sense


   

G/B

    

Cm

          

Gsus4

         

G




on either side of the political fence.


 


[Chorus]


   

Eb

        

Eb

   

G/B

  

G/B




We share the same biology,


  

Cm

          

Cm

 

G

  

G




regardless of ideology.


  

Cm

       

Cm7/Bb

 

Ab

     

Bb




Believe me when I say to you,


  

Fm

       

Gm

       

Ab

         

Bb

      (

Cm

)


I hope the Russians love their children too.


 
 


[Interlude]


 |

Cm

      |

Ab

      |

Cm/Eb

   |

Cm/F

    |

Cm

      |

Ab

      |

Cm/Eb

   |

Cm/F




e|--------|--------|--------|--------|--------|--------|--------|--------|


B|--------|8-------|6-------|--------|--------|--------|--------|--------|


G|5-------|--------|----8---|7---5---|3---5-7-|8---7---|5-------|--------|


D|--------|--------|--------|--------|--------|--------|--------|5-------|


A|--------|--------|--------|--------|--------|--------|--------|--------|


E|--------|--------|--------|--------|--------|--------|--------|--------|


 
 |

Cm

      |

Ab

      |

Cm/Eb

   |

Cm/F

    |

Cm

      |

Ab

      |

Cm/Eb

   |

Cm/F




e|--------|--------|--------|--------|--------|--------|--------|--------|


B|--------|--------|--------|----6---|8---9---|8---6---|8-------|--------|


G|--------|7-------|5---7---|8-------|--------|--------|--------|--------|


D|5-------|--------|--------|--------|--------|--------|--------|--------|


A|--------|--------|--------|--------|--------|--------|--------|--------|


E|--------|--------|--------|--------|--------|--------|--------|--------|


 
 |

Cm

      |

Ab

      |

Cm/Eb

   |

Cm/F

    |

Cm

      |

Ab

      |

Cm/Eb

   |

Cm/F




e|--------|--------|--------|--------|--------|--------|--------|--------|


B|--------|8-------|6-------|--------|--------|--------|--------|--------|


G|5-------|--------|----8---|7---5---|3---5-7-|8---7---|5-------|--------|


D|--------|--------|--------|--------|--------|--------|--------|5-------|


A|--------|--------|--------|--------|--------|--------|--------|--------|


E|--------|--------|--------|--------|--------|--------|--------|--------|


 
 |

Cm

      |

Ab

      |

Cm/Eb

   |

Cm/F

    |

Cm

      |

Ab

      |

Cm/Eb

   |

Cm/F




e|--------|--------|--------|--------|--------|--------|--------|--------|


B|--------|--------|--------|----6---|8---9---|8---6---|8-------|--------|


G|--------|7-------|5---7---|8-------|--------|--------|--------|--------|


D|5-------|--------|--------|--------|--------|--------|--------|--------|


A|--------|--------|--------|--------|--------|--------|--------|--------|


E|--------|--------|--------|--------|--------|--------|--------|--------|


 


[Verse 3]


      

Cm

       

Cm7/Bb

   

Ab

  

Bb




There is no historical precedent,


           

Fm

           

Gm

           

Ab

   

Bb




to put the words in the mouth of the president.


        

Cm

      

Cm7/Bb

     

Ab

       

Bb




There's no such thing as a winnable war,


       

G/B

    

Cm

      

Gsus4

    

G




it's a lie we don't believe anymore


 


[Chorus 3]


    

Eb

     

Eb

           

G/B

     

G/B




Mr. Reagan says we will protect you


  

Cm

          

Cm

          

G

        

G




I don't subscribe to this point of view.


  

Cm

       

Cm7/Bb

 

Ab

     

Bb




Believe me when I say to you


           

Fm

                  

Bb

       

Cm

      

Cm




I hope the Russians love their children too.


 


[Interlude]


 |

Cm

      |

Ab

      |

Cm/Eb

   |

Cm/F

    |

Cm

      |

Ab

      |

Cm/Eb

   |

Cm/F




e|--------|--------|--------|--------|--------|--------|--------|--------|


B|--------|8-------|6-------|--------|--------|--------|--------|--------|


G|5-------|--------|----8---|7---5---|3---5-7-|8---7---|5-------|--------|


D|--------|--------|--------|--------|--------|--------|--------|5-------|


A|--------|--------|--------|--------|--------|--------|--------|--------|


E|--------|--------|--------|--------|--------|--------|--------|--------|


 
 |

Cm

      |

Ab

      |

Cm/Eb

   |

Cm/F

    |

Cm

      |

Ab

      |

Cm/Eb

   |

Cm/F




e|--------|--------|--------|--------|--------|--------|--------|--------|


B|--------|--------|--------|----6---|8---9---|8---6---|8-------|--------|


G|--------|7-------|5---7---|8-------|--------|--------|--------|--------|


D|5-------|--------|--------|--------|--------|--------|--------|--------|


A|--------|--------|--------|--------|--------|--------|--------|--------|


E|--------|--------|--------|--------|--------|--------|--------|--------|


 


[Chorus]


   

Eb

        

Eb

   

G/B

  

G/B




We share the same biology,


  

Cm

          

Cm

 

G

  

G




regardless of ideology.


Cm

         

Cm7/Bb

  

Ab

     

Bb




What might save us me and you,


          

Fm

       

Gm

    

Ab

        

Bb

      (

Cm

)


is if the Russians love      their children too.


 


[Outro] (Repeat and Fade Out)


 |

Cm

      |

Ab

      |

Cm/Eb

   |

Cm/F

    |

Cm

      |

Ab

      |

Cm/Eb

   |

Cm/F




e|--------|--------|--------|--------|--------|--------|--------|--------|


B|--------|8-------|6-------|--------|--------|--------|--------|--------|


G|5-------|--------|----8---|7---5---|3---5-7-|8---7---|5-------|--------|


D|--------|--------|--------|--------|--------|--------|--------|5-------|


A|--------|--------|--------|--------|--------|--------|--------|--------|


E|--------|--------|--------|--------|--------|--------|--------|--------|


 
 |

Cm

      |

Ab

      |

Cm/Eb

   |

Cm/F

    |

Cm

      |

Ab

      |

Cm/Eb

   |

Cm/F




e|--------|--------|--------|--------|--------|--------|--------|--------|


B|--------|--------|--------|----6---|8---9---|8---6---|8-------|--------|


G|--------|7-------|5---7---|8-------|--------|--------|--------|--------|


D|5-------|--------|--------|--------|--------|--------|--------|--------|


A|--------|--------|--------|--------|--------|--------|--------|--------|


E|--------|--------|--------|--------|--------|--------|--------|--------|