JamUp Pro Review: Five Things You'll Love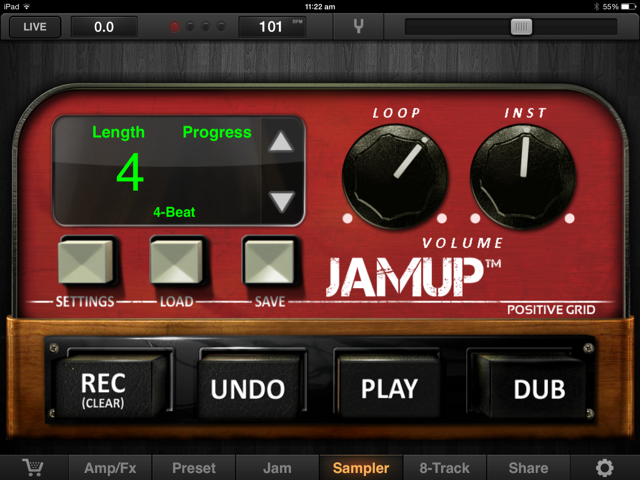 Discover the JamUp Pro App
Why do you want a good guitar amplifier app? Is it just to have some cool fun all on your own, jamming in a corner with a set of headphones and your favourite iOS app? That's okay! We're never going to complain about anyone picking up their guitar.
Maybe you're looking for unique sounds for a recording project? That's good thinking, because while most of the apps offer great "standard" sounds the subtle differences between the various software can mean that one app really hits the mark with a certain preset or stomp pedal.
All right, so what if you're hoping that you can use a guitar amplifier simulator app for live work? Actually taking it out on the stage in front of an audience and using it in real-time for your guitar effects?
In that case JamUp Pro XT could be the app for you. Developed by Positive Grid the app provides all the usual suspects of selectable stomp pedal effects and filters, amplifiers and extra features like an eight-track recorder, a "sampler" (more on this below) and a Jam function for playing along to your own tunes and wave files.
Where JamUp Pro offers an extra edge is a "Live" mode GUI that allows you to use the app on stage — even without any optional foot pedal controller that JamUp Pro can support via Blue Tooth.
Sounds interesting? Then read on…
---
Main Features of JamUp Pro.
Seven interchangeable slots for any effect or amplifier in whatever order you choose.
A "Live" mode for using on stage.
A fully-functional Loop Pedal.
A large library of Factory and User presets.
---
JamUp Pro allows you to carefully build complex sounds up from scratch until you have something specific in mind (perhaps for recording into the eight-track) or you can try a more traditional live-sound approach with a straightforward amplifier setting that can be enhanced by switching on and off your favourite pedals.
The basic, free version is called JamUp XT with a single amplifier and six effects. Here we're looking at JamUp Pro XT which is priced at US$9.99 (currently on special at US$4.99 — 50% off!) and has six amplifier models and sixteen effects.
Further expansion packs in styles like Vintage and Metal are reasonably priced or you can buy individual components. Positive Grid's Store GUI gives you full information and a bit of background on each effect, so you'll know exactly what you're getting.
---
HERE ARE FIVE THINGS TO LOVE ABOUT THE JAMUP PRO APP
1: Any Which Way You Want.
JamUp Pro gives you a signal chain of seven effects including one of which must be an amplifier. Using a drag-and-drop function you can re-arrange these into any order you want which, as you'll probably know, can significantly alter the final sounds. It's good that you're not restricted to any pre-amplifier signal chain for all your effects, giving you a lot more options, even if it is cheating a little.
2: Presets Galore.
With a system of four banks of eight pages with four-slots visible on each, JamUp Pro totals a massive 128 presets.
Yes, that sounds a bit confusing, but the maths works out. For example, Bank 1 Page 7 will give you presets 7A, 7B, 7C and 7D on screen. The presets switch over very fast even if they're using completely different components.
3: Let's Do It Live.
Jam Up Pro XT can be switched to a Live mode displaying a large, simplified screen that can be operated quickly on stage. Sure, you'll be using your finger instead of your foot (unless you take a cue from Steve Wilson's style, play bare-foot and use your big toe), but with practise it works well.
Aside from offering four presets on the screen (the A,B,C and D slots of the Bank/Page) you can also individually control your four core stomp pedals of Stomp (distortion), Delay, Modulation and Reverb within each preset — nice touch!
4: Looping It Up.
JamUp Pro XT has a Sampler function which is really a fully-featured loop pedal on its own with the added extra of being able to save loops you create — very handy for soloists who use loops for effect regularly and they don't have to re-record them during each performance.
Playing with loops live is an art form of its own and maybe not for everyone, but musicians who do use loops will love JamUp Pro XT's Sampler function. Give it a try! A whole new world of guitar playing will open up.
5: Jamming It Like A Pro.
Most guitar amplifier apps have a "Jam" Rnction for playing along to your selected tunes, but I really like JamUp Pro XT's large interface with all the important controls clearly accessible.
The pitch of the loaded wave file can be raised or lowered by a factor of five, the speed reduced to just 25% of the original tempo or doubled (if you're feeling talented!) and, of course, you have a Volume control.
You also get the all-important A and B in/out positions to select specific parts of a song you want repeated over and again. It's a great feature for learning your entire songs, just your solos… or whatever you need.
---
Other Features.
I've gotta say, JamUp Pro's optional eight-track recorder is about as basic as you'll get with just eight recordable tracks, volume sliders for each and panning controls.
There are no Insert slots or included mixing effects.
To be honest I can't access the recorder myself without purchasing it, but info within the app and on Positive Grid's Store page all suggests nothing more comes with the mixer. It's hard to get excited about it and fork out the dollars.
On the other hand, the in-built Tuner is another large, clear display that gigging musicians will love on stage. No more peering at small LCD screens or foot pedal tuners in the dark.
The Verdict?
JamUp Pro is another app that's worth immediately upgrading from the free version at a relatively low cost to get a full appreciation of what it can do. Then you'll get a larger selection of good amplifiers and stomp pedals, plus all the extra features.
As always, you need some kind of audio interface like Positive Grid's own JamUp Plug HD. If you're serious about using these kinds of apps, it's a must-have anyway. It's an impressive app that sounds good. That Live mode GUI interface will definitely tempt you to try it on stage.
If you're looking for more gear articles like this then you're definitely in the right place! Take a browse around our site and you may be surprised that we've covered what you're looking for. A few articles we've done lately include soloing in a key, sailing sutherland brothers key, and how to get hardcore guitar tone.