Human by The Killers | Lyrics with Guitar Chords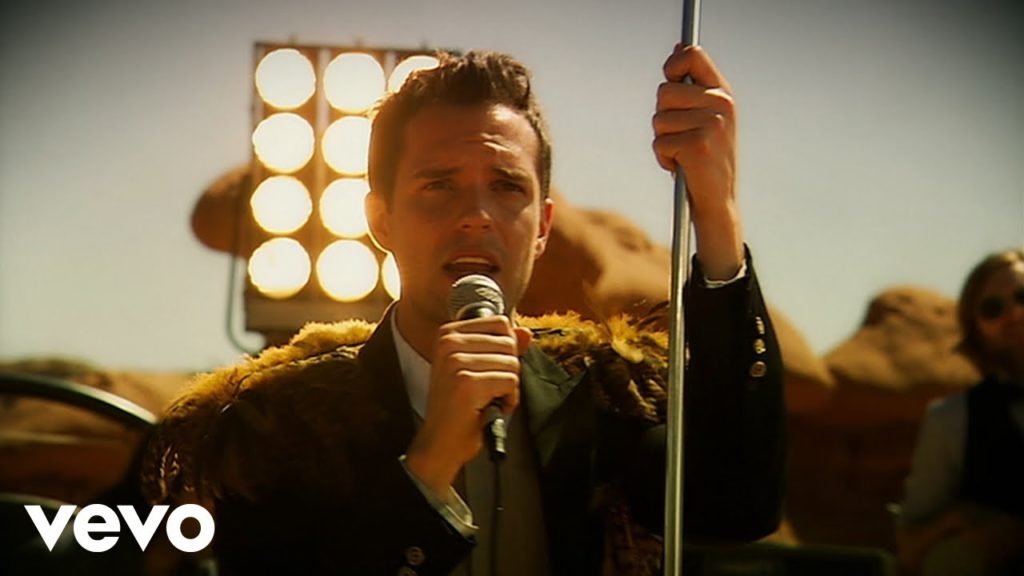 Human by The Killers was released in 2008. The band described the song as Johnny Cash meets the Pet Shop Boys. Lots of debate was made over the chorus line saying "Are we human or are we dancer?" which is taken from a remark made by Hunter S Thompson.
You can learn to play Human by The Killers with guitar chords, lyrics and a strumming trainer directly in the Uberchord app. This app listens to your guitar chords and gives you visual feedback in real-time in case you make a mistake.
Key of the Song:
The original key of Human by The Killers is in C major.
Guitar Chords for Human by The Killers
Like many of the songs using open chords, this one has many of the same challenges. You'll need to plan your changes and fingerings well in advance. You'll also need to find places where your fret hand fingers won't need to move too much in order to change to other chords.
Video Lesson
Human by The Killers – Lyrics with Chords
[Intro]


 


A

   

A

   

A

   

A


 
 


[Verse 1]


 
  

A

              

C#m

             

D

                  

A




I did my best to notice when the call came down the line.


          

E

              

F#m

          

D

                  

E




Up to the platform of surrender I was brought, but I was kind.


    

A

               

C#m

            

D

           

F#m




And sometimes I get nervous when I see an open door.


           

D

                

D

         

E

         

E




Close your eyes, clear your heart.


 
 


[Chorus 1]


 
        

A

             

C#m

   

D

           

A




Cut the cord - are we human,  or are we dancer?


E

            

F#m

   

D

              

E




  My sign is vital,  my hands are cold.


        

A

     

C#m

                   

F#m

      

F#m




And I'm on my knees looking for the answer.


       

Bm

    

D

           

A

        

A




Are we human,  or are we dancer?


 
 


[Fill]


 


A

   

C#m

 

D

   

A




E

   

F#m

 

D

   

E


 
 


[Verse 2]


 
          

A

                  

C#m

                

D

           

A




Pay my respects to grace and virtue, send my condolences to good.


          

E

                 

F#m

                  

D

                 

E




Give my regards to soul and romance, they always did the best they could.


    

A

            

C#m

                   

D

            

F#m




And so long to devotion, you taught me everything I know.


         

D

            

D

         

E

         

E




Wave goodbye, wish me well.


 
 


[Chorus 2]


 
                  

A

           

C#m

   

D

           

A




You got to let me go - are we human,  or are we dancer?


E

            

F#m

   

D

              

E




  My sign is vital,  my hands are cold.


        

A

     

C#m

                    

F#m

      

F#m




And I'm on my knees, looking for the answer.


       

Bm

    

D

           

A

        

C#m




Are we human,  or are we dancer?


 
 


[Middle Eight]


 
          

D

           

E

               

Fdim

            

F#m




Will your system be alright, when you dream of home tonight?


      

D

             

D

                

E

                   

E




There is no message we're receiving, let me know is your heart still beating?


 
 


[Chorus 3]


 


D

        

E

     

F#m

           

F#m




  Are we human,  or are we dancer?


D

            

E

    

C#m

              

D




  My sign is vital,  my hands are cold.


        

A

      

C#m

                   

F#m

      

F#m




And I'm on my knees, looking for the answer.


 
 


[Instrumental]


 


F#m

 

F#m

 

F#m

 

F#m


 
 


[Chorus 4]


                  

A

             

C#m

   

D

           

A




You got to let me know - are we human,  or are we dancer?


E

            

F#m

   

D

              

E




  My sign is vital,  my hands are cold.


        

A

     

C#m

                    

F#m

      

F#m




And I'm on my knees, looking for the answer.


       

Bm

    

D

    

D




Are we human?


          

A

        

C#m

      

D

        

A




Or are we dancer?


 
 


[Instrumental]


 


E

   

F#m

 

D

   

E




A

   

C#m

 

D

   

F#m


 
 


[Outro]


       

D

     

D

           

F#m

      

E




Are we human,  or are we dancer?


       

D

     

Bm

           

A

        

A




Are we human,  or are we dancer?


 
 


[Outro]


 


A

   

A

   

A

   

A