Happy by Pharrell Williams | Lyrics With Guitar Chords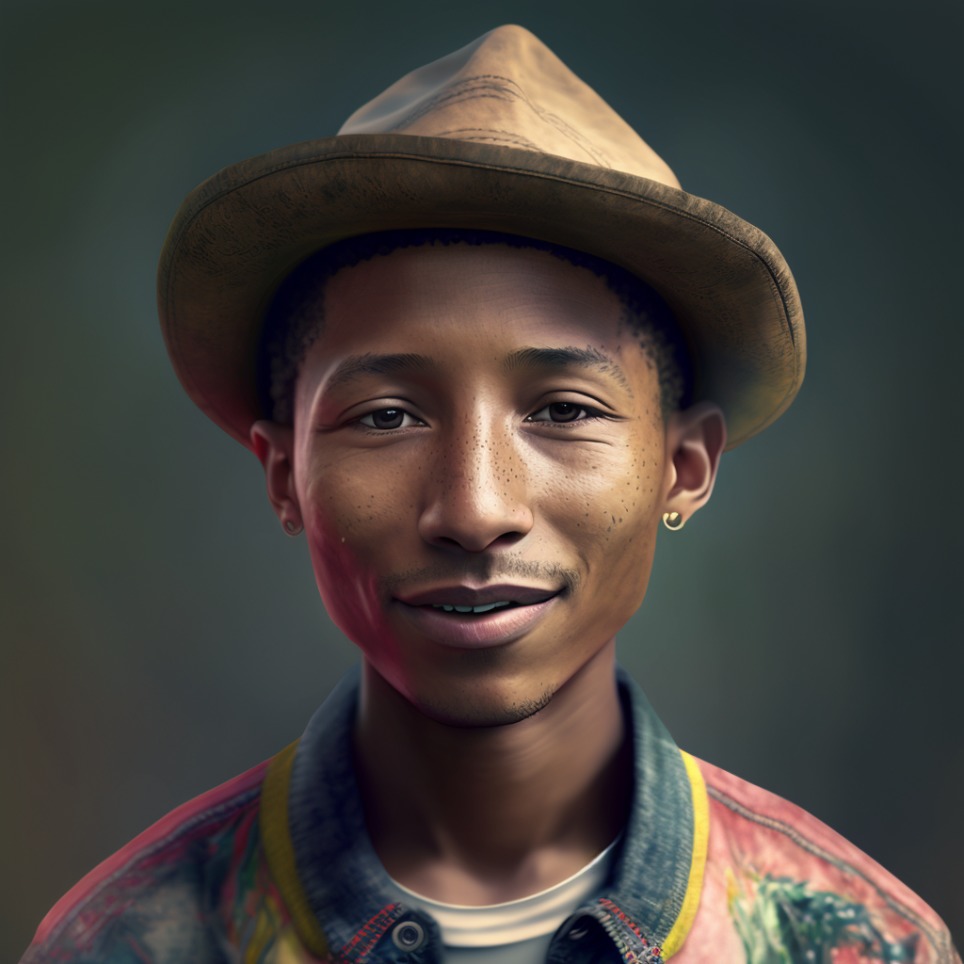 Happy by Pharrell Williams was one of the most popular songs of 2014 with it becoming a staple of Vine, the 6 second looping video app that's now disfunct, as well as the video featuring Pharrell wearing a hat that made Arby's Twitter account say, "Hey Pharrell, we want our hat back!" Pharrell recording the song after the success of his collaboration with Daft Punk, when Columbia Records offered him his own album to record. Originally, the single was created for Cee Lo Green but his label didn't want it as he was about to release a Christmas album at the time.
You can learn to play Happy by Pharrell Williams with guitar chords, lyrics and a strumming trainer directly in the Uberchord app. This app listens to your guitar chords and gives you visual feedback in real-time in case you make a mistake.
Key of the Song:
The original key of Happy by Pharrell Williams is in Ab major – F Minor.
Guitar Chords for Happy by Pharrell Williams
Be sure to not overlook the detail below about the capo. All of these chords will still work with the shapes we've provided! The chord change to B from A and back will be a little challenging as you'll need to use a barre chord for B major.
There's no tab for the bluesy riff that plays in between each line of the verses, but that shouldn't be hard to play or hard to find for the beginners out there.
Video Lesson
Happy by Pharrell Williams – Lyrics with Chords
Capo 1st Fret
[Verse]


 
 

Em

                                          

Em

  

A

  

B

    

A




    It might seem crazy what I'm about to say


 

Em

                                          

Em

  

A

  

B

    

A




    Sunshine she's here,  You can take a break


          

Em

                                    

Em

  

A

  

B

    

A




    I'm a hot air balloon, That could go to space


             

Em

                                     

Em

  

A

  

B

    

A




    With the air, Like I don't care,  Baby by the way


 
 


[Chorus]


 
                

C

                

Bm

                   

Bm

             

E




  Because I'm happy, Clap along, If you feel, Like a room without a roof


                

C

                

Bm

                   

Bm

              

E




  Because I'm happy, Clap along, If you feel like, Happiness is the truth


                

C

                

Bm

                   

Bm

            

E




  Because I'm happy, Clap along, If you know what, Happiness is to you


                

C

                

Bm

                 

Bm

                     

E




  Because I'm happy, Clap along, If you feel like, That's what you want to do


 
 


[Verse]


 
 

Em

                                         

Em

 

A

 

B

    

A




    Here come bad news, Talking this and that


 

Em

                                         

Em

 

A

 

B

    

A




    Give me all you got,  Don't hold it back


 

Em

                                                  

Em

 

A

  

B

   

A




    Well I should probably warn you,  I'll be just fine


 

Em

                                          

Em

  

A

  

B

    

A




    No offense to you,  Don't waste your time


 
 


[Chorus]


 
                

C

                

Bm

                   

Bm

             

E




  Because I'm happy, Clap along, If you feel, Like a room without a roof


                

C

                

Bm

                   

Bm

              

E




  Because I'm happy, Clap along, If you feel like, Happiness is the truth


                

C

                

Bm

                   

Bm

            

E




  Because I'm happy, Clap along, If you know what, Happiness is to you


                

C

                

Bm

                 

Bm

                      

E




  Because I'm happy, Clap along, If you feel like, That's what you want to do


 
 


[Bridge]


 
       

Em




     Bring me  down,   Can't nothing,  Bring me down


       

Em




     Love too high,   Bring me down,   Can't nothing


       

Em




     Bring me down, I said,  Let me tell you now


       

Em




     Bring me  down,   Can't nothing,  Bring me down


       

Em




     Love too high,   Bring me down,   Can't nothing


       

Em




     Bring me down, I said


 
 


[Chorus]


 
                

C

                

Bm

                    

Bm

             

E




  Because I'm happy, Clap along, If you feel,  Like a room without a roof


                

C

                

Bm

                   

Bm

              

E




  Because I'm happy, Clap along, If you feel like, Happiness is the truth


                

C

                

Bm

                   

Bm

            

E




  Because I'm happy, Clap along, If you know what, Happiness is to you


                

C

                

Bm

                 

Bm

                     

E




  Because I'm happy, Clap along, If you feel like, That's what you want to do


 
                

C

                

Bm

                    

Bm

             

E




  Because I'm happy, Clap along, If you feel,  Like a room without a roof


                

C

                

Bm

                   

Bm

              

E




  Because I'm happy, Clap along, If you feel like, Happiness is the truth


                

C

                

Bm

                   

Bm

            

E




  Because I'm happy, Clap along, If you know what, Happiness is to you


                

C

                

Bm

                 

Bm

                     

E




  Because I'm happy, Clap along, If you feel like, That's what you want to do


 
 


[Bridge]


 
       

Em




    Bring me  down,   Can't nothing,  Bring me down


       

Em




    Love too high,   Bring me down,   Can't nothing


       

Em




    Bring me down, I said


 
 


[Chorus]


 
                

C

                

Bm

                    

Bm

             

E




  Because I'm happy, Clap along, If you feel,  Like a room without a roof


                

C

                

Bm

                   

Bm

              

E




  Because I'm happy, Clap along, If you feel like, Happiness is the truth


                

C

                

Bm

                   

Bm

            

E




  Because I'm happy, Clap along, If you know what, Happiness is to you


                

C

                

Bm

                 

Bm

                     

E




  Because I'm happy, Clap along, If you feel like, That's what you want to do


 
                

C

                

Bm

                    

Bm

              

E




  Because I'm happy, Clap along, If you feel,  Like a room without a roof


                

C

                

Bm

                   

Bm

              

E




  Because I'm happy, Clap along, If you feel like, Happiness is the truth


                

C

                

Bm

                   

Bm

            

E




  Because I'm happy, Clap along, If you know what, Happiness is to you


                

C

                

Bm

                 

Bm

                     

E




  Because I'm happy, Clap along, If you feel like, That's what you want to do