Our Favourite "Not So Popular" David Bowie Songs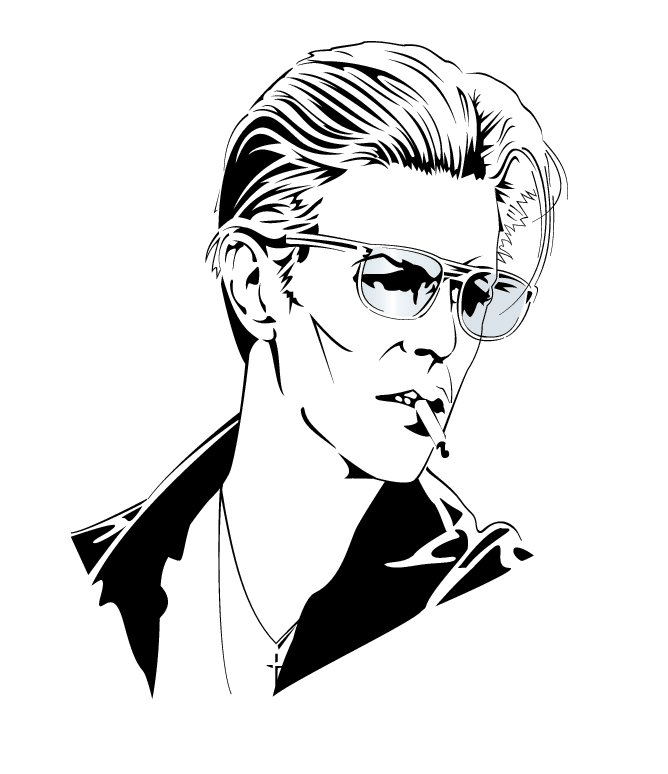 The Uberchord office is still aquiver with sorrow this week following news of David Bowie's passing on Monday. In  order to pay our little tribute to him, we have selected our favourite David Bowie Songs from the Berlin era.
Although no one city, country or even planet can hold claim to David Bowie, Berliners consider him to be one of their own. There is a palpable and universal sense of affection here for the Starman. Pride that he chose the German capital for his exile from America. Pride that he wove himself into the cultural fabric of Berlin, becoming a defining artist of a very troubled time in the city's history. Bowie's imprint on Berlin is deep and lingering. He moved here in the 70's (decades before it was 'cool' to do so) and recorded three albums which would later become known as the 'Berlin Trilogy'.
Bowie's lengthy career spanned different genres, aesthetics and even gender, pumping out his 29th studio album just two days before his death. Rightfully, the internet is boiling over with passionate tributes to David Bowie. Not wanting to shout into a hurricane, we at Uberchord would like to take a slightly different angle. As both temporary and native Berliners, we've compiled a list of our favourite songs from the three albums he released during his spell here; Bowie's fabled Berlin era. We hope you will enjoy them as much as we do.
1) Sound and Vision
This peppy number off the album 'Low', is notable for its long, building intro and sparse lyrics. It's a lively track which merges a sliding guitar riff with uplifting synthesisers, in a rhythm which to newer audience may seem faintly similar to 'Valerie'. In its few lines of text, this song makes almost trivial references to the interior of the flat where he was staying at the time; the colour of the walls and the blinds. Bowie lived with Iggy Pop in the south-central Schöneberg district of Berlin, generally regarded as one of the coolest flat shares in music history.
2) A New Career in a New Town
Considering all of Bowie's artful ambiguities over the years, this track is remarkably intelligible, even if it doesn't feature any lyrics. One of the first songs he wrote in Berlin, it is imbued with the fresh and pulsating optimism which any recently arrived expat knows well. 'A New Career in a New Town' feels almost like a fragment of a song, or an academic piece which blends kraut-rock with synth. Nevertheless, it is jaunty rock piece and one of Bowie's more danceable tracks.
3) Always Crashing in the Same Car
Following the theme of both reinvention and comically illustrative song titles, this track is a gentle synth-driven number with some curious lyrics. It is the last song clinging onto the theme of Bowie's depraved L.A existence. Back in the hazy pre-digital era where not every single thing could be verified by smartphone footage, rockstars were free to embellish their stories with an element of mythology. This song outlines an alleged incident where, coked up to the eyeballs, Bowie rammed repeatedly into a drug dealer's car before clattering back to a motel car park. In a moment of inspiration, he then proceeded to drive cheerfully around in circles, crashing into parked cars while a lady called Jasmine looked on. When he presumably came down, this act of deviance, as it probably would for most people, served as a somewhat of a wake-up call. This entire event was strangely metaphorical for Bowie's cyclical and rudderless life in the U.S. We can assume by its inclusion on this record that it prompted his eventual decision to move to Berlin, and for that, we're oddly grateful.
4) Yassassin
The final album of the Berlin trilogy, 'Lodger' marked a departure from the more atmospheric and arty feel of the first two records. On an generally colourful and off-beat album, Yassassin is a standout track for its bizarre mixing of Turkish music over a typical reggae beat. The word 'yaşasın' in Turkish translates loosely to 'long life', and it's not unreasonable to assume that Bowie began to absorb turkish influences from the moment he stepped outside of his flat. Even in the 1970s, Berlin contained the largest diaspora of Turkish immigrants outside of Turkey. These were especially concentrated in certain, traditionally working-class areas of the city, including Bowie's Schöneberg home. The song features prominent use of the turkish scale 'Hijaz Kar Makam', which is almost never heard in music as it clashes with most elements of western tonality.
Heroes
The title-track of his second album in the trilogy, and to many his crowning achievement. Heroes is a song which can, like no other, draw strong emotions from otherwise stoic Germans who still remember the despondency of living in a divided city. Although considered an optimistic song, Heroes actually tells the story of star-crossed lovers living on opposite sides of the Berlin wall, which at the time of writing in 1977 had become an established feature of city life. Its chorus follows a flat7-4-1 chord progression over a walking bass line. This is a classic gospel move which stirs a feeling of jubilation, and also provides the perfect opportunity for some euphorically-placed 'oohs' and 'aahs'. Although ranked as one of Bowie's most popular songs, this track has a particular significance for Berliners. The placement of 'Heroes' in the seminal cult film 'Wir Kinder vom Bahnhof Zoo' and seminal live performances next to the former wall has turned this song into a Berlin anthem with a potent and evocative legacy.
If you are inspired to find out more about David Bowie's Berlin days, check out this really interesting article done by guys at Fotostrasse.