5 Contemporary Fingerstyle Guitar Players You Need to Hear #2- Mike Dawes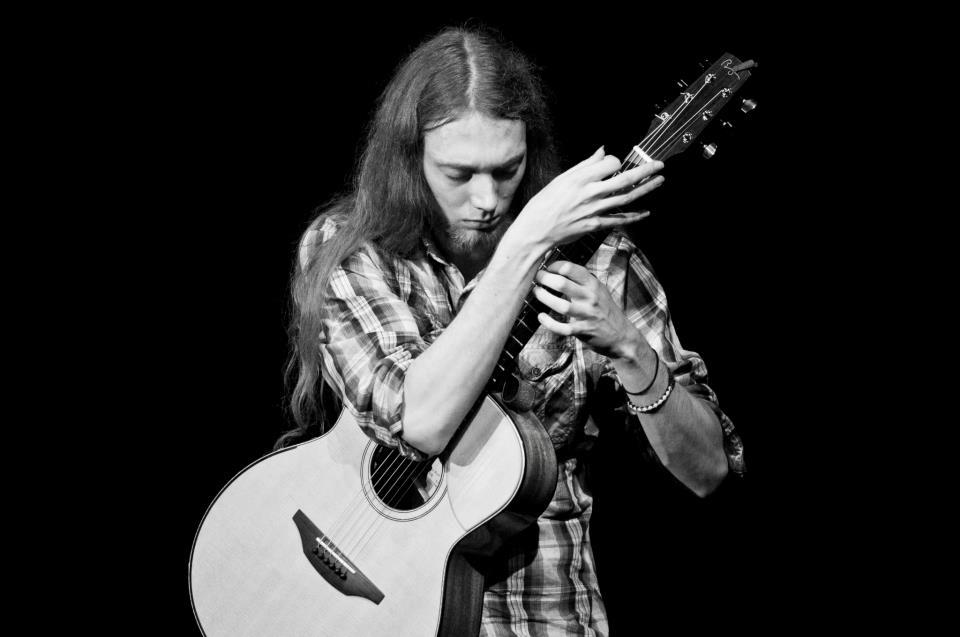 Recently, I penned an article about the ever-innovative acoustic virtuoso, Luca Stricagnoli. It has to be said that there are easily more than 5 fingerstyle guitar players who could qualify for this list, so narrowing the selection down has proven an incredibly difficult task. However, my primary goal is to provide beginner fingerstyle guitarists with a few people to look up to while attempting to develop their fingerstyle guitar technique. With that in mind, I couldn't possibly overlook the creative genius that is Mike Dawes.
Like many of his fellow musicians over at Candyrat Records, Dawes isn't one to typically sit back and strum a few chords. At only 25 years of age, the English performer's unique compositional talent has earned him worldwide recognition. I could try to convince you of his skill by listing the hoards of artists who've spoken in his favour, or even by detailing the success of his international tours and album sales (you can still check all of that out here). But why not let the music speak for itself instead?
Let's start with something spectacular:
THE IMPOSSIBLE
In all honesty, sometimes as a guitarist you will hear something so profoundly amazing that it'll tempt you to give up trying. On a first (and maybe second or third) listen, "The Impossible" will probably have that effect on you. A mix of refined harmonics, slaps, two-finger tapping and pull-offs- among many other things – "The Impossible" has a way of hypnotising listeners. I noted last week that technicality alone is not always enough to impress, and Dawes again combats this by matching an absurd level of technical skill with an equal – if not greater – sense of musicality.
Of course, it's important to make sure that as a musician, you view these things as a learning experience rather than a reason to quit trying. No one ever got anywhere by giving up at the first hurdle, and as a guitarist you should always look for something to aim towards – no matter how unachievable it may seem at the time. Most things will come eventually after sufficient dedication and practice, so its critical that you try to always give yourself something to work on – even if you're already a really great player. Personally, whenever I feel my development as a performer begin to stagnate, I watch The Impossible again and again. Because, yes – hopefully by now you can probably do quite a bit on the guitar, but can you do THAT?
Somebody That I used to Know
Bands are great, but flawlessly playing each part of an entire song without one? That takes some serious dedication. While Dawes' Youtube Channel has a few covers worth checking out, his rendition of Gotye's Somebody That I Used to Know is easily one of my favourites. Exhibiting an astounding sense of control,
Dawes integrates harmonics, hammer-ons, pull offs, slaps and some incredibly well-timed live-looping alongside his fingerstyle technique to show us how a cover song can be and should be done. Drawing on Gotye's original, Dawes seeks out every tiny musical complexity the song has to offer; celebrating each nuance in its entirety without ever seeming to lose focus on the bigger picture.
This cover avoids directly copying its original whilst simultaneously staying true to it. Simply put, it's an awesome piece of music that is totally worth listening to. You could even learn it (if you're up to the challenge!).
Superstition
Showcasing just some of the endless performance possibilities that come with proper use of the loop pedal, Dawes makes this funky rendition of Stevie Wonder's Superstition look effortless. The song begins with a wicked bit of percussion on the body of the guitar and only gets better from there. Take a look!
So, why listen?
I've found that a great arrangement tends to do two things to a fingerstyle guitarist: 1) make you want to hear it again, and 2) make you want to play it. Luckily, with most of Mike Dawes' pieces, you can access official tablature that allows you to do just that. Don't be fooled though – it isn't easy. If you're a beginner or intermediate guitarist, I'd probably recommend finding some easier fingerstyle guitar pieces first. However, it's always important to have a goal in mind- so no matter how long you've been playing, if you find yourself wanting to eventually play a Mike Dawes piece then don't stop practising until you get there. Your development as a guitarist will only continue for as long as you are able to push yourself towards bigger and better things.
It's not all hard work either! Challenging pieces give you a lot more to work with that can actually end up being more fun than that four-chord progression you've already played a thousand times over. Always aim slightly higher than your comfort zone. If you've only been playing for a few months, don't throw yourself in the deep end by trying to learn The Impossible, but likewise don't settle for playing Wonderwall for the rest of your life.
Mike Dawes is a technical mastermind and a truly excellent performer. Most importantly though- especially for any beginner fingerstyle guitarists out there – he's a valuable point of inspiration and motivation. A difficult technique takes time and patience, but one listen to any of Dawes' compositions should be enough to convince you that all of that practice will eventually be worth it. Think of where you might end up!
Watch how he sets up his guitar for live performances:
Love what Mike Dawes is doing? Be sure to keep up to date by checking out his Website or Youtube and Facebook