Types of Guitars: Beginners Guide to Buying a Guitar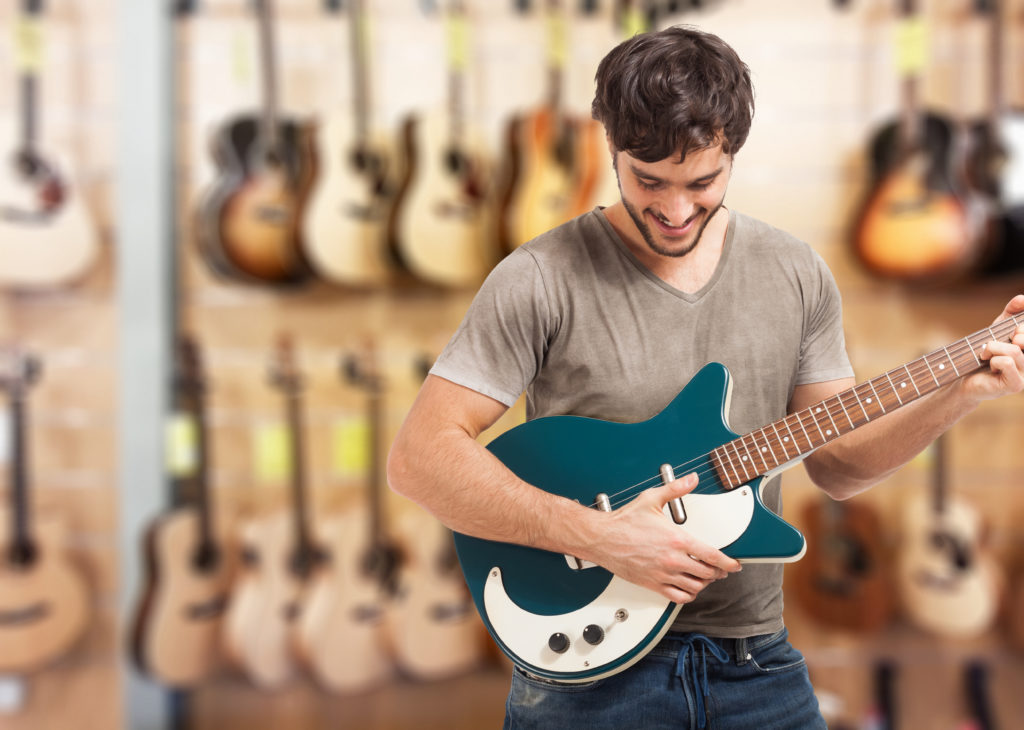 In this guide to buying your first guitar, we'll help answer:
"There are different types of guitars, what kind should I buy?"
"How much should I spend?
"Should I buy second hand?"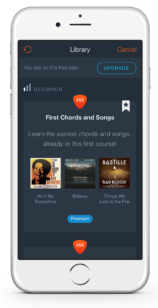 When you dream of playing guitar, how does it all happen in your mind's eye? Perhaps using a guitar app like Uberchord (click to download) to learn? Or are you shredding an awesome heavy metal guitar solo, sliding on your knees across a vast stage in front of thousands of adoring fans? Do you imagine a more intimate setting, jazzing up a storm in some exclusive New York nightclub? Is it amazing the crowd with your brilliant finger-picking at the Newport Folk Festival?
Okay, maybe you're not so ambitious and simply want to bash out a decent tune around a campfire. That's fine — just be warned that doing any John Denver stuff hasn't been considered cool for a long time. If you are guitar beginner with a guitar in hand already then I may suggest you check out: 10 Amazing Tips to Learn How to Play the Guitar with Good Technique.
All the above will demand a very different type of playing technique and different types of guitars. The question is, from the very beginning do you start learning to play on the same type of guitar that you dream about? Will it make any difference? What are the pros and cons of each one?
If you are looking for buying a guitar for your kid, then I suggest you check out another post specifically focussed on Buying Your Kid's First Guitar and How to Get your Kids Started with Learning Guitar.
Types of Guitars: Which Kind Should You Buy?
---
1. Nylon String Acoustic Guitar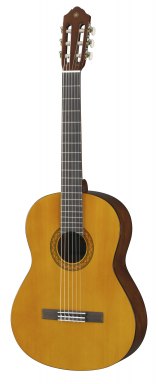 A lot of people begin with a nylon string acoustic, often called a classical guitar. They're reasonably priced at beginners level (don't go too cheap), the design has a wide fret board to accommodate your inexperienced fingers and the nylon strings are easier on your aching fingertips. You have to agree, they can sound kind of dull unless that dream of yours is of becoming a famous, classical guitarist like John Williams — certainly not a bad thing. So nylon string acoustics are great to learn with, but there's a risk you'll want something more pretty quickly.
This is Yamaha's C40II classical guitar, an inexpensive nylon-strung guitar that's a cut above some of Yamaha's even cheaper models designed for schools and the like. Many companies offer a line of low-priced, very basic designs tailored for education facilities. Don't go that far down the price pecking order. The C40II for $140 USD on Amazon is a good compromise. Please do yourself a favor and get the $13.58 two-year protection plan!
---
2. Steel String Acoustic Guitar
Better known simply as an acoustic guitar, the "steel" strings (they come in all kinds of construction, not just steel) are louder and brighter, and a much more versatile instrument to play. Folk, rock, jazz — acoustic guitars have it all covered. Those steel strings also chew the ends off your fingers until eventually you develop hard calluses on the tips — very handy for plucking boiled eggs out of the saucepan.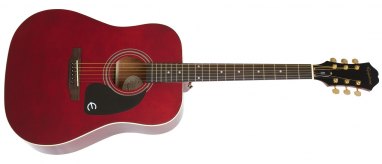 The Epiphone DR-100 is a traditional design of steel string, acoustic guitar, often called a dreadnought with this body shape. To keep the price down you don't get pick-ups or high quality machine heads, but it's still an Epiphone for about $100 USD.
A good acoustic guitar is a joy to play and you can learn almost every style of modern playing on one. So it sounds like the obvious guitar to start with, right? Sure, but…
3. Electric Guitar
Electric guitars are fantastic fun — as long as you can hear them (and your neighbors can't). That's one drawback. Some kind of amplification is needed or software with a decent audio interface and headphones. It has to be said, too, that electric guitars are in one way much easier to play with their low string action. At the same time, the narrow fret boards require a higher level of skill to allow precise fingering and avoid inadvertently muting some strings. But hey, your dream is to be an electric guitar playing rock god, so shouldn't you learn with one? I reckon there's a better alternative.

The Fender Stratocaster Squier is possibly the most recognizable shape in electric guitar history. The Fender Stratocaster design is mimicked by manufacturers all over the world. Fender produces its own line of budget "Strats" called the Squier series. If you want to start with an electric guitar, chances are you'll buy something like this for around $130 USD.
It looks like a Gibson. but it's another Epiphone — the Epiphone Les Paul Special II. This is the other iconic shape in electric guitars, the Gibson Les Paul, and Epiphone make the budget-priced version with this one listed at $170. In another blog we'll explain the primary differences between Gibson and Fender guitars. For now, just know it's like an Apple versus Windows kind of debate. Really.
Take Your Thumb-Pick — And Take Your Pick
Not surprisingly, we've established that each type of guitar has its good and bad points. For mine, the secret is to look harder at the huge variety of steel string acoustic guitars. For instance, if you're aiming to eventually play electric guitar, you can choose an acoustic with a narrow fret board, thin neck and cut-away body around the fourteenth fret. This gives you the feel and function of an electric guitar without annoying the rest of the house. You can learn those lightning licks to perfection, before investing in serious electric guitars and amplifiers. The downside? They don't really cater for percussive, aggressive styles of acoustic playing. The body-thumping, string-thrashing kind. For that, you should look at guitars with more robust neck and body construction.
If you really want to play a nylon string acoustic, buy a very good one that will last for decades. They have a beautiful, distinctive tone and I can guarantee that no matter where your playing career takes you, even if it's to walls of deafening Marshall amps, in the years ahead you'll always appreciate the sound of great classical guitar.
Hmm… you still want to buy an electric guitar first up? Okay, but again spend extra money on a guitar that plays well, will keep its value and feels perfect in your hands. In other words, don't focus too much on paying for extras like custom pick-ups, locking nuts and electronics you don't need just yet. At the moment it's all about fingers and hands, not foot-pedals.
If you are convinced about the acoustic guitar, maybe this can help you make a decision: 5 Best & Affordable Acoustic Guitars for Beginners. Or, if you are focussed on wanting an electric guitar and cannot decide which one, check out the 5 Best & Affordable Electric Guitars for Beginners in the market right now.
How Much Should You Spend?
There's always a temptation not to spend too much money on your first guitar in case you change your mind and stop playing. However, budget guitars can be more difficult to play and you'll begin to think it's all too hard, when a better instrument will be easier and encouraging. Cheap guitars can have a high "action" (the distance between the string and the fret board) which makes pressing the string down tough work for novice players. The frets can be poorly set, meaning the strings rattle and buzz. The timber used is just standard factory sheeting. It all adds up to a cheap guitar. At the same time, I have to admit that in the crazy lottery of mass production and manufacturing, sometimes you'll find a good guitar has been built. Go figure…
A better idea is turning to established brands like Maton, Washburn, Epiphone, Fender… there're plenty of respected manufacturers with long traditions in making guitars. No matter what type of guitar, all these companies have low-priced models that still benefit from the care and craftsmanship you'd expect from well-known brands. Prices start around $150 for basic types, then for $500-700 you'll find an enormous choice.
Should You Buy A Second-hand Guitar?
This is a tricky one, because I'd hate to see anyone miss out on a bargain. Unless you really know what you're doing, buying a used guitar is a risky venture. Definitely, you shouldn't buy a second-hand guitar without seeing or trying it out. Again, sticking with well-known brands is wise. Look carefully for worn fret boards (pitted holes under frequently-played notes) and grooves in the frets themselves. Check along the neck to see if it's not too bent— it's supposed to be slightly curved. Getting problems like these fixed professionally can be expensive and you might as well buy something new in the first place. The bottom line here is that high-quality instruments that have been properly maintained don't lose any value. A good second-hand guitar should cost you as much as a good new one — but yes, those bargains are out there, too.
New, used, nylon or steel string — or electric — for your first guitar take your time, choose carefully and never be afraid to ask for advice. Best of all, search for a good music shop near you and actually pick up the guitar, pluck the strings, listen to the sound. The people behind the counter want to help you, so that you come back for another guitar — and another, not to mention strings, string cleaner, capos… Don't forget, this isn't just buying any old guitar. This is the beginning of your dream coming true.
In Summary: 6 Things to Keep in Mind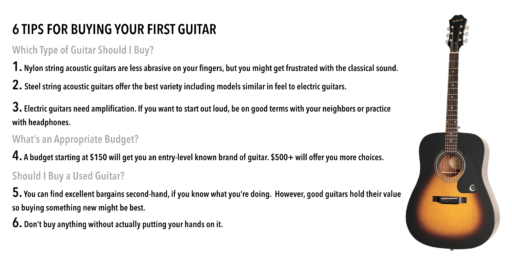 If you love guitars as much as we do, stick around because there's plenty more to come. In fact, we have a new series called "10 Guitars You Need to Know" starting with 1. The Innovator: Fender Telecaster and 2. The Classic: Gibson Les Paul. We also regularly release free articles on our blog about a variety of topics like the chords in the key of f sharp minor, the notes in e minor chord, and don't cry for me argentina chords.