Talladega by Eric Church | Lyrics with Guitar Chords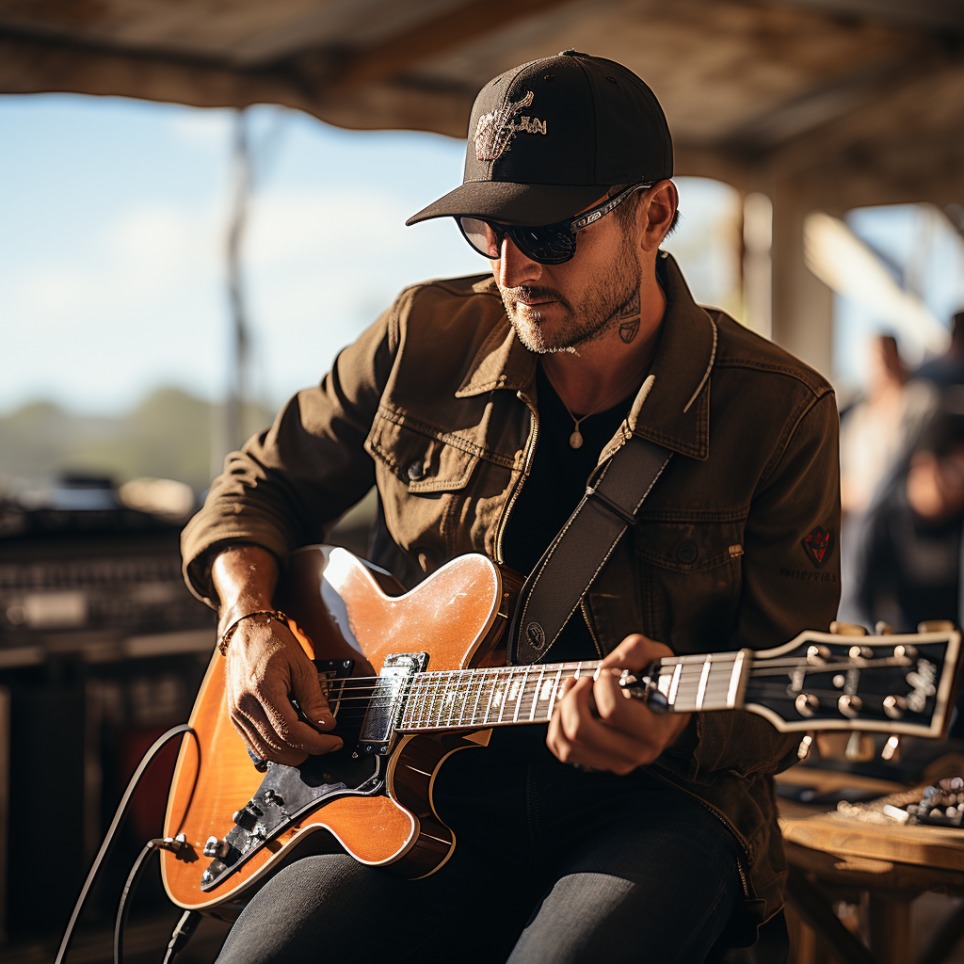 Eric Church's "Talladega" is a masterclass in blending storytelling with melodic artistry. More than just a nod to a famed NASCAR racetrack, the song uses the setting of Talladega Superspeedway as a poignant metaphor for life's fleeting moments and the cherished memories of youth. As guitar enthusiasts delve into its chords, they'll notice the dominant acoustic elements that capture the essence of reflection and nostalgia. This choice of instrumentation, different from some of Church's rock-infused anthems, sets a contemplative mood, making it a great track for those seeking to master the art of evoking emotions through acoustic play. Co-written with Luke Laird, "Talladega" is a reminder of the power of collaboration and how diverse inspirations can craft a #1 hit. The song appeared on Church's fourth album called The Outsiders and received platinum in 2016.
As you journey through the song's chords and lyrics, remember that sometimes the guitar's role is to create a space for introspection and memories, letting the listener drift into their own personal "Talladega" moments. It's a beautiful addition to any guitarist's repertoire, blending narrative depth with melodic simplicity.
You can learn to play the chords you need to play Talladega by Eric Church in the Uberchord app. This app features a guitar chord trainer and a strumming trainer. It listens to your guitar chords and gives you visual feedback in real-time in case you make a mistake.
Key of the Song:
The original key of Talladega by Eric Church is in Db major, but chords below are in C. 
Guitar Chords for Talladega by Eric Church
The problem many of you will have with this song is the F chord. If you're struggling with this chord and barre chords in general it's important to focus on your 1st finger. Make sure your thumb is pressing against the middle of the back of the guitar neck while holding this chord, and this will help you press that finger across all 6 strings.
Video Lesson
Talladega by Eric Church – Lyrics with Chords
Capo 1


 


[Intro]


 


F

 

C

 

Am

 

G

 x2
 
 
            

F

                

C




It was the summer before the real world started and,


   

Am

         

G




The deal was we would get to go, if we


F

             

C




Cleaned it up, and got it running,


  

Am

            

G




Daddy's old Winnebago.


 
 
 

F

                  

C




Wing and a prayer down 65,


 

Am

                    

G




Five best friends on four bald tires,


        

F

              

C




I can still see Billy smiling


                 

G




When we finally made it.


 
 
        

F

         

C




To Talladega, boys raised up,


 

Am

              

G




Whiskey in your glass, 


          

F

            

C




here's to turning up, slowing down 


    

Am

               

G




and cars that go real fast,


         

F

                   

C




We were laughing and living, drinking and wishing,


     

Am

               

G

                  

F




And thinking as that checkered flag was waving,


                   

G




Sure would like to stay in, 


        

F

 

C

 

Am

 

G




Talladega.


 
 


F

              

C




Like a storm, time rolls on,


      

Am

              

G




You can't hit pause as we just did.


F

                 

C




Most days in life don't stand out,


      

Am

               

G




But life's about those days that will, like,


 
 


F

             

C




Rocking rando, getting rowdy,


Am

              

G

              

F




Shooting roman candles at the man in the moon,


           

C

             

G




til the Alabama sun was breaking.


 
 
         

F

         

C




Over Talladega, boys raised up,


 

Am

              

G




Whiskey in your glass, 


          

F

            

C




here's to turning up, slowing down 


    

Am

               

G




and cars that go real fast,


         

F

                   

C




We were laughing and living, drinking and wishing,


     

Am

               

G

                  

F




And thinking as that checkered flag was waving,


                   

G




Sure would like to stay in, 


        

F

 

C

 

Am

 

G




Talladega.


 
 
    

F




When the winds go cold and it blows October,


    

F




I think about us shoulder to shoulder,


   

F




Like those cars my thoughts roll over and over and over,


         

G




In my mind


 
 
                    

F

         

C




Tonight i'm in Talladega, boys raised up,


 

Am

              

G




Whiskey in your glass, 


          

F

            

C




here's to turning up, slowing down 


    

Am

               

G




and cars that go real fast,


         

F

                   

C




We were laughing and living, drinking and wishing,


     

Am

               

G

                  

F




And thinking as that checkered flag was waving,


                   

G




Sure would like to stay in, 


        

F

 

C

 

Am

 

G




Talladega.


 
 
        

F

 

C

 

Am

 

G




Talladega,


        

F

 

C

 

Am

 

G




Talladega,