Little Lies by Fleetwood Mac | Lyrics with Guitar Chords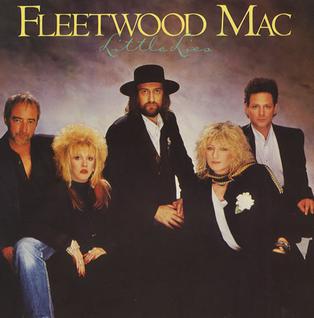 Little Lies by Fleetwood Mac was released in 1987. The song comes from their fourteenth studio album called Tango In The Night, and it was produced by Lindsey Buckingham. It's also their most recent top ten hit on the Billboard charts.
You can learn to play Little Lies by Fleetwood Mac with guitar chords, lyrics and a strumming trainer directly in the Uberchord app. This app listens to your guitar chords and gives you visual feedback in real-time in case you make a mistake.
Key of the Song:
The original key of Little Lies by Fleetwood Mac is in F# minor.
Guitar Chords for Little Lies by Fleetwood Mac
In order to play these chords correctly, you'll need a capo at the second fret. Otherwise, all of these chords are basic shapes that many experienced players should have no problem with.
If you're still learning, find the best ways to keep your fret hand fingers in positions to easily switch between chords. Your picking hand should provide the rhythm and stay steady as your fret hand will do most of the work.
Video Lesson
Little Lies by Fleetwood Mac – Lyrics with Chords
Capo 2


 


[Verse 1]


Em




If I could turn the page


                  

D




In time then I'd rearrange


        

C




Just a day or two


                          

G




Close my, close my, close my eyes


Em




But I couldn't find a way


               

D




So I'll settle for one day


          

C




To believe in you


                        

G




Tell me, tell me , tell me lies


 


[Chorus]


Em




Tell me lies


           

G




Tell me sweet little lies


       

C

               

D




(Tell me lies, tell me, tell me lies)


Em

              

G




Oh, no, no you can't disguise


      

C

                    

D




(You can't disguise, no you can't disguise)


Em




Tell me lies


            

G




Tell me sweet little lies


 


[Verse 2]


Em




ALthough I'm not making plans


D




I hope that you understand


C




There's a reason why


                        

G




Close your, close your, close your eyes


Em




No more broken hearts


     

D




We're better off apart


 

C




Let's give it a try


                   

G




Tell me, tell me, tell me lies


 


[Chorus]


Em




Tell me lies


          

G




Tell me sweet little lies


        

C

               

D




(Tell me lies, tell me, tell me lies)


Em

               

G




Oh, no, no you can't disguise


         

C

                 

D




(You can't disguise, no you can't disguise)


Em




Tell me lies


        

G




Tell me sweet little lies


 


[Outro]


Em