Anne Clark from St. Vincent Launches Her Signature Series Guitar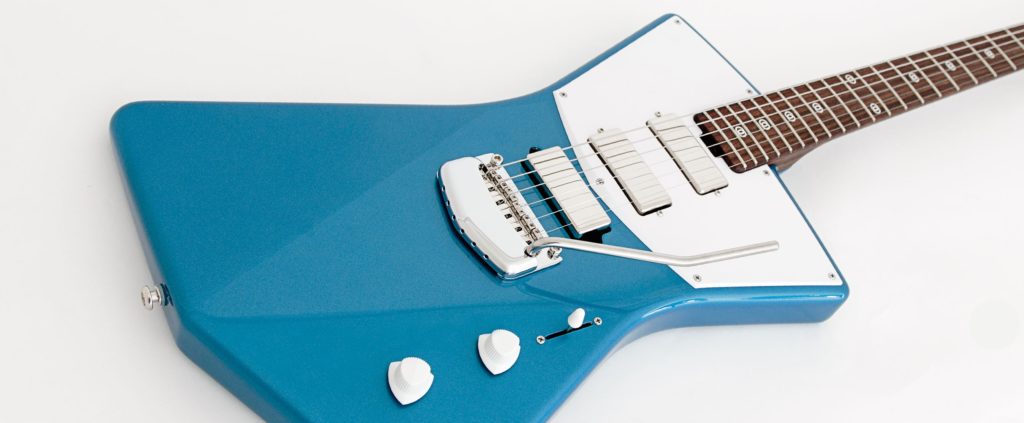 Known for their unique signature sound and stage antics – St Vincent's Anne Clark recently partnered with Ernie Ball's Music Man to develop and release her own signature series. Priced at $1,899 USD, the guitar is designed by Annie Clark along with the master craftsmen from Ernie Ball to suit her style, elegance, comfort and sound.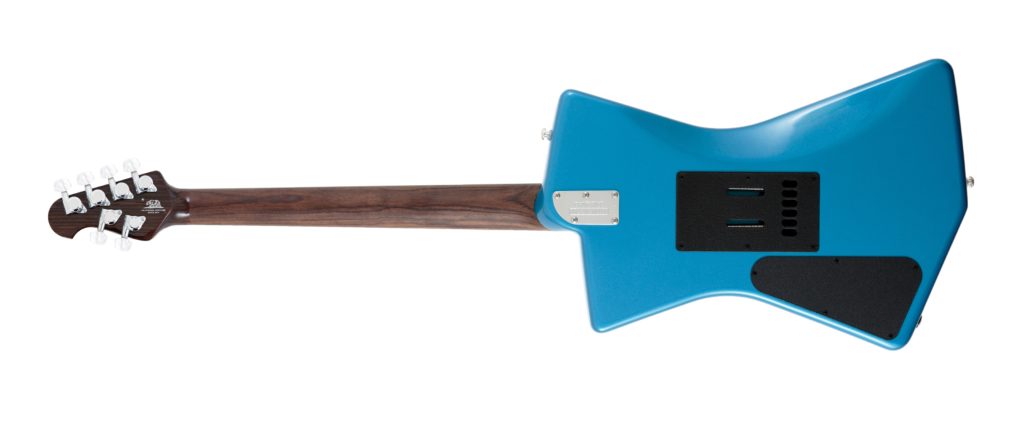 Crafted in Ernie Ball Music Man's San Luis Obispo, California factory, the St. Vincent signature is available in black or custom Vincent Blue, a color hand-mixed by Annie. Featuring an African mahogany body, Ernie Ball Music Man tremolo, gunstock oil and hand-rubbed rosewood neck and fingerboard, St. Vincent inlays, Schaller locking tuners, 5-way pick up selector with custom configuration and 3-mini humbuckers, the guitar also comes complete with Ernie Ball Regular Slinky guitar strings.
Want to know more about this Guitar? Watch Annie Clark talking about what all went into making this unique art piece of a guitar.
Guitar Details
| Specifications | St. Vincent |
| --- | --- |
| Model | St. Vincent |
| Size | 12-9/16″ wide, 1-5/8″ thick, 39-9/16″ long (31.9 cm wide, 4.1 cm thick, 100.5 cm long) |
| Weight | 7lb 5oz (3.31kg) – varies slightly |
| Body Wood | African Mahogany |
| Body Finish | High gloss polyester |
| Body Colors | Vincent Blue, Black |
| Bridge | Custom St. Vincent Music Man® Modern tremolo with vintage bent steel saddles |
| Pickguard | Vincent Blue (White); Black (Parchment) |
| Scale Length | 25-1/2″ (64.8 cm) |
| Neck Radius | 10″ (25.4 cm) |
| Headstock Size | Only 5-7/8″ (14.9 cm) long |
| Frets | 22 – High profile, medium width |
| Neck Width | 1-5/8″ (41.3 mm) at nut, 2-1/4″ (56.9 mm) at last fret |
| Neck Wood | Select Rosewood neck |
| Fingerboard | Select Rosewood |
| Fret Markers | Custom St. Vincent Inlays |
| Neck Finish | Gunstock oil and hand-rubbed special wax blend |
| Neck Colors | Standard – Natural with finished headstock |
| Tuning Machines | Schaller M6-IND locking with pearl buttons |
| Truss Rod | Adjustable – no component or string removal |
| Neck Attachment | 5 bolts – perfect alignment with no shifting; Sculpted neck joint allows smooth access to higher frets |
| Electronic Shielding | Graphite acrylic resin coated body cavity and aluminum control cover |
| Controls | 250kohm volume and tone – .047µF tone capacitor |
| Switching | 5-way lever pickup selector with custom configuration |
| Pickups | HHH – 3 DiMarzio custom mini-humbucking with chrome covers |
| Left Handed | No |
| Strings | 10p-13p-17p-26-36-46 (RPS 10 Slinkys #2240) |