Gitarre & Bass – San Francisco for Guitarists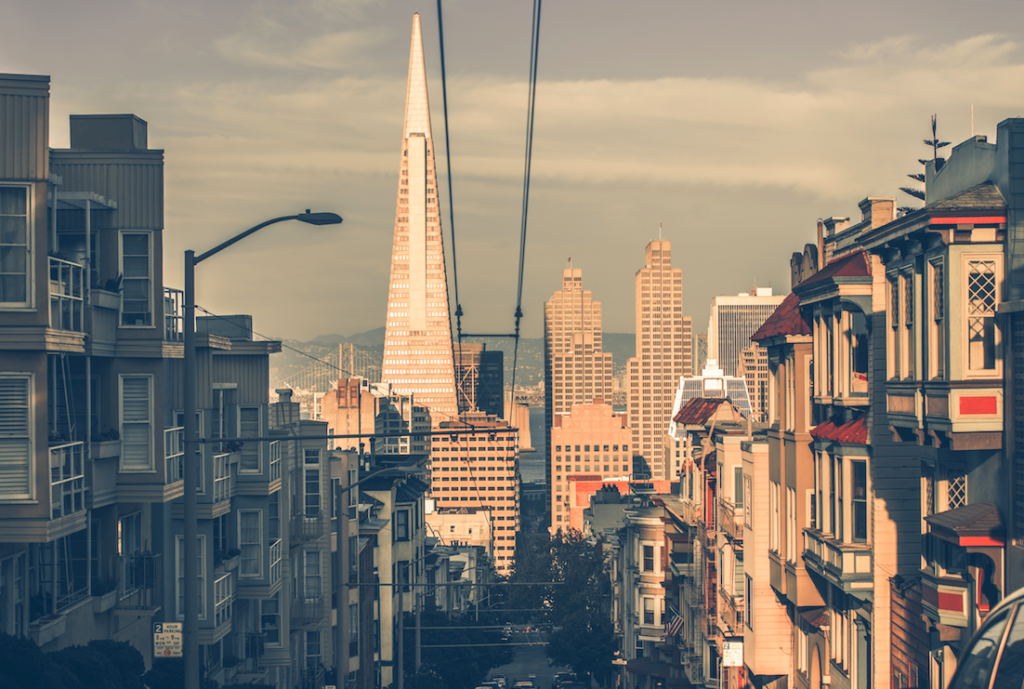 San Francisco for Guitarists
Below you'll find a translation of the article 'San Francisco for Guitarists', originally published in German by Teja Gerken over at Gitarre & Bass. If you are interested in reading more content like this, you can visit their website at http://www.gitarrebass.de.
---
"I Left My Heart In San Francsico', 'San Francisco Bay Blues', 'Sittin' On The Dock Of The Bay'…
If a city can provoke such beautiful homage, it's musical clout is indisputable. The Beatles played their last concert in San Francisco and The Band filmed their legendary 'The Last Waltz' at the city's now demolished Winterland Ballroom. The wave of psychadelic rock in the 1960's has shaped this city to this very day, but San Francisco remains a place where an eclectic spread of musical genres can be found. As a result, countless shops and specialists have also sprung up to support the city's vibrant music scene.
One thing first. Although San Francisco remains the focal point, we cannot talk about the guitar scene without mention of the entire Bay Area, including East Bay, North Bay and South Bay. Some of the places we mention are possible to reach via public transport, but due to the sheer vastness of the area, and indeed the country, it's ideal to have your own motor vehicle. In the Bay Area there is no central musician's district like the legendary 48th street in New York or Denmark Street in London, but those who are willing to put some road behind them will discover some of the best guitar shops in the country.
For lovers of live music, Bay Area is a paradise, even considering the influence of San Francisco itself. Be it mainstream or underground, large halls or intimate clubs, San Francisco has something new to offer every day. Plan your trip right and you could even catch one of the many music festivals at Golden Gate Park.
Guitar Shops
St. San Francisco. www.haight-ashbury-music.com
Amoeba Music: 1855 Haight St. San Francisco. www.ameoba.com
Real Guitars: 15 Lafayette Street, San Francisco. www.realguitars.com
Guitar Solo: 230 Townsend Street, San Francisco. www.gspguitar.com
Guitar Center: 1645 Van Ness Ave., San Francisco, CA 94109. www.stores.guitarcenter.com/san-francisco
Gryphon Stringed Instruments: 211 Lambert Ave., Palo Alto. www.gryphonstrings.com
Schoenberg Guitars: 106 Main Street, Tiburon. www.om28.com
Berkeley Musical Instrument Exchange: 2923 Adeline Street, Berkeley. www.berkeleymusic.com
Subway Guitars: 1800 Cedar Street, Berkeley. www.fatdawg.com
Go Shopping
For those wanting to visit a few more guitar shops will need to travel around the city. Near the Golden Gate Park and located in the former hippie district of Haight-Street lies Haight-Ashbury Music Center, San Francisco's most central music store. Founded in 1972, the Haight-Ashbury Music Center is a veritable institution boasting an array of both new and used instruments, lessons and their own internal workshop.thHaight-Ashbury feature most of the big name brands such as Fender, Gibson, Martin and Taylor. They also have a wide choice of used guitars. If you're already on Haight Street, make sure to check out Amoeba Music. As one of the biggest retailers of CDs and LPs (both new and second hand) in America, one can easily spend an entire day inside! Interestingly, between the Music Center and Amoeba Records stands the Red Victorian Peace Center Bed & Breakfast Hotel, where there are often small concerts in the evening.
For many of the professional guitarists in San Francisco, a life without Real Guitars would be unimaginable. The store is tucked away along a tiny side-street near the city center. It is especially famous for its used and vintage guitars, and the store accordingly brands itself as 'San Francisco's Oldest Vintage Guitar Store'. This is definitely not the store to purchase sparkling new guitars at! Real Guitars is also home to the city's most prestigious workshop, where luthier Gary Brawer lends his service to both famous and unknown musicians alike. He was also the recipient of one of the first plectrum-moulds in the country.
San Francisco doesn't only have Rock'n Roll to offer. Guitar Solo is one of the oldest and most respected outlets for concert guitars. Directly opposite the AT&T Ballpark (home of the Giants!) on Townsend Street, the store offers classical guitars for every budget. It boasts one of the widest selections of new and used high-end instruments, accessories and steel strings.
The shop has a huge choice of guitar books. Founded and owner Dean Kamei himself manages both GSP Publishings and GSP Recordings, both prestigious labels for classical guitar. Last but not least, due focus should be given to the local Guitar Center. As one of the 'flagship branches' of the chain, the building on Van Ness Street is a two-storey monster featuring a huge range of guitars and other instruments from mainstream producers. Although service is often better in the smaller, independent shops, some of the special offers in Guitar Center are unbeatable!
Bay Area
Now to guitar shops outside of 'The City', as San Fransisco is often referred to within the Bay Area. Those of the acoustic persuasion have two trips on their itinerary: an expedition to Silicon Valley to visit Gryphon Stringed Instruments in Palo Alto, and another to Marin County to drop by 'Schoenberg Guitars' in Tiburon. Let's start with Gryphon, located roughly 45 minutes south of the city, and regarded as one of the top 5 shops for acoustic guitars in the U.S.A. Founded in 1969 by Richard Johnston and Frank Ford, the store isn't just renowned for its unbeatable range of guitars in all price categories, but also for hosting one of the finest workshops in America. Several Luthiers work here, and the place also offers lessons and workshops with famous guitarists.
Also well equipped for mandolins, banjos, ukuleles, high-end electric guitars and amplifiers – Gryphon is an elite destination featuring a friendly atmosphere and extremely competent staff – well worth the journey! It is also reachable via public transport, involving the Caltrain from San Francisco to 'California Avenue' Station followed by a 10 minute walk.
Schoenberg Guitars is the second trip for acoustic guitar lovers. Located on the Tiburon Peninsula, roughly 20 minutes north of the city, this is a visit which is sure to thrill both guitarists and non-guitarists alike! It can be reached by driving over the Golden Gate Bridge followed by a short walk through Sausalito. For first-time tourists however, we recommend the scenic route – the half hour 'Blue and Gold Fleet' ferry which passes by Alcatraz and Angel Island. With clear weather, you also get a stunning view of the Golden Gate Bridge.
Schoenberg Guitars is only 5 minutes away once you've reached Tiburon, and the many cafes and restaurants next to the water are also highly recommended. The store was founded at the end of the 1990s by legendary fingerstyle guitarist Eric Schoenberg. Although having only modest floorspace, the shop offers a selection of premium vintage guitars alongside normal and custom shop Martins, value guitars brands and of course; Eric's own brand 'Schoenberg'.
Especially recommended is the series of in-house concerts which take place within the store. Indeed, even internationally renown artists have been known to take to the stage (more information at www.om28.com). For those who have always wanted to see acts like Pierre Bensusan, Laurence Juber or Jorma Kaukonen in a living-room sized venue holding no more than 40 people, this is truly a treat. Concert-goers are reminded that the last ferry often departs long before the end of a show – so plan accordingly!
For any guitarist, a trip through the Bay Area isn't complete without a visit to Berkley in East Bay, which plays host to a number of live music clubs. Berkley can be reached without too much trouble via commuter train and late at night with a car. On the Adeline Street, the Berkley Musical Instrument Exchange can be found near the the 'Ashby' stop. It specialises in imported Flamenco and concert guitars from Mexico, and its existence has long been an insider tip among musicians in the nylon-string scene. There is also a flea market every weekend which takes place on the car park opposite the store.
The craziest Easy Bay shop is without a doubt Subway Guitars. A small shop on the corner of residential district on Cedar Street, Subway is a world of its own. Forget about finding new or normal guitars here, Subway's game is unique guitars; obscure vintage parts, cheap but playable acoustics or dusty amps with colourful histories. Owner Fatdog is a legendary figure in East Bay music circles, and knows his way intimately through the clutter of his store. You wont find a computer on the counter, but if you're lucky you may catch a glimpse of Taj Mahal, David Lindley, Jackson Browne, Billy Gibbons or other famous patrons of this gem of a store. During our chat with Fatdog he takes out a handwritten letter from Mr Gibbons himself, in it is written how he hopes to visit the store once again.
Live Music
There's no better fitting way to end a long trip through countless guitar stores like winding down to an evening of live music. A word of warning: the Bay Area closes up pretty early, especially when it comes to restaurants. After 10pm it can be a pain to find food in certain neighbourhoods, so it's better to eat up before the gig. In emergencies, Sparky's 24 hour Pizza & Diner on Church Street has been the port of call for hungry musicians for years now. Check it out: parkysdinersf.com
The legendary Filmore Auditorium is undoubtedly the most famous rock club in San Francisco. It was founded in the Sixties by promoter Bill Graham and has had some serious musical history written within its walls. The Filmore, as it's known, endured heavy damage from the 1989 earthquake and was closed for long after. Since then, the 1200-capacity club has reopened and reestablished itself as a prestigious venue for any touring band.
At least two more clubs can be found directly around the Filmore. Across Geary Boulevard is Boom Room, and around the corner of Filmore Street is Yoshi's San Francisco. The Boom Room offers mostly blues, R&B and Soul, often till late and with a dancefloor. Yoshi's on the other hand is a concert hall attached to a Japanese restaurant and a popular spot for Jazz lovers, although other music styles are catered to during the week.
Two of the most popular mid-sized clubs are the Great American Music Hall on O'Farrell Street and Slim's on 11th Street. Built in 1907, the Great American Music Hall has an atmosphere reminiscent of an old speakeasy. Thanks to the large balcony, there are also few undesirable seating places. On the stage congregate top musicians of almost all genres. Slim's is owned by rock veteran Boz Scaggs, and the club remains an important part of the San Francisco rock scene. The club hosts both local and internationally touring bands.
To see some of the most internationally active bands play in big halls and clubs, it's probably not necessary to travel to San Francisco. Where then are the secrets the city has to offer? The up-and-comers and local heroes? There's always lots going in the Bay Area's many clubs, pubs and cafes, and there will always be an element of luck to strike upon the perfect act. For example, Cafe Du Nord is an institution where Americana music has been played at the highest level for many years. Be it folk, jazz, rock or even occasionally experimental music, there's always something interesting going on. The location on Market Street means it's also reachable. As diverse if not somewhat smaller and more pub-like is Amnesia, situated on Valencia Street in the trendy Mission District. Mondays is bluegrass and on Wednesdays there's jazz. The schedule for the rest of the week falls under their motto of 'Anything Goes!', with emphasis on local musicians.
One of the newest clubs on the scene is Brick & Mortar, which is also conveniently located in Mission District. The theme here is mainly rock, although Americana, Jazz and Folk is also common. Although one could write an entire list of San Francisco's clubs, we'll just mention a couple more. Hotel Utah lie at the foot of Bay Bridge in the SOMA district. It's not a hotel, but has long been known as one of the most exciting venues to catch promising bands or even new projects from already established musicians. Mondays are Open Mic Night, where anyone is invited to take stage and play a few songs.
The Bazaar Cafe couldn't be further away from a dingy rock pub. No equipment rigs here, but instead the small audience will vibe to the sound of acoustic guitars, piano and a singer. Covers aren't allowed here, and many singer-songwriters will test out their own material here first. Thursdays feature an Open Mic Night, and the last Wednesday of every month is an acoustic guitar showcase.
For those looking to escape the city, we have a couple more tips. Fans of folk music shouldn't miss the opportunity to visit Freight & Salvage coffeehouse in Berkeley. It was established in 1968 and has since become THE club for acoustic music of all persuasions. Its downtown location also makes it very each to reach via BART. What Freight & Salvage is for the folk scene, is Yoshi's Oakland for Jazz. Without a doubt the best jazz club in northern California, one can often see known if not famous musicians on its stage. In North Bay there are two clubs which have been founded by members of the Grateful Dead within the last year. Sweetwater Music Hall was built in Mill Valley by Bob Weir, and Terrapin Crossroads Club in San Rafael by Phil Lesh. In both clubs you'll find quality roots rock music, often accompanied by Bob and Phil themselves.
Festivals
Festival season in San Francisco is mainly over summer and fall. Take a glance at the calendar in the San Francisco Chronicle, San Francisco Guardian or SF Weekly (free at newspaper stands and cafes) to get a quick overview of what's happening. Googling 'San Francisco Music Festivals' can't hurt either.
Smaller events such as North Beach Festival or the Haight Street Fair offer a decent insight into the music scene and remain free for the public. If bigger festivals are more your thing, plan for the first October weekend to catch Bay Area's largest festival at Golden Gate Park. Brought to life by investor and bluegrass fan Warran Hellmann, the Hardly Strictly Bluegrass festival is three days of Americana music with a strong emphasis on bluegrass, rendered by some of the finest musicians. For fans of rock music, Outside Lands offers a strong line-up of rock and pop acts. Although not free like Hardly Strictly, Outside Lands offers a full programme which fans of the genre should most definitely see.
Finally, and in the interest of balance it should be said that San Francisco also offers a fantastic selection of classical guitar concerts. These are normally through the OMNI Guitar series (omni.concerts.com). These attract artists such as the Assas Brothers, David Russel, Yamandu Costa and also steel-stringers like Tommy Emmanuel. The city's 'International Guitar Night' is presented by OMNI across several theatres in the city. The city is apulse with amazing music and amazing musicians, so much so that one can almost overlook the traditional tourist attractions! If you can, make time for the cable bar, Golden Gate Bridge, China Town, the MOMA etc. Have fun!