One by Metallica | Lyrics and Guitar Chords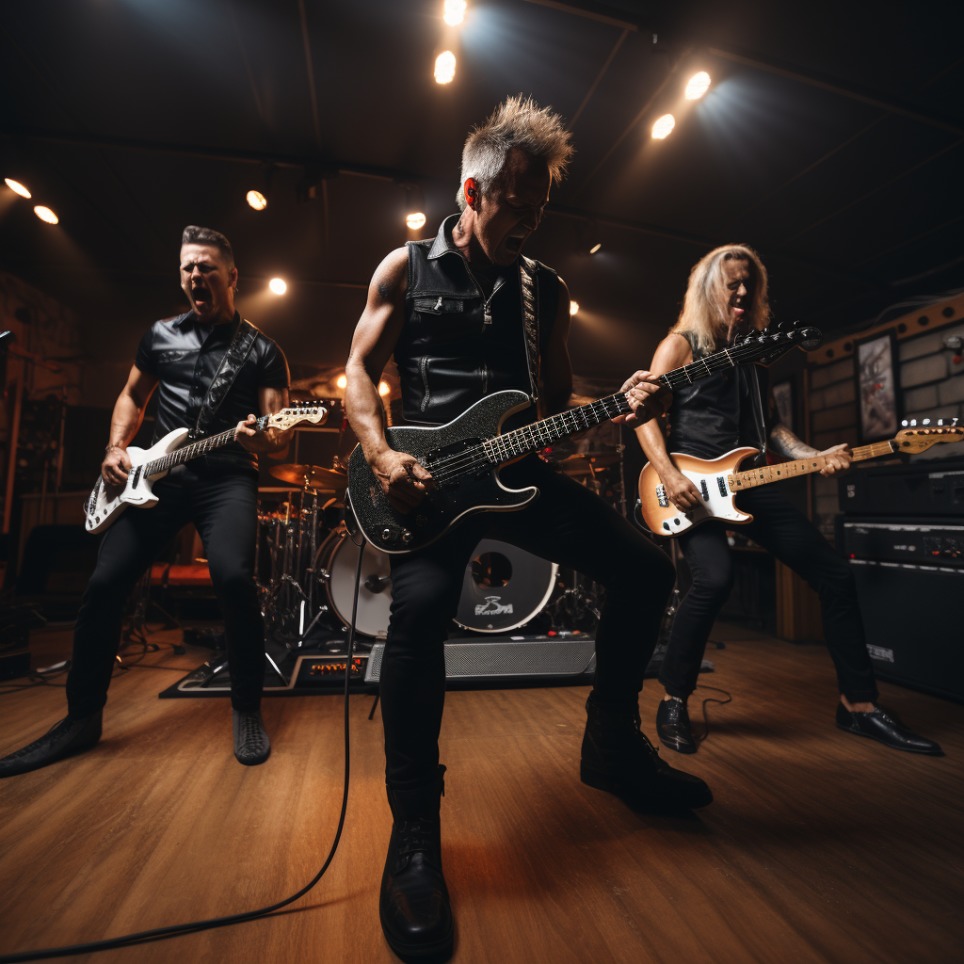 Diving into the vast sea of Metallica's songs, an acoustic guitarist might feel like a fish out of water. However, with "One," there's an inviting space for acoustic enthusiasts. The song, rooted in the somber tale of "Johnny Got His Gun," begins with an evocative acoustic touch. One is famously known by Metallica fans for being the first song to have a music video. The video intercuts scenes from the film rendition of Johnny Got His Gun, which the band bought the film rights to years later in order to avoid royalty payments whenever it played.
The song is a beautiful testament to the narrative power of acoustic guitar, conveying deep emotions even before the lyrics commence. As the song progresses, transitioning from haunting acoustic melodies to more aggressive electric riffs, there's a lesson in dynamics and versatility for every guitarist. This journey from gentle strumming to explosive crescendos can inspire acoustic players to push boundaries, exploring the vast emotional spectrum their instrument offers. Moreover, "One" reminds us that even in genres dominated by electric sounds, there's always room for the warm, soulful touch of an acoustic guitar. Embracing "One" is not just about mastering a song; it's about appreciating the acoustic guitar's narrative potential and its timeless place in music, be it metal or any other genre.
You can learn to play One by Metallica with guitar chords, lyrics, and a strumming trainer directly in the Uberchord app. This app listens to your guitar chords and gives you visual feedback in real-time in case you make a mistake.
Key of the Song:
The original key of One by Metallica is in B minor.
Guitar Chords for One by Metallica
There are many many parts to this song which makes it fun to play but also challenging. It's important to have a good grasp of power chords, choosing good fingerings, and alternate picking technique. Each concept will be used throughout the song. 
Video Lesson
One by Metallica – Lyrics with Chords
[Intro]


 


Bm

 

Gmaj7

 

Bm

 

Gmaj7


 


Bm

 

D/A

 

Gmaj7


 


Bm

 

Gmaj7

 

Bm

 

Gmaj7


 


Bm

 

D/A

 

Gmaj7


 


Bm

 

Gmaj7

 

Bm

 

Gmaj7


 


Bm

 

D/A

 

Gmaj7


 


Bm

 

Gmaj7

 

Bm

 

Gmaj7


 


Bm

 

D/A

 

Gmaj7


 


Em

 

F#m

 

G5

 

A5

 

D


 


G

 

F

 

Em


 
 


[Verse]


 


Bm

          

Gmaj7




I can't remember   anything


Bm

                     

Gmaj7




Can't tell if this is true or dream


Bm

                  

D/A




Deep down inside I feel to scream


Gmaj7




This terrible silence stops me


 


Bm

                  

Gmaj7




Now that the war is through with me


Bm

               

Gmaj7




I'm waking up, I cannot see


Bm

                     

D/A




That there is not much left of me


Gmaj7




Nothing is real but pain now


 
 


[Chorus]


 
 

G5

  

A5

   

B5

   

A5

 

G5

 

F#5

  

B5

      

A5




Hold my breath as I wish for death


B5

 

C#5

 

B5

  

A5




       Oh please, God, wake me


 
 


[Verse]


 


Bm

          

Gmaj7




Back in the womb it's much too real


Bm

                     

Gmaj7




In pumps life that I must feel


Bm

                  

D/A




But can't look forward to reveal


Gmaj7




Look to the time when I'll live


 


Bm

                  

Gmaj7




Fed through the tube that sticks in me


Bm

               

Gmaj7




Just like a wartime novelty


Bm

                     

D/A




Tied to machines that make me be


Gmaj7




Cut this life off from me


 
 


[Chorus]


 


G5

  

A5

   

B5

   

A5

 

G5

 

F#5

  

B5

      

A5




Hold my breath as I wish for death


B5

 

C#5

 

B5

  

A5




       Oh please, God, wake me


 
 


[Solo]


 


D

 

G

 

F

 

Em


 


D

 

G

 

F

 

Em


 


Em

 

D

 

G

 

F


 


Em

 

D

 

G

 

F


 
 


[Chorus]


 


Em

     

G5

 

A5

     

B5

 

A5

  

G5

   

F#5

   

B5

     

A5




      Now the world is gone, I'm just one


B5

 

C#5

 

B5

  

A5

   

B5

  

C#5




       Oh God, help me


G5

   

A5

  

B5

    

A5

 

G5

 

F#5

   

B5

      

A5




Hold my breath as I  wish for death


B5

 

C#5

 

B5

   

A5

     

B5

   

C#5

 

G5




       Oh please, God, help me


 
 


[Instrumental]


 


A5

 

B5

 

A5

 

G5

 

F#5

 

B5


 


Am

 

G

 

B

 

C


 


C/E

 

D

 

B5

 

C5

 

C/E


 


E5

 

F5


 
 


[Interlude]


 


E5




Darkness imprisoning me


 


All that I see


            

F5




Absolute horror


E5




I cannot live


 


I cannot die


 


Trapped in myself


             

F5




Body my holding cell


 
 


[Instrumental]


 


E5

 

F5

 

E5


 


E5

 

F5

 

E5


 
 


[Interlude]


 


E5




Landmine has taken my sight


 


Taken my speech


         

F5




Taken my hearing


E5




Taken my arms


 


Taken my legs


 


Taken my soul


             

F5




Left me with life in hell


 
 


[Instrumental]


 


E5

 

F5


 
 


[Solo]


 


E5

 

F5

 

E5


 


F5

 

G5

 

E5


 


F5

 

G5


 


G5

 

C#5


 


F5

 

G5


 


C#5

 

F5

 

G5


 


F5


 


G5

 

F5


 


E5

 

F5


 


E5


 


E5

 

F5


 


E5

 

F5

 

E5


 


F5

 

E5

 

F5


 


G5

 

E5


 


F5

 

G5

 

E5


 


F5

 

E5