Fields Of Gold by Sting | Lyrics with Guitar Chords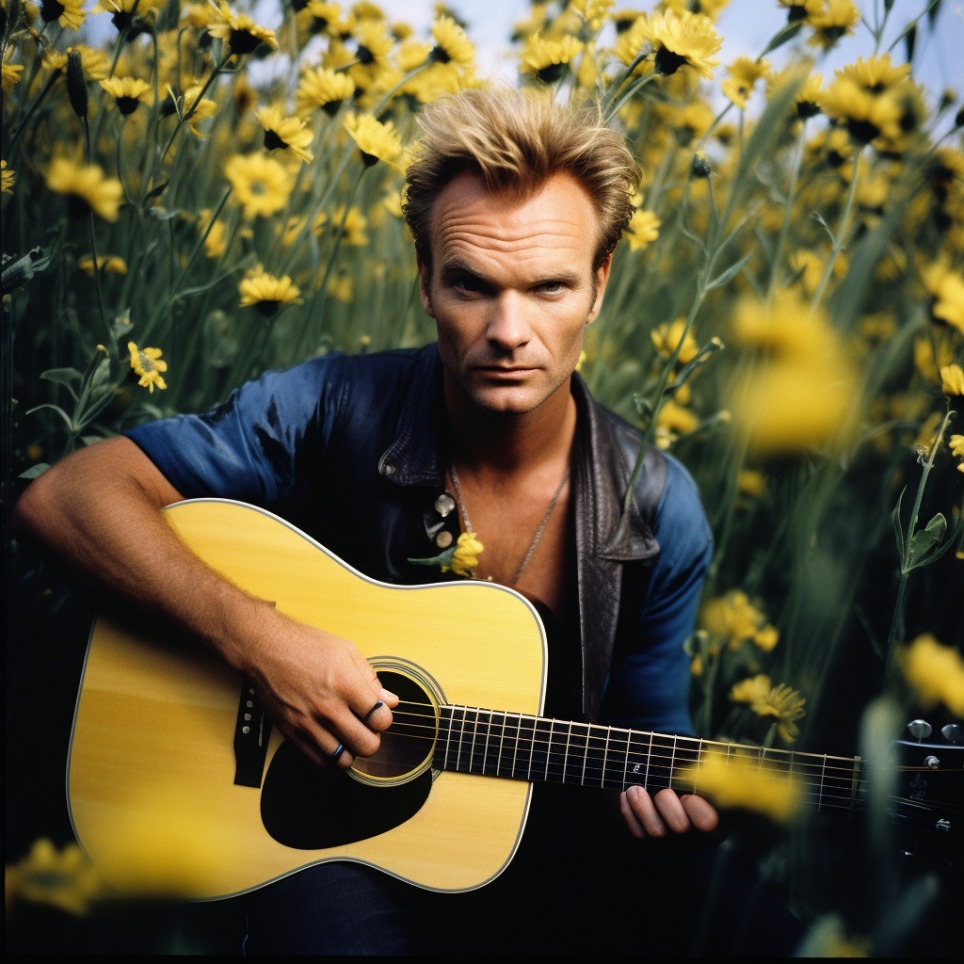 Fields of Gold was a song that made up a string of hits for Sting off the album Ten Summoner's Tales. It was recorded at Lake House Wiltshire, which is described in this song. The music video for the song has been very popular as it has over 80 million views on YouTube alone.
You can learn to play Fields Of Gold by Sting with guitar chords, lyrics and a strumming trainer directly in the Uberchord app. This app listens to your guitar chords and gives you visual feedback in real-time in case you make a mistake.
Key of the Song:
The original key of Fields Of Gold by Sting is in D major.
Guitar Chords for Fields Of Gold by Sting
If you've been able to play other songs that use the common guitar chords, then this one shouldn't be too much of a challenge. The Bm to G will be challenging as you'll need to move your 3rd and 4th fingers from the 4th frets on the G and D strings to the high E and B strings. Be conscious of such movements and practice them slowly.
Video Lesson
Fields Of Gold by Sting – Lyrics with Chords
[Verse 1]


         

Bm

                    

G




You'll remember me when the west wind moves


                     

D




Upon the fields of barley


         

Bm

                  

G

      

D




You'll forget the sun in his jealous sky


      

G/B

      

A

             

Bm7

 

G

 

D




As we walk in fields of gold


 
 


[Verse 2]


       

Bm

                     

G




So she took her love for to gaze awhile


                      

D




Upon the fields of barley


     

Bm

                      

G

         

D




In his arms she fell as her hair came down


     

G/B

   

A

           

D




Among the fields of gold


 
 


[Verse 3]


       

Bm

                       

G




Will you stay with me, will you be my love


                        

D




Among the fields of barley


       

Bm

                     

G

       

D




We'll forget the sun in his jealous sky


      

G/B

      

A

           

Bm7

 

G

 

D




As we lie in fields of gold


 
 


[Verse 4]


         

Bm

                     

G




See the west wind move like a lover so


                     

D




Upon the fields of barley


         

Bm

                  

G

         

D




Feel her body rise when you kiss her mouth


     

G/B

   

A

          

D




Among the fields of gold


 
 


[Bridge]


G

             

D




I never made promises lightly


G

                   

D




And there have been some that I've broken


G

                  

D




But I swear in the days still left


       

G/B

     

A

          

D




We'll walk in fields of gold


       

G/B

     

A

          

D




We'll walk in fields of gold


 
 


[Instrumental]


Bsus2

 

G

 

G

 

D




Bsus2

 

G

 

D

 

G/B

 

A

 

D


 
 


[Verse 5]


      

Bm

                              

G




Many years have passed since those summer days


                      

D




Among the fields of barley


      

Bm

                     

G

        

D




See the children run as the sun goes down


     

G/B

  

A

          

D




Among the fields of gold


 
 


[Verse 6]


Bsus2

                        

G




You'll remember me when the west wind moves


                    

D




Upon the fields of barley


         

Bm

                 

G

       

D




You can tell the sun in his jealous sky


         

G/B

       

A

          

D




When we walked in fields of gold


         

G/B

       

A

          

D




When we walked in fields of gold


         

G/B

       

A




When we walked in fields of gold


 
 


[Outro]


D

 

Dsus4

 

D




(repeat 7 times and finish 8th on D)