My Maria by Brooks & Dunn | Lyrics & Guitar Chords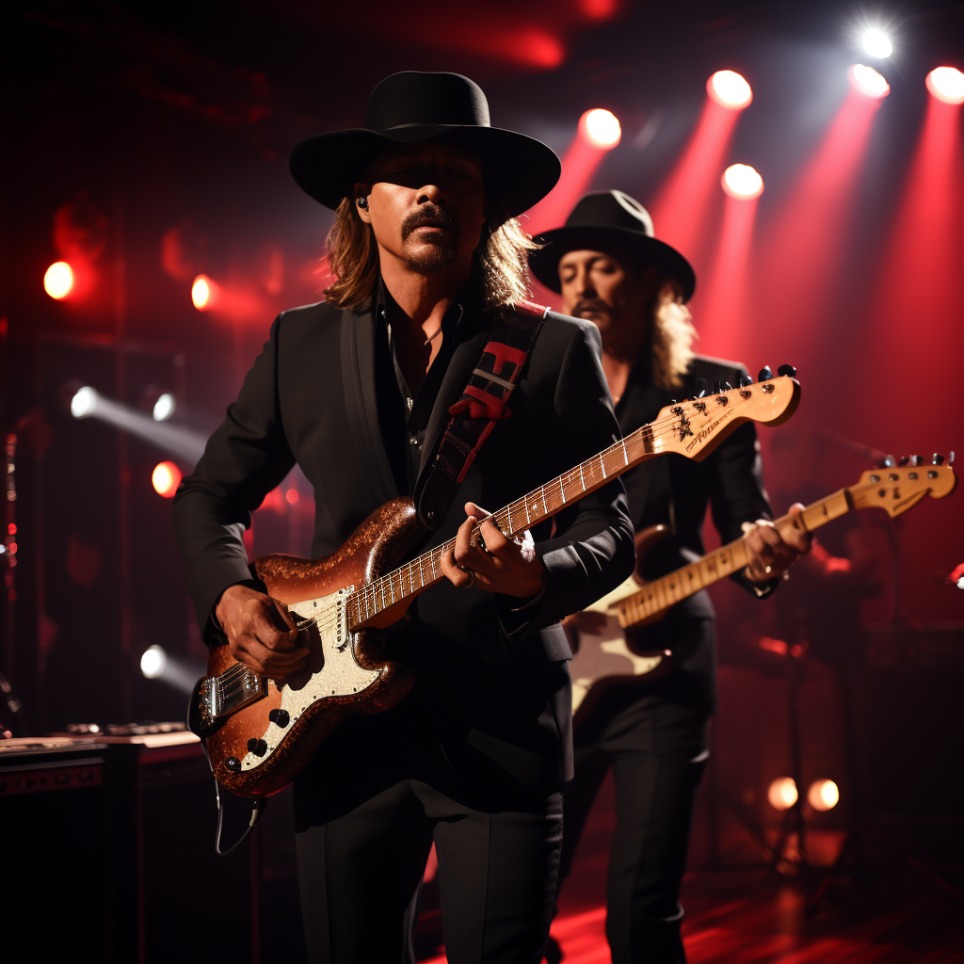 Every now and then, a cover song comes along that captures the essence of the original while breathing new life and energy into it. "My Maria" by Brooks & Dunn is a prime example. While the song first made waves in the '70s thanks to B.W. Stevenson, the duo transformed it into a country sensation in the '90s and led them to win their second Grammy (for best vocal country performance). What stands out for us guitar aficionados is the song's unmistakable guitar riff—a blend of melodious picking and strumming that resonates with that classic country feel. Alongside Ronny Dunn's dynamic vocal delivery, the guitar plays a pivotal role in driving the song's energetic tempo. It's a great track for guitarists looking to dive into country music, offering both rhythmic challenges and a chance to play one of the genre's most recognized tunes. So, if you're eager to strum and pick your way into the heart of country, let "My Maria" guide your fingers and passion for music!
You can learn the chords you need to play My Maria by Brooks & Dunn with the Uberchord app. This app listens to your guitar chords and features a chords and a strumming trainer. It also gives you visual feedback in real-time in case you make a mistake.
Key of the Song:
The original key of My Maria by Brooks & Dunn is in D major.
Guitar Chords for My Maria by Brooks & Dunn
D-A-G is a chord progression that is just fine for beginners. The A to G chord change will be a little difficult as many of your fret hand fingers will move quickly out of the 2nd fret to the 3rd fret. Play this chord change slowly and notice the adjustments you'll need as you practice it.
Video Lesson
My Maria by Brooks & Dunn – Lyrics with Chords
[Intro]


| 

D

   

A

  

G

|(

G

)      | x2
 
 


[Verse 1]


      

D

 

A

 

G




My Maria...


           

D

               

A

          

G




Don't you know I've come a long, long, way?


D

        

A

          

G




 I been longin' to see her.


            

D

                  

A

      

G




when she's around she takes my blues away.


         

D

 

A

 

G




Sweet Maria...


       

D

            

A

       

G




the sunlight surely hurts my eyes.


D

        

A

      

G

             

D

       

A

     

G




  I'm a lonely dreamer, on a highway in the skies.


 
 


[Chorus]


      

D

     

A

   

G

        

D

     

G

 

A

     

D




Mar...i.....i...i...i...i.i.i.i........ia,


     (Oh Maria love you girl, oh my Maria)


 
      

D

     

A

   

G

        

D

       

G

  

A

      

D




Mar...i.....i...i...i...i.i.i.i............ia,


     (Oh Maria love you girl, Maria I love you)


 
 


[Instrumental]


| 

D

   

A

  

G

|(

G

)      | x2
 
 


[Verse 2]


      

D

 

A

 

G




My Maria...


                

D

         

A

 

G




there were some blue and sorrowed times.


D

       

A

         

G

               

D

       

A

        

G




Just my thoughts about you, bring back my peace of mind.


        

D

 

A

 

G

          

D

      

A

      

G




Gypsy lady... your a miracle worked for me.


D

      

A

      

G

                 

D

        

A

       

G




You set my soul free, like a ship sailing on the sea.


 
 


[Bridge]


A

              

G

             

D

     

A

   

G




She is the sunlight when the skies are gray


A

              

G

             

D

     

A

   

G

      

D

 

A

 

G




She treats me so right, lady, take me away


 
 


[Chorus]


          

D

     

A

   

G

        

D

     

G

 

A

     

D




My  Mar...i.....i...i...i...i.i.i.i........ia,


         (Oh Maria love you girl, oh my Maria)


 
      

D

     

A

   

G

        

D

     

G

   

A

      

D




Mar...i.....i...i...i...i.......ia I love you.


     (Oh Maria love you girl,Maria I love you)


 
      

D

   

A

   

G

   

D

   

G

         

D




Mar...i...i...i...i...i.i.i.i...ia,


(Oh Maria love you girl, oh my Maria)


 
      

D

     

A

   

G

        

D

     

G

   

A

      

D




Mar...i.....i...i...i...i.......ia I love you.


     (Oh Maria love you girl,Maria I love you)


 
 


[Instrumental]


D

 

A

 

G

   

D

 

G

 

D




D

 

A

 

G

   

D

 

G

 

D


 
 


[Chorus]


      

D

   

A

   

G

   

D

   

G

         

D




Mar...i...i...i...i...i.i.i.i...ia,


(Oh Maria love you girl, oh my Maria)


 
      

D

     

A

   

G

        

D

     

G

   

A

      

D




Mar...i.....i...i...i...i.......ia I love you.


     (Oh Maria love you girl,Maria I love you)


 
      

D

   

A

   

G

   

D

   

G

         

D




Mar...i...i...i...i...i.i.i.i...ia,


(Oh Maria love you girl, oh my Maria)


 
      

D

     

A

   

G

        

D

     

G

   

A

      

D




Mar...i.....i...i...i...i.......ia I love you.


     (Oh Maria love you girl,Maria I love you)


 
      

D

   

A

   

G

   

D

   

G

         

D




Mar...i...i...i...i...i.i.i.i...ia,


(Oh Maria love you girl, oh my Maria)


 
      

D

     

A

   

G

        

D

     

G

   

A

      

D




Mar...i.....i...i...i...i.......ia I love you.


     (Oh Maria love you girl,Maria I love you)