Master Of Puppets by Metallica | Lyrics with Guitar Chords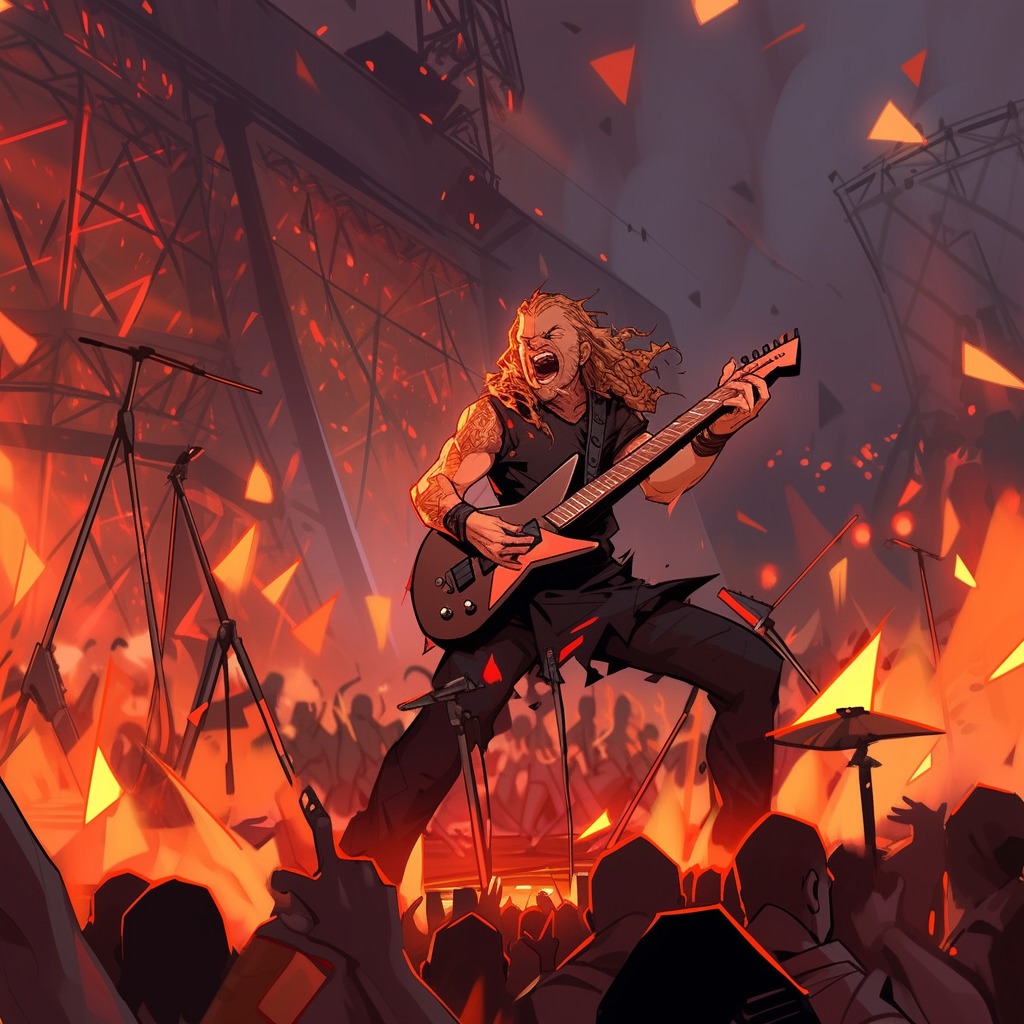 Master of Puppets is the band's most performed song at 1718 times. It was Cliff Burton's favorite song off the album according to interviews he made. Dave Mustaine claims that the intro riff was written by Lars Ulrich during his time with Metallica.
You can learn to play Master Of Puppets by Metallica with guitar chords, lyrics and a strumming trainer directly in the Uberchord app. This app listens to your guitar chords and gives you visual feedback in real-time in case you make a mistake.
Key of the Song:
The original key of Master Of Puppets by Metallica is in E minor.
Guitar Chords for Master Of Puppets by Metallica
This is a song where you'll need several different skills to play various parts. You'll need good control of your powerchord shapes, decent downpicking, and the ability to play fingerpicked chord parts. It's a good idea to learn one riff at a time until you know the whole song. 
Video Lesson
Master Of Puppets by Metallica – Lyrics with Chords
[Intro]


 


E5

 

D5

 

C#5

 

C

 

Em




D5

 

C#5

 

C

 

Em

  x(4)


B5




E5

 

Em


 
 


[Verse]


Em




end of passion play, crumbling away


i'm your source of self-destruction


veins that pump with fear, sucking darkest clear


leading on your death's construction


 
 


[Pre-Chorus]


F#m




taste me, you will see


more is all you need


you're dedicated to


                    

B5




how i'm killing you


 
 


[Chorus]


E5

 

D5

 

E5


 


C5

 

B5

       

D#5

 

B5

   

E5

    

D5

 

E5




   come crawling     faster


C5

 

B5

   

D#5

  

E5

    

D5

 

E5




   obey your master


C5

 

B5

   

D#5

  

E5

    

D5

 

E5




   your life burns faster


B5

   

D#5

  

E5

    

D5

 

E5




   obey your master


F




master


 


E5

                                    

G




master of puppets, i'm pulling your strings


C5

                     

B5

             

A5




twisting your mind and smashing your dreams


D

                      

C5

       

B




blinded by me, you can't see a thing


E5

                            

D5

           

C




just call my name, 'cause i'll  hear you scream


E5




Master


F




Master


E5

                                       

C




just call my name, 'cause i'll hear you scream


E5




Master


F




Master


 
 


B5


 


 [Verse]


Em




needlework the way, never you betray


life of death becoming clearer


pain monopoly, ritual misery


chop your breakfast on a mirror


 
 


[Pre-Chorus]


F#m




taste me, you will see


more is all you need


you're dedicated to


                    

B5




how i'm killing you


 
 


[Chorus]


E5

 

D5

 

E5


 


C5

 

B5

       

D#5

 

B5

   

E5

    

D5

 

E5




   come crawling     faster


C5

 

B5

   

D#5

  

E5

    

D5

 

E5




   obey your master


C5

 

B5

   

D#5

  

E5

    

D5

 

E5




   your life burns faster


B5

   

D#5

  

E5

    

D5

 

E5




   obey your master


F




master


 


E5

                                    

G




master of puppets, i'm pulling your strings


C5

                     

B5

             

A5




twisting your mind and smashing your dreams


D

                      

C5

       

B




blinded by me, you can't see a thing


E5

                            

D5

           

C




just call my name, 'cause i'll  hear you scream


E5




Master


F




Master


E5

                                       

C




just call my name, 'cause i'll hear you scream


E5




Master


F




Master


 
 


[Interlude]


Em

 

D

 

Cadd9

 Amsus2 

B7




B7/D#

 

Em

 

D

 

Cadd9

 Amsus2 

B7

 

B7/D#




Em

 

D

 

Cadd9


Amsus2 

B7

 

B7/D#


 
 
 


[Solo]


Em

 

D

 

Cadd9


Amsus2 

B7

 

B7/D#

 

Em

 

D




Cadd9

 Amsus2 

B7

 

B7/D#




Em

 

D

 

Cadd9

 Amsus2 

B7

 

B7/D#


 


E5

 

D5

 

C5

 

A5

 

B5

 

D#5

 x2


E5

 

F#5

 

G5

 

F#5

 

G5

 

F#5

 

G5

 

F#5

 

G5

 

F#5

 

G5

 

C#5


 
 
 


[Bridge]


F#5

   

G5

 

F#5




master,     master


G5

  

F#5

          

G5

    

F#5

           

G5




   where's the dreams that i've been after?


F#5

   

G5

 

F#5

      

G5




master,     master


    

F#5

       

G5

 

F#5




you promised only lies


G5

 

C#5

   

F#5

  

G5

 

F#5

         

G5




      laughter,      laughter


F#5

      

G5

   

F#5

          

G5




all i hear and   see is laughter


F#5

     

G5

 

F#5

        

G5




laughter,     laughter


F#5

       

G#5

 

F#5

   

G5




laughing at my cries


fix me


 
 


G

 

F#


 
 


[Solo]


Em


 
 


[Verse]


Em




hell is worth all that, natural habitat


just a rhyme without a reason


never-ending maze, drift on numbered days


now your life is out of season


 
 


F#m




i will occupy


i will help you die


i will run through you


now i rule you, too


 
 


E5

 

D5

 

E5


 


C5

 

B5

       

D#5

 

B5

   

E5

    

D5

 

E5




   come crawling     faster


C5

 

B5

   

D#5

  

E5

    

D5

 

E5




   obey your master


C5

 

B5

   

D#5

  

E5

    

D5

 

E5




   your life burns faster


B5

   

D#5

  

E5

    

D5

 

E5




   obey your master


F




master


 
 


[Chorus]


E5

                                    

G




master of puppets, i'm pulling your strings


C5

                     

B5

             

A5




twisting your mind and smashing your dreams


D

                      

C5

       

B




blinded by me, you can't see a thing


E5

                            

D5

           

C




just call my name, 'cause i'll  hear you scream


E5




Master


F




Master


E5

                                       

C




just call my name, 'cause i'll hear you scream


E5




Master


F




Master


 


B5




E5




C

 

E5




Em x4


Haha ahaha A E5