Learn to play the popular ii-V-I chord progression used in many Jazz Standards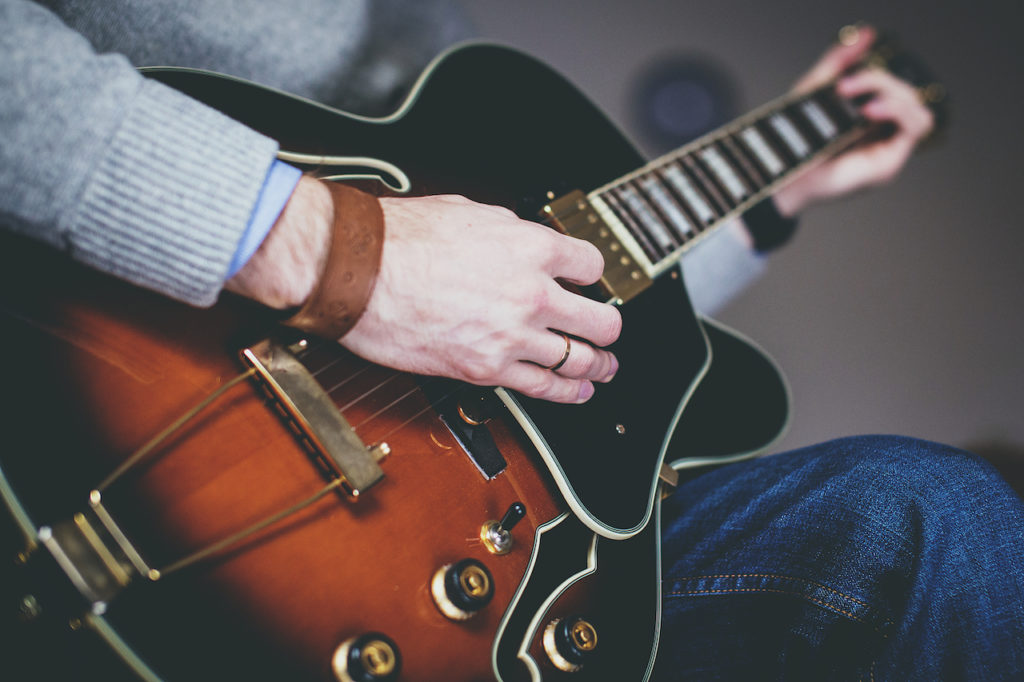 The ii-V-I progression is the stalwart of the jazz idiom. About 80-90% of all Jazz and American Songbook classics are comprised mostly, if not solely, of ii-V-I progressions. Any beginning jazz player should therefore have a strong understanding of the progression itself, as well as the ability to play the progression anywhere on the fretboard. In this lesson, we'll explore the ii-V-I progression and it's many uses and iterations.
If you're not familiar with chord notation, I've provided a diagram that illustrates how the chords are named.
Major:

Minor:

In diatonic harmony, Roman numerals are used to describe the number and quality of a given chord. Upper case numerals are used for Major chords, while lower case are used for minor. A minor chord with a small circle is used for diminished chords, while upper case with a plus sign is used for augmented. For our purposes here, you won't need to know these inside and out, This is more of just a way to understand where ii-V-I comes from and what the actual notation means. in a ii-V-I, the lower case ii denotes a minor chord starting on the second degree of a major scale, the upper case V denotes a major chord starting on the 5th degree of a major scale and the upper case I denotes a major chord starting on the 1st degree of a major scale.
If you've spent any time learning about chord progressions, it's a good bet you've seen IV-V-I at some point. For example, Fmaj – Gmaj – Cmaj represents IV-V-I.  Without knowing it, you've actually played something very similar to a ii-V-I. ii-V-I and IV-V-I are actually functionally the same progression. They both represent a sub-dominant, dominant, tonic functionality that is the backbone of diatonic harmony. In fact, Dm7 is actually just Fmaj with D in the bass. Think of tonic as the resting place, where things feel settled (I chord). Dominant (V) is where the tension happens and promotes the feeling of a need for resolution. Sub-dominant is a little more nebulous, but for all intensive purposes, it's the chord that leads us to the dominant.
In jazz, we usually use 7th chords and extensions so a more accurate notation would be ii7-V7-I7. Let's checkout some basic versions of a ii7-V7-I7 progression. I've provided 3 different versions in 3 different keys.
Bb
G
Eb
If you look at the first diagram I provided above, you'll see that in a minor key the ii chord is diminished and the I chord becomes minor. With extensions this becomes ii7b5-V7-i7
Here are the same examples above played in Minor.
Bb
G
Eb
Note: In minor, We change the minor v to V7 to follow the sub-dominant, dominant, tonic functionality of the progression. This way we form the tension and release that's needed to create "movement" and resolution in the progression. In a natural minor key there is no major 7 or "leading tone" so it's added to create the tension needed to resolve to the tonic. Hence, in Cmin the V chord is Gmin. In order to have a leading tone (in this case B natural) we change Gmin to Gmaj. G-Bb-D becomes G-B-D.
Now let's look at the same chords with some added colors:
Major:
Bb
X 3 3 3 4 X
1 X 1 2 3 X
X 1 0 2 1 X
G
5 X 5 5 5 7
X 5 4 5 4 6
3 X 4 4 3 5
Eb
X X 3 5 4 4
6 X 6 7 7 6
X X 1 3 3 3
Minor:
Bb
X 3 4 3 4 X
1 0 1 1 X X
X 1 3 0 2 X
G
5 X 5 5 4 X
X 6 6 5 3 X
3 X 2 3 3 X
Eb
X X 3 4 4 4
6 X 6 7 7 9
X X 1 3 3 2
You'll notice here that the V chord is where most of the chord alteration happens. This is the bread and butter of jazz. The V chord, as I described before, has a dominant function. It characterizes the key as well as creating the tension that ultimately resolves to the tonic chord. Jazz players love the dominant chord because they can use alterations like b9 #11 and b13 and then resolve it nicely to the home or tonic chord. The more you play these chords and familiarize yourself with the sound, the more you'll recognize the progressions in your favorite jazz records. There is a discernible cadence to the progression, and heard enough times, ii-V-I becomes very apparent. Try to adapt these chords to other keys and see if you can play the same voicings in different places on the guitar neck. Happy playing!
Interested in learning more about how chords and harmony works? Then all you've got to do is spend some more time here on Uberchord's blog. We've got a wide assortment of articles you can learn from including what key harmonica jack johnson better together, why does srv go down during exercise, and rickenbacker guitar weight.