I Wanna Rock by Twisted Sister | Lyrics with Guitar Chords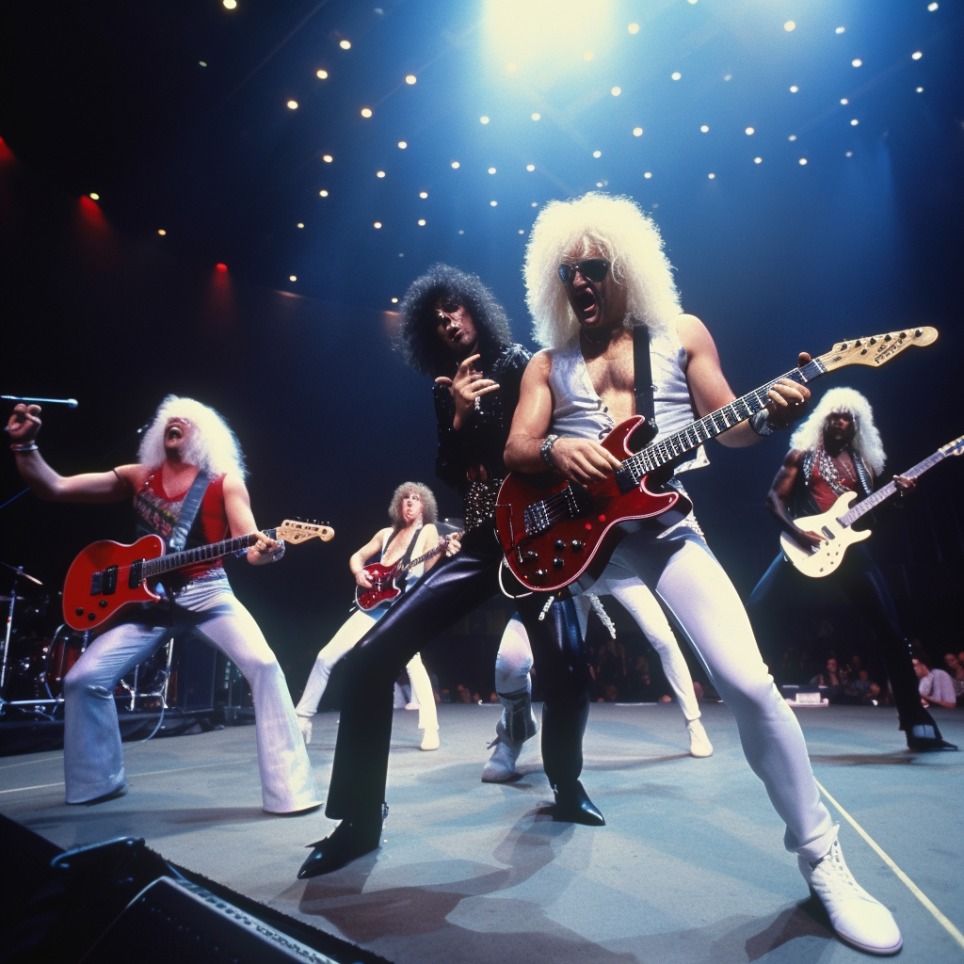 Despite the lasting popularity of the song, it only got as high as 68 on the Billboard Top 100. The music video for the song features the actors who played Douglas Niedermeyer and "Flounder" in the movie Animal House. It's been featured in many other places like the video game Grand Theft Auto Vice City and the move Road Trip.
You can learn to play I Wanna Rock by Twisted Sister with guitar chords, lyrics and a strumming trainer directly in the Uberchord app. This app listens to your guitar chords and gives you visual feedback in real-time in case you make a mistake.
Key of the Song:
The original key of I Wanna Rock by Twisted Sister is in D major.
Guitar Chords for I Wanna Rock by Twisted Sister
The key to playing this song correctly is knowing your fingers well enough to sound the chords out. A common problem with many beginners is having notes buzzing or sound dead. This is normal and will be corrected with practice. If you struggle with this problem, try playing only the lowest notes of each chord.
Video Lesson
I Wanna Rock by Twisted Sister – Lyrics with Chords
[Chorus]


 
                 

A

   

G

 x4 

D

 x4 

E

 

G




I wanna rock! (Rock)


 
       

A

         

A

   

G

 x4 

D

 x4 

E

 

C




I wanna rock! (Rock)


 
       

A

         

A

   

G

 x4 

D

 x4 

E

 

G




I want to rock (Rock)


 
       

A

         

A

   

G

 x4 

D

 x4 

E

 

C




I wanna rock! (Rock)


 
 


[Verse]


 


A




Turn it down you say,


 


D

                          

G

                       

A




Well all I got to say to you is time again I say, "No!"


 


G

       

D

       

A




No! No, No, No, No, No!


 


A




Tell me not to play


 


D

                                  

G




Well, all I got to say to you when you tell me not to play,


         

A




I say, "No!"  (No!)


G

 x2    

D

 x2     

A

  ADG


No, No, No, No, No!


 


G

 x3               

D

 x3


So, if you ask me why I like the way I play it


 
 


G

 x3                          

A

  

G

  

D




There's only one thing I can say to you


 
 


[Chorus]


 
                 

A

   

G

 x4 

D

 x4 

E

 

G




I wanna rock! (Rock)


 
       

A

         

A

   

G

 x4 

D

 x4 

E

 

C




I wanna rock! (Rock)


 
       

A

         

A

   

G

 x4 

D

 x4 

E

 

G




I want to rock (Rock)


 
       

A

         

A

   

G

 x4 

D

 x4 

E

 

C




I wanna rock! (Rock)


 
 


[Verse]


 


A




There's a feelin' that


 


D

                                  

G




I get from nothin' else and there ain't nothin' in the world


               

A




That makes me go! (Go!)


 


G

 x2    

D

 x2     

A




Go, go, go, go, go!


 


A




Turn the power up


 


D

                                    

G




I've waited for so long so I could hear my favorite song so,


       

A




Let's go! (Go!)


 


G

 x2     

D

 x2     

A




 Go, go, go, go, go!


 


G

                                 

D




When it's like this I feel the music shootin' through me


 


G

 x3                          

A

    

G

     

D




There's nothin' else that I would rather do


 
 


[Chorus]


 
                 

A

   

G

 x4 

D

 x4 

E

 

G




I wanna rock! (Rock)


 
       

A

         

A

   

G

 x4 

D

 x4 

E

 

C




I wanna rock! (Rock)


 
       

A

         

A

   

G

 x4 

D

 x4 

E

 

G




I want to rock (Rock)


 
       

A

         

A

   

G

 x4 

D

 x4 

E

 

C




I wanna rock! (Rock)


 
                

A

              

A

          

A

   

E

 

G




I wanna rock (ROCK!) ROCK (ROCK!) ROCK (ROCK!)


 
 
                

A

              

A

          

A

   

C

 

G




I wanna rock (ROCK!) ROCK (ROCK!) ROCK (ROCK!)


 
 
                

A

              

A

          

A

   

E

 

G




I wanna rock (ROCK!) ROCK (ROCK!) ROCK (ROCK)


 
                

A

              

A

          

A

   

C

 

G




I wanna rock (ROCK) ROCK (ROCK) ROCK (ROCK)


 


I WANNA ROCK!!!


 
 


[Solo]


 


A

   

G

i iii 

D

i iii 

E

 

G




A

   

G

i iii 

D

i iii 

E

 

C




A

   

G

i iii 

D

i iii 

E

 

G




A

   

G

i iii 

D

i iii 

E

 

C


 
 


[Chorus]


 
                 

A

   

G

 x4 

D

 x4 

E

 

G




I wanna rock! (Rock)


 
       

A

         

A

   

G

 x4 

D

 x4 

E

 

G




I wanna rock! (Rock)


 
       

A

         

A

   

G

 x4 

D

 x4 

E

 

G




I want to rock (Rock)


 
       

A

         

A

   

G

 x4 

D

 x4 

E

 

C




I wanna rock! (Rock)


 
                

A

              

A

          

A

   

E

 

G




I wanna rock (ROCK!) ROCK (ROCK!) ROCK (ROCK!)


 
 
                

A

              

A

          

A

   

C

 

G




I wanna rock (ROCK!) ROCK (ROCK!) ROCK (ROCK!)


 
 
                

A

              

A

          

A

   

E

 

G




I wanna rock (ROCK!) ROCK (ROCK!) ROCK (ROCK)


 
                

A

              

A

          

A

   

C

 

G




I wanna rock (ROCK) ROCK (ROCK) ROCK (ROCK)