Beginners Guide to Improvisation: Rock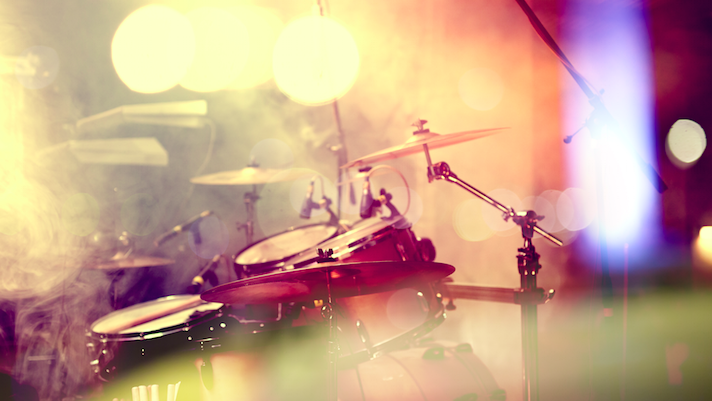 Learn how to improvise in the style of rock on guitar!
This beginner's guide will give you everything you need to get started with developing your rock improvisation skills.
Rock songs typically follow a standard four-chord progression of I- vi- IV- V (1st, Minor 6th, 4th then 5th chord of a particular key). Simple rock songs also tend to feature a steady backbeat, which makes it easier to get a feel for the kinds of rhythms you should think about improvising with. Both of these factors mean that rock is a relatively easy genre to navigate in the early days of building your improvisation skills.
This rock improvisation exercise will focus around the A minor pentatonic scale. If you're not familiar with that yet, take a look at the transcription below and practise it until your fingers get used to the pattern.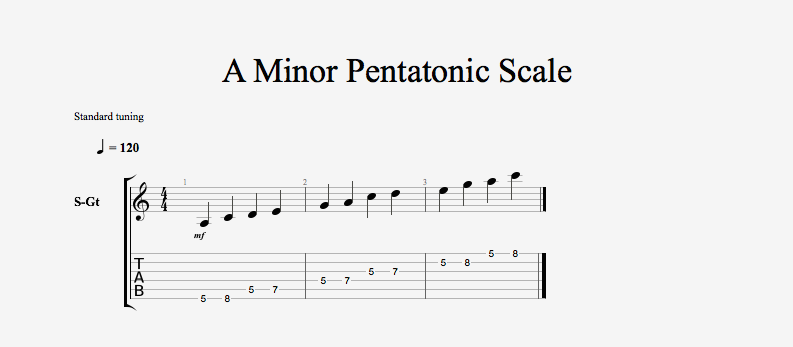 Got it? Great! For this article, we'll be using a basic I- vi- IV- V progression in the key of C.
C is one of the easiest keys to improvise in because it has no sharps or flats. This means that you can play any of the notes A,B,C,D, E, F or G anywhere on your guitar over a chord progression in C and not hear too much dissonance in your improvisation.
This rule has a few exceptions. Playing an F over a G chord for an extended period of time, for instance, might sound strange. This is because non-chordal notes that are situated near a chordal note in the scale tend to clash. For this reason, it's always important to anticipate chord changes so you don't get stuck on a non-chordal note for too long, or people might begin to react badly to the clashing tones.
So what are chordal notes? For the progression in C, chordal notes are as follows:
C: C E G
Am: A C E
F: F A C
G: G B D
Obviously, if you limit your creative playing by only using three notes every time a chord comes around in the progression, your improvisation is probably going to feel quite repetitive. That's where passing tones come in. To deviate slightly, let's have a look at passing tones in the context of a basic two-octave C major scale.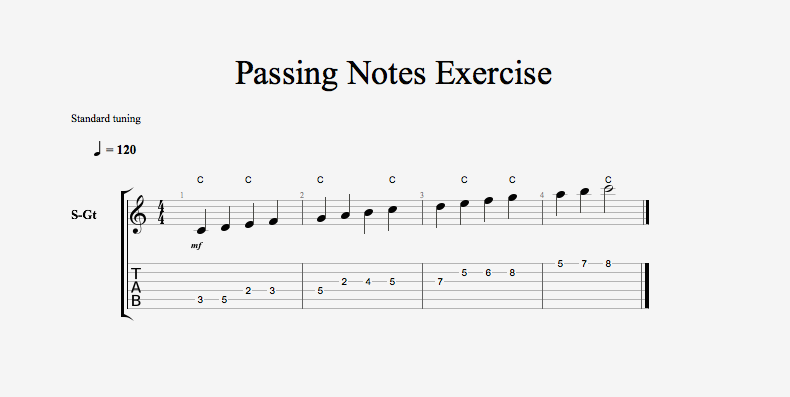 Jumps between chordal notes can still be used, but typically good improvisation will feature a mix of jumps and steps (using passing tones) to create well- phrased melodic ideas.The notes marked with a 'C' are your chordal tones. As you can see, if you only played these notes, you wouldn't be left with much to work with. That's why the other notes- the passing tones- can be used as transitional notes to prevent your improvisation from sounding overly jumpy.
So, now you understand the difference between chordal and passing tones, let's revisit the A minor pentatonic scale and work towards improvising over the chord progression.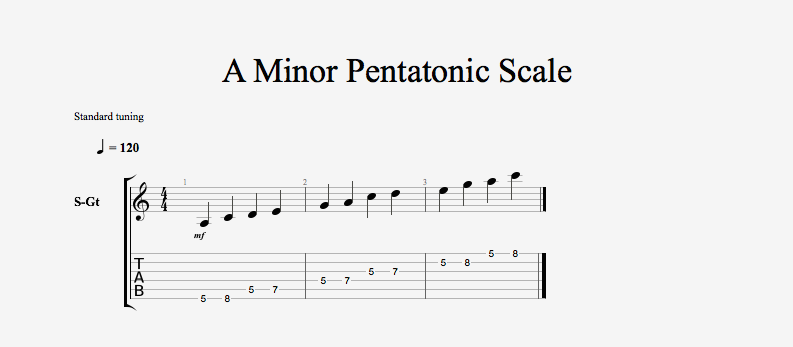 The great thing about this pentatonic scale is that you can play any of the notes over any chord within the C progression and it will sound perfectly fine. This is because it's solely made up of the notes A, C, D, E, & G- all of which are featured as chordal notes at some point in the progression. So, even if you play the wrong note over a particular chord (eg. an A note over a C chord), the progression will eventually change to suit this note and allow you to blend those sounds together. There's very little margin for error, so why not have a go now and see what you can create? Here's that progression again:
To begin with, take the A minor pentatonic scale and, using only the notes of that scale, try to come up with a few of your own licks.
NB: Remember to focus on phrasing- you'll want to create a mixture of long and short rhythms. Consider the song's tempo and listen out for any drum fills to see if you can use these to enhance your licks. For some, the hardest part of improvisation can often be the actual creation of your own ideas. If your fingers seem stuck at first, try humming or singing something over the progression to generate a few melodic phrases. Then integrate those ideas into your playing.
Once you've played around with the pentatonic scale, start to consider using some passing tones (these would be any notes in between the notes of the scale). The main purpose of passing tones is to add some colour and variation to your melodic ideas. Try not to linger too long on any of these notes. In fact, you may decide that some notes (eg. A# on the 6th fret of the E string) clash a little too much. Recall that the C major scale doesn't use any sharps or flats so there's bound to be some dissonance if you play them over this chord progression.
Remember though, in improvisation, there aren't any wrong notes. Often some of your best ideas will come from times when you've pushed your playing beyond your conventional understanding of 'what works' over any particular progression. The more you practise improvising, the more you'll get a feel for the notes you prefer. Eventually, you should start to develop your own sound. Here are a few final tips for getting started:
1. Record what you play.
Even if you don't own professional recording gear, grab your phone or any other recording equipment you might have and turn it on before you play. Improvisation is about coming up with new stuff, but that doesn't mean you can't reuse and develop a lick you've created in an earlier session. Recording what you play is a great way to reflect on what works and what doesn't.
2. Learn new scales.
Even with the basic chord progression we've examined in this article, there are multiple scales you could take ideas from. Each will have a distinct sound that can further diversify your rock improvisation. For instance, try combining your A minor pentatonic licks with ideas from this A minor blues scale: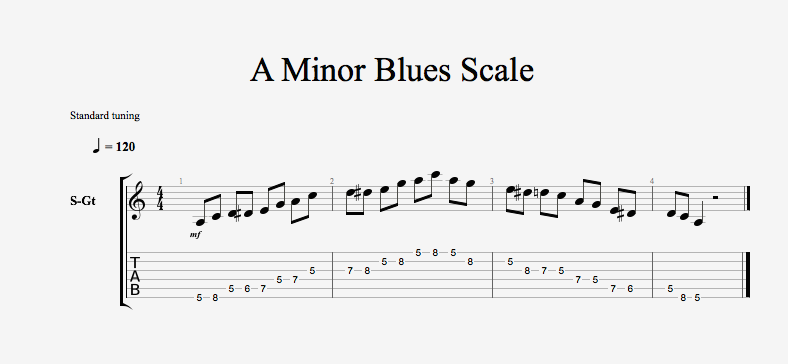 3. Know your fretboard.
Ever tried walking backwards, blindfolded in front of a crowd? As a performer, trying to improvise without knowing where any of the notes are on your guitar can be equally problematic. If you haven't taken the time to learn yet, take a look at the diagram below and practise memorising note names. It might not seem important, but if you want to improve your rock improvisation, it's probably best to know which notes are which!

4. Listen to Rock Music!
This one's quite easy. If you don't listen to rock music, how can you expect to play it? This applies to all aspects of your musical development. The more you listen to a particular genre, the more you'll develop an inherent understanding of how to go about developing your own music within this genre. So go forth and listen to some more music!