Shut Up And Drive by Rihanna | Lyrics with Guitar Chords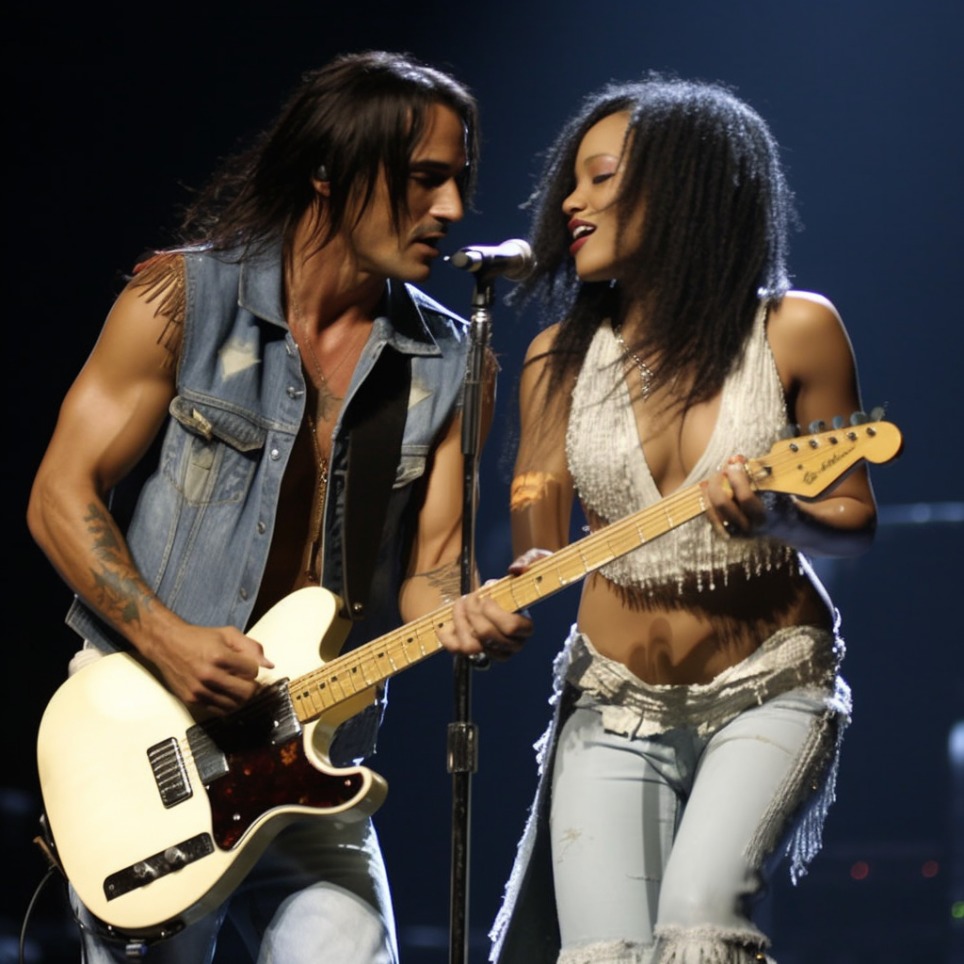 If you're looking to merge the worlds of pop and rock, Rihanna's 2008 "Shut Up And Drive" is a track that stands out in this fusion. Surprisingly for many, this song owes its distinctive rhythm and New Wave feel to the '80s hit "Blue Monday" by New Order. Despite charting at 15 on the Top 100 chart, many critics dismissed the song. When she performed the song on tour, her band's dancers would dance on top of a car and at times "batter it."
For guitar enthusiasts, it's a refreshing deviation from Rihanna's typical sound, offering vibrant electric guitar riffs that not only form the backbone of the track but also make it an exhilarating play. As you delve into learning this song, you'll appreciate its rock undertones, making it a dynamic piece for both solo performances and ensemble settings. Whether you're jamming at home, performing for an audience, or even considering a cover with a twist, "Shut Up And Drive" offers a compelling blend of pop and rock, challenging and rewarding guitarists in equal measure. So, tune up and let those strings echo the powerful vibes of this track!
You can learn the chords you need to play Shut Up And Drive by Rihanna with the Uberchord app. This app features a guitar chord trainer and a strumming trainer. It listens to your guitar chords and gives you visual feedback in real-time in case you make a mistake.
Key of the Song:
The original key of Shut Up And Drive by Rihanna is in E major.
Guitar Chords for Shut Up And Drive by Rihanna
This is a great beginner song for anyone who wants to practice power chords outside of the classic rock realm. A key to playing many power chord riffs is coming up with a fingering that's comfortable for you. Most of the time, this will involve using your ring finger or pinky finger to play the higher note in the chord, like fret 4 of the D string on the B5 chord.
Video Lesson
Shut Up And Drive by Rihanna – Lyrics with Chords
[Intro] (Heavy, bass in 2nd time)


E

 

B

 

C#

 

F#

 

B

 

C#

 x2
 
 


[Verse 1] (Light guitar)


          

E

             

B

             

C#




I've been lookin' for a driver who is qualified


          

F#

                    

B

          

C#




So if you think that you're the one step into my ride


      

E

          

B

          

C#




I'm a fine-tuned supersonic speed machine


       

F#

      

B

         

C#




With a sunroof top an' a gangsta lean


 


[Pre-chorus] (Heavy Staccato)


E

           

B

              

C#




  So if you feel me let me know, know, know


F#

            

B

                   

C#




  Come on now what you're waiting for, for, for


E

              

B

          

C#




  My engine is ready to explode, explode, explode


F#

            

B

               

C#




  So start me up and watch me go, go, go, go


 


[Chorus]


       

E

               

B

         

C#




Getcha where you wanna go if you know what I mean


      

F#

          

B

               

C#




Got a ride that's smoother than a limousine


        

E

          

B

               

C#




Can you handle the curves? can you run all the lights?


       

F#

       

B

                

C#




If you can baby boy, then we can go all night


           

E

       

B

        

C#




Cause it's zero to sixty in three-point-five


     

F#

          

B

     

C#




Baby you got the keys


N.C.              

E

         

B

        

C#




Now shut up and drive, drive, drive, drive


              

F#

        

B

        

C#




Shut up and drive, drive, drive, drive


 


[Verse 2]


      

E

            

B

           

C#




I got class like a fifty-seven Cadillac


        

F#

           

B

            

C#




Got overdrive with a whole lot of boom in the back


    

E

                 

B

             

C#




You look like you can handle what's under my hood


            

F#

              

B

          

C#




You keeping saying that you will boy I wish you would


 


[Pre-chorus] (Heavy Staccato)


E

           

B

              

C#




  So if you feel me let me know, know, know


F#

            

B

               

C#




  Come on and whatchu waiting for, for, for


E

              

B

          

C#




  My engine is ready to explode, explode, explode


F#

            

B

               

C#




  So start me up and watch me go, go, go, go


 


[Chorus]


       

E

               

B

         

C#




Getcha where you wanna go if you know what I mean


      

F#

          

B

               

C#




Got a ride that's smoother than a limousine


        

E

          

B

               

C#




Can you handle the curves? can you run all the lights?


       

F#

       

B

                

C#




If you can baby boy, then we can go all night


           

E

       

B

        

C#




Cause it's zero to sixty in three-point-five


     

F#

          

B

     

C#




Baby you got the keys


N.C.              

E

         

B

        

C#




Now shut up and drive, drive, drive, drive


              

F#

        

B

        

C#




Shut up and drive, drive, drive, drive


 


[Bridge] (a cappella)


Cause your Maybach, ain't got what I got


Get it, get it don't stop, It's a sure shot


Ain't a Ferrari, huh boy, I'm sorry


I ain't need to worry, so step inside


              

E

 

B

 

C#

      

F#

 

B

  

C#




And ride,ride,ride,ride,ride,ride,ride


 


[Refrain] (Drums only)


E

           

B

              

C#




  So if you feel me let me know, know, know


F#

            

B

                   

C#




  Come on and what you're waiting for, for, for


E

              

B

          

C#




  My engine is ready to explode, explode, explode


F#

            

B

               

C#




  So start me up and watch me go, go, go, go)


 


[Chorus]


       

E

               

B

         

C#




Getcha where you wanna go if you know what I mean


      

F#

          

B

               

C#




Got a ride that's smoother than a limousine


        

E

          

B

               

C#




Can you handle the curves? can you run all the lights?


       

F#

       

B

                

C#




If you can baby boy, then we can go all night


           

E

       

B

        

C#




Cause it's zero to sixty in three-point-five


     

F#

          

B

     

C#




Baby you got the keys


N.C.              

E

         

B

        

C#




Now shut up and drive, drive, drive, drive


              

F#

        

B

         

C#




Shut up and drive, drive, drive, drive


                  

E

         

B

        

C#




Now shut up and drive, drive, drive, drive


              

F#

        

B

         

C#




Shut up and drive, drive, drive, drive