Nothin But A Good Time by Poison | Lyrics with Guitar Chords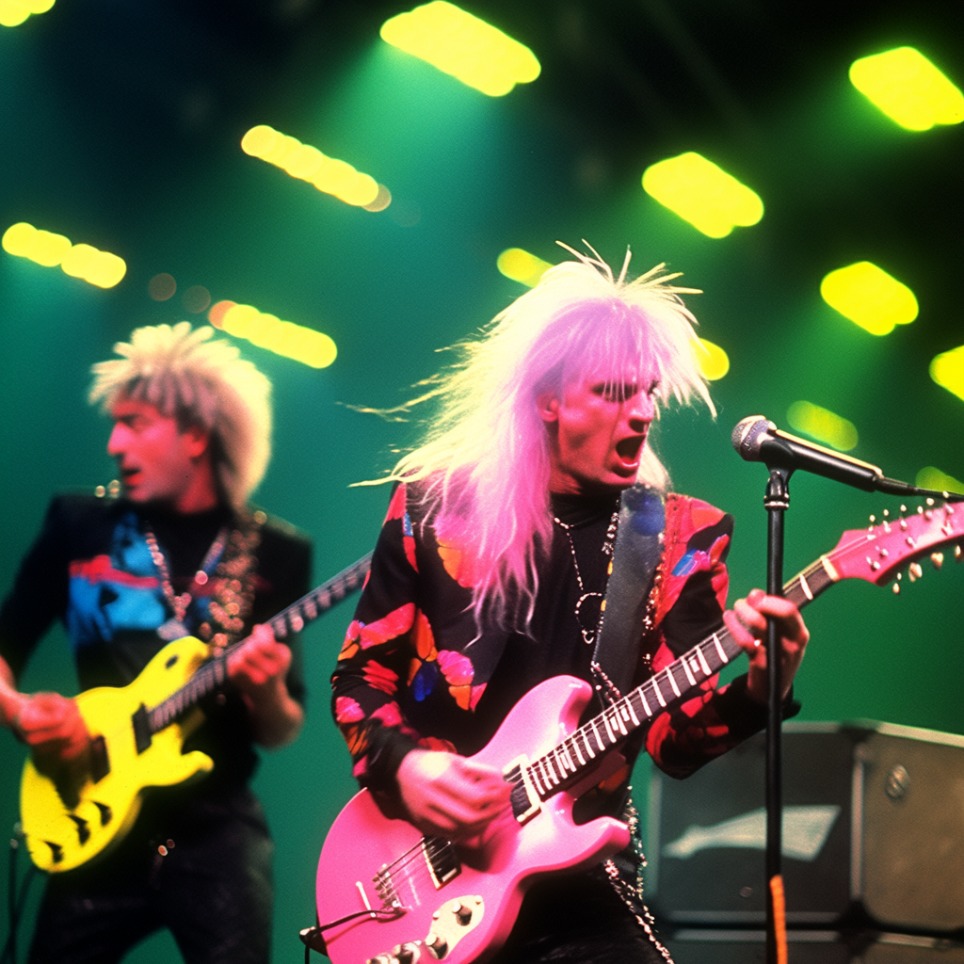 Nothing But A Good Time was released in 1988 off their second album. The song reached the top 100 at no. 6 and is regarded as one of Poison's best songs. This album also included their biggest song called "Every Rose Has It's Thorn."
Poison's "Nothin' But A Good Time" is more than just a glam metal anthem—it's an embodiment of a musical era defined by big hair, bold fashion, and even bolder guitar riffs. Released in the height of the '80s, this track captures the essence of carefree rock 'n' roll living, and it's no wonder it shot up the charts, becoming a defining tune for Poison. For the budding guitarist, there's much to appreciate here, especially C.C. DeVille's masterful approach to the six-string. His riffs are infectious, and the solo? It's pure glam metal delight. Attempting to replicate his style on the track offers both a lesson in technical prowess and a deep dive into the energy and exuberance of '80s rock. The enduring appeal of "Nothin' But A Good Time" is evident in its frequent pop culture appearances, and for those of us with a guitar in hand, it's a constant reminder of the sheer joy the instrument can bring. So, tune up, turn up the volume, and let this classic Poison track guide your fingers to nothing but a good time!
You can learn the chords you need to play Nothin But A Good Time by Poison with the Uberchord app. This app features a chord and strumming trainer and listens to your play to give you visual feedback in real-time in case you make a mistake.
Key of the Song:
The original key of Nothin But A Good Time by Poison is in D major.
Guitar Chords for Nothin But A Good Time by Poison
Now this is a good beginner song. The A-G-D progression is something that's doable for those with some decent technique. You may need a full tab to see how the riff is played though. 
Video Lesson
Nothin But A Good Time by Poison – Lyrics with Chords
[Intro/Riff]


A

     

G

  

D

  x4


A




    Now listen,


 


[Verse 1]


A




  Not a dime, I can't pay my rent


      

G

                          

D




I can barely make it through the week


A




Saturday night I'd like to make my girl


             

G

                     

D




Though right now I can't make ends meet, no


 
           

A




I'm always workin', slavin', every day


G

                           

D




Gotta get a break from that same old, same old


A




  I need a chance just to get away


       

G

                           

D




If you could hear me think this is what I'd say


 


[Chorus]


           

A

             

G




Don't need nothin' but a good time


D

           

A




How can I resist


                  

A

             

G




Ain't looking for nothin' but a good time


        

D

                    

A




And it don't get better than this


 


[Verse 2]


      

A




Say I spend my money on women and wine


    

G

                           

D




But I couldn't tell you where I spent last night


A




  I'm real sorry about the shape I'm in


       

G

              

D




I just like my fun every now and then


 
           

A




I'm always workin', slavin', every day


G

                           

D




Gotta get a break from that same old, same old


A




  I need a chance just to get away


       

G

                           

D




If you could hear me think this is what I'd say


 


[Chorus]


           

A

             

G




Don't need nothin' but a good time


D

           

A




How can I resist


                  

A

             

G




Ain't looking for nothin' but a good time


        

D

                    

A




And it don't get better than this


 


[Bridge] *single strum*


          

A

                   

G




You see I, I raise a toast to all of us


        

D

                        

A




Who are breakin' our backs every day


   

A

                        

G




If wantin' the good life is such a crime


D

                  

A




Lord, then put me away, yeah


 


Here's to ya


 


[Solo]


A

   

G

   

D

   

A

   x4
 


[Riff]


A

     

G

  

D

  x2
 


[Chorus]


      

A

                  

G




Don't need nothin' but a good time


D

           

A




How can I resist


                  

A

             

G




Ain't looking for nothin' but a good time


        

D

                    

A




And it don't get better than this


 
      

A

                  

G




Don't need nothin' but a good time


D

           

A




How can I resist


                  

A

             

G




Ain't looking for nothin' but a good time


        

D

                    

A




And it don't get better than this


 
(

A

)                             

A

 N.C.


    It don't get better, baby