Enter Sandman by Metallica – Lyrics with Guitar Chords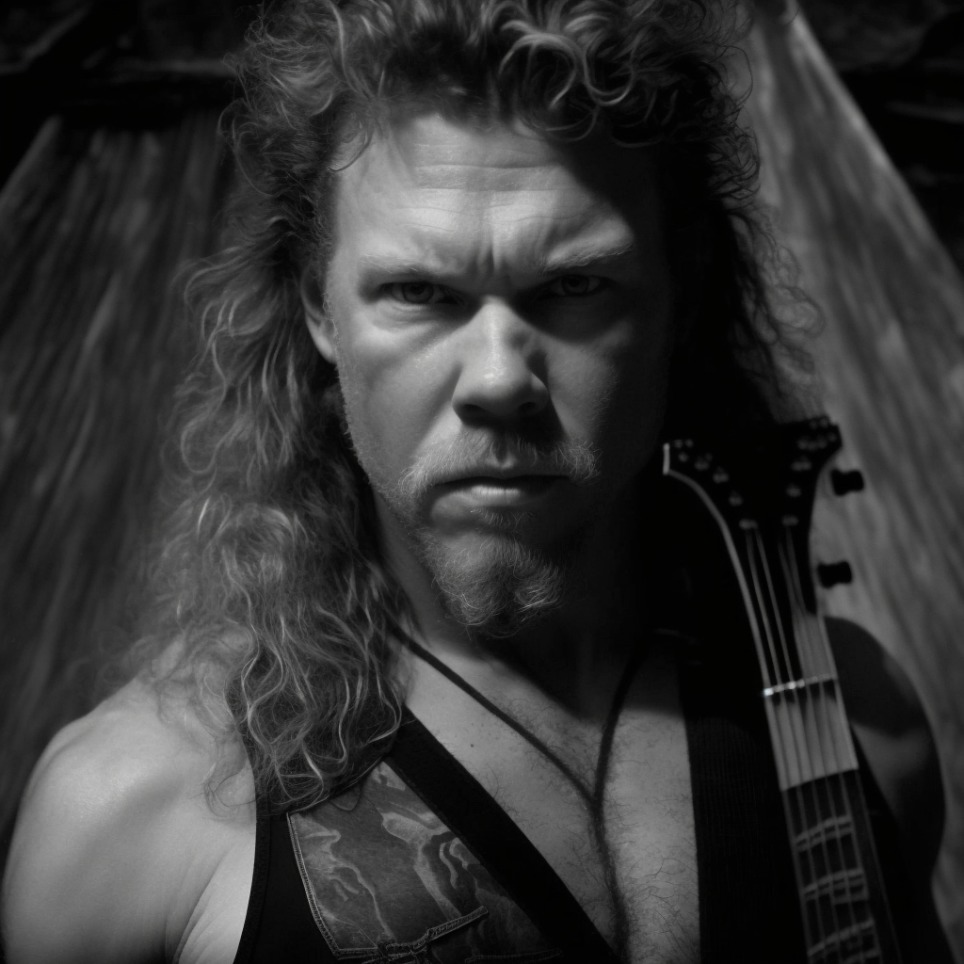 Enter Sandman by Metallica is one of the band's most popular singles and contributed to the album it appears on, Metallica or more commonly "The Black Album," selling over 30 million copies worldwide. The song's main riff was inspired after Kirk Hammett listened to Soundgarden's Louder Than Love album. The single led to a new direction for the band that was celebrated my most critics and rock fans, but alienated their more loyal fans. 
You can learn to play Enter Sandman with guitar chords, lyrics and a strumming trainer directly in the Uberchord app. This app listens to your guitar chords and gives you visual feedback in real-time in case you make a mistake.
Key of the Song:
The original key of Enter Sandman by Metallica is in E minor.
Guitar Chords for Enter Sandman by Metallica
As you see below, this article only has the chords to the song and not a tab of the riffs. However, a chord chart will be very useful for this song as many of the riffs are not as intricate as the main riff, and are only meant to support the vocal. So playing along and hitting the various powerchord shapes will help you identify the correct ways to play this song. 
Video Lesson
Enter Sandman by Metallica – Lyrics with Chords
[Intro]


 


E5


 


Em

   

E5


 


E5

       

G5

 

F#5

 

G5

 

F#5




E5

       

G5

 

F#5

 

G5

 

F#5

 

E5


 
 


[Verse 1]


 
                     

F5




say your prayers, little one


                 

F5




don't forget, my son,


                

G5




to include everyone


 


F#5

 

G5

 

F#5


 
 


E5

                      

F5




   I tuck you in, warm within


                   

F5




keep you free from sin


                    

G5




till the sandman he comes


 


F#5

 

G5

 

F#5


 
 


[Pre-chorus]


(

F#5

)


sleep with one eye open


 


gripping your pillow tight


 
 


[Chorus]


 


F#5

  

B5

  

F#5

  

B5




Ex   it: light


 


F#5

  

B5

  

E5




Ent  er: night


 


F#5

 

B5

   

E5




take  my hand


 
      

G5

     

F#5

     

G5

 

F#5

 

E5




we're off to never-never land


 
(

E5

)      

G5

 

F#5

 

G5

 

F#5


 

E5

       

G5

 

F#5

 

G5

 

F#5

 

E5


 
 


[Verse 2]


 
                     

F5




something's wrong, shut the light


                 

F5




heavy thoughts tonight


                        

G5




and they aren't of snow white


 


F#5

 

G5

 

F#5


 
 


E5

                    

F5




   dreams of war, dreams of liars


                   

F5




dreams of dragon's fire


                        

G5




and of things that will bite


 


F#5

 

G5

 

F#5


 
 


[Pre-chorus]


(

F#5

)


sleep with one eye open


 


gripping your pillow tight


 
 


[Chorus]


 


F#5

  

B5

  

F#5

  

B5




Ex   it: light


 


F#5

  

B5

  

E5




Ent  er: night


 


F#5

 

B5

   

E5




take  my hand


      

G5

     

F#5

     

G5

 

F#5

 

E5




we're off to never-never land


 
 


[Solo Сhords]


 


E5

       

G5

 

F#5

 

G5

 

F#5




E5

       

G5

 

F#5

 

G5

 

F#5


 


F#5

 

B5

 

F#5

 

B5

 

F#5


 


B5

 

E5

 

F#5

 

B5

 

E5


 


E5


 
 


[Bridge]


(

F#5

)


Hush little baby, don't say a word


 


and never mind that noise you heard


 


It's just the beasts under your bed


F#5




    In your closet, in your head


 
 


[Chorus]


 


F#5

  

B5

  

F#5

  

B5




Ex   it: light


 


F#5

  

B5

  

E5




Ent  er: night


 


F#5

 

B5

   

E5




grain of sand


 


F#5

  

B5

  

F#5

  

B5




Ex   it: light


 


F#5

  

B5

  

E5




Ent  er: night


 


F#5

 

B5

   

E5




take  my hand


 
      

G5

     

F#5

     

G5

 

F#5

 

E5




we're off to never-never land


 
 


E5


 


E5

       

G5

 

F#5

 

G5

 

F#5

 

E5


 


F5