Believe by Mumford and Sons | Lyrics with Guitar Chords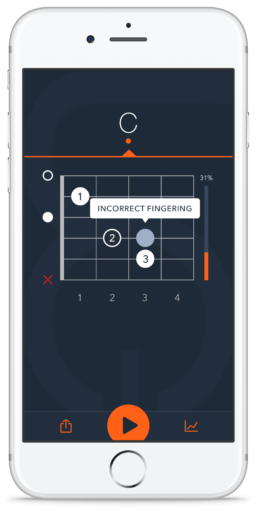 Although the sound of the British band Mumford and Sons is usually associated with folk-rock, "Believe", the main single off the British band's third album, sticks out from the rest of singles by this British band by featuring a sound that is quite different and has been classified as "Neofolk". This atmospheric track features soothing layers of sound made up of synth pads, clean guitars and vocal tracks embellished by reverb at a rather slow tempo.
The song is generally viewed as a departure from the band's usual folk sound and received positive reviews from music critics.
You can learn to play Believe by Mumford & Sons with guitar chords, lyrics and a strumming trainer directly in the Uberchord app.
Key of the Song: B minor
The song is in the dark Key of B minor. This means you won't be doing a whole lot of barre chords.
As far as chord progressions are concerned, you will be switching back and forth between B min and A major in what is a simple i – VII turnaround.
The chorus features a VI – III – i – VII in the same key, which translates into the chords G – D – Bmin and A
Chords for Believe
The chords you'll need for this song are the following:
B min (or Bmin7) – D – Asus4 – A – G  – F#
It may seem to you like you will be playing a lot of chords for you, but keep in mind that Asus4 is just a slight variation of A. Same applies to B min and Bmin7
Believe – Video Lesson
Believe – Chords with Lyrics
Bm7
You may call it in this evening
Asus4                      A
But you've only lost the night
Bm7
Preset all your pretty feelings
Asus4                          A
May they comfort you tonight
Bm7
And I'm climbing over something
Asus4                                    A
And I'm running through these walls
Chorus
G
I don't even know if I believe
Bmin7
I don't even know if I believe
D
I don't even know if I believe
A
Everything you're trying to say to me
Bm7 | Asus4 | A              X2
Bm7
I had the strangest feeling
Asus4                      A
Your world's not all it seems
Bm7
So tired of misconceiving
Asus4                              A
What else this could have been?
Chorus
G
I don't even know if I believe
Bmin7
I don't even know if I believe
D
I don't even know if I believe
A
Everything you're trying to say to me
G
So open up my eyes
D
Tell me I'm alive
Bm7
This is never gonna go our way
A
If I'm gonna have to guess what's on your mind
Instrumental
G |Bm7 |D |Em F#m|
Bridge
G
Well say something, say something
Bm7
Something like you love me
D
That you wanna move away
Em
From the noise of this place
G
I don't even know if I believe
Bmin7
I don't even know if I believe
D
I don't even know if I believe
A
Everything you're trying to say to me
So open up my eyes
D
Tell me I'm alive
Bm7
This is never gonna go our way
A
If I'm gonna have to guess what's on your mind
So open up my eyes
D
Tell me I'm alive
Bm7
This is never gonna go our way
A
If I'm gonna have to guess what's on your mind
Bm7