A Little Too Much by Shawn Mendes | Lyrics with Guitar Chords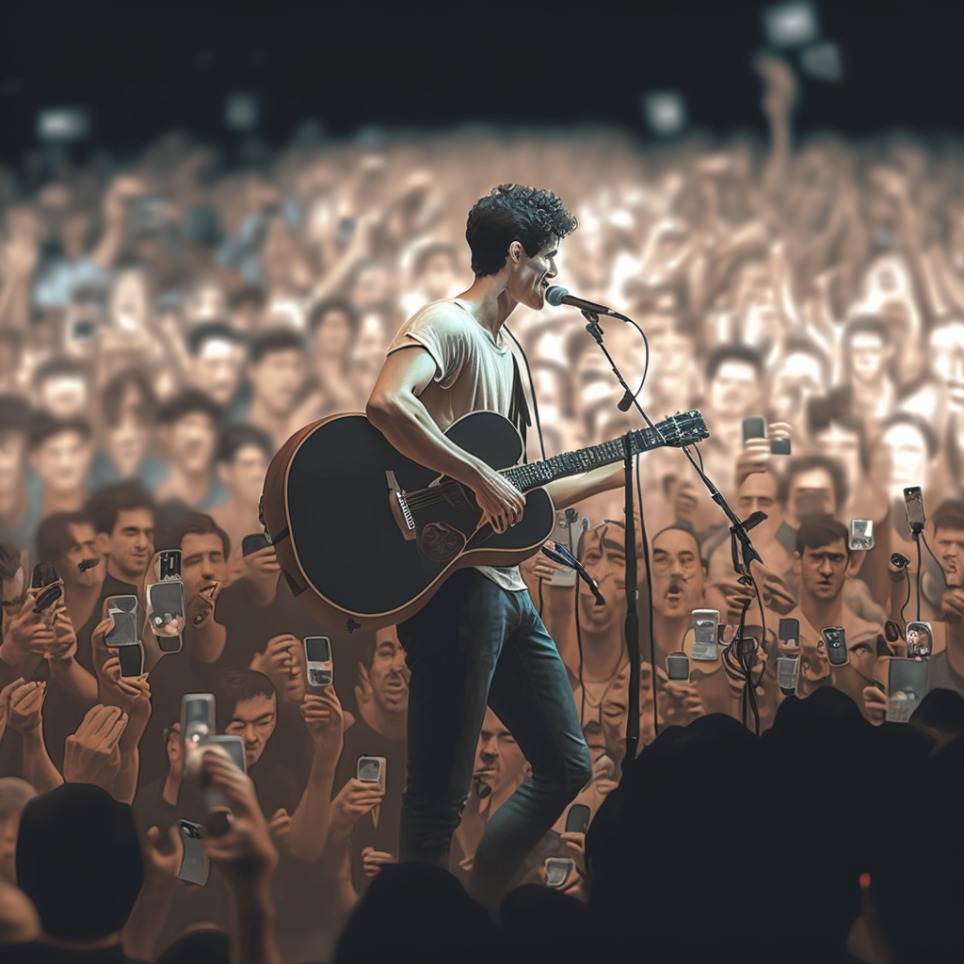 A Little Too Much is a song from Mende's debut album Handwritten, which topped the Billboard 200 chart when he was only 17 years old. The artist got his start doing cover songs on Vine. He became one of the most followed musicians on the platform, which led to his signing with Island Records and the start of a series of chart topping singles and albums.
You can learn to play A Little Too Much by Shawn Mendes with guitar chords, lyrics and a strumming trainer directly in the Uberchord app. This app listens to your guitar chords and gives you visual feedback in real-time in case you make a mistake.
Key of the Song:
The original key of A Little Too Much by Shawn Mendes is in C major.
Guitar Chords for A Little Too Much by Shawn Mendes
Grab your capo as you will need to play the three chord sequence below at the 4th fret. Don't think of as a capo as cheating as it lends to new ways to play some chords you already know and thus new sounds (in case you have the itch to be a songwriter). The Em to G chord change will be challenging as there is only one finger you can keep in place during the change, which is your 2nd finger on the 2nd fret of the A string.
Video Lesson
A Little Too Much by Shawn Mendes – Lyrics with Chords
Capo 4


 


[Intro]


 


Em

   

G

   

Cadd9


 


[Verse 1]


 


Em

            

G

               

Cadd9




She would not show that she was afraid


Em

              

G

                         

Cadd9




But being and feeling alone was too much to face


Em

                

G

                 

Cadd9




Though everyone said that she was so strong


Em

                                     

G

          

Cadd9




What they didn't know was that she could barely carry on


 
 


[Pre-Chorus]


 
                      

Em

   

G

  

Cadd9




But she knew that she would be okay


                          

Em

  

G

  

Cadd9




So she didn't let it get in her way


 
 


[Chorus]


 


G

            

D

                 

Em

         

Cadd9




Sometimes it all gets a little too much


                

G

          

D

                    

Em

    

Cadd9




But you gotta realize that soon the fog will clear up


                   

G

       

D

            

Em

        

Cadd9




And you don't have to be afraid because we're all the same


                  

G

            

D

                   

Em

      

Cadd9




And we know that sometimes it all gets a little too much


 
 


[Verse 2]


 


Em

                   

G

               

Cadd9

       

G




She would always tell herself she could do this


Em

                   

G

                

Cadd9

     

G




She would use no help, it would be just fine


Em

                      

G

               

Cadd9

     

G




But when it got hard she would lose her focus


Em

         

G

                   

Cadd9




So take my hand and it will be alright


 
 


[Pre-Chorus]


 
                        

Em

   

G

  

Cadd9




And she knew that she would be okay


                     

Em

    

G

  

Cadd9




So she didn't let it get in her way


 
 


[Chorus]


 


G

            

D

                    

Em

      

Cadd9




Sometimes it all gets a little too much


             

G

             

D

                  

Em

     

Cadd9




But you gotta realize that soon the fog will clear up


                   

G

       

D

               

Em

        

Cadd9




And you don't have to be afraid because we're all the same


                 

G

            

D

                     

Em

      

Cadd9




And we know that sometimes it all gets a little too much


 
 


[Bridge]


 
             

Em

     

Cadd9




A little too much


             

Em

     

Cadd9




I said a little too much, oh


 
 


[Chorus]


 


G

             

D

                    

Em

       

Cadd9




Sometimes, it all gets a little too much


             

G

             

D

                 

Em

        

Cadd9




But you gotta realize that soon the fog will clear up


                   

G

      

D

                  

Em

        

Cadd9




And you don't have to be afraid, because we're all the same


                 

G

            

D

                     

Em

    

Cadd9




And we know that sometimes it all gets a little too much


 


G

             

D

                     

Em

       

Cadd9




Sometimes, it all gets a little too much


             

G

              

D

                  

Em

      

Cadd9




But you gotta realize that soon the fog will clear up


                    

G

      

D

                  

Em

        

Cadd9




And you don't have to be afraid, because we're all the same


                

G

            

D

                      

Em

   

Cadd9

    

G




And we know that sometimes it all gets a little too much