5 Happy Songs with Surprisingly Dark Lyrics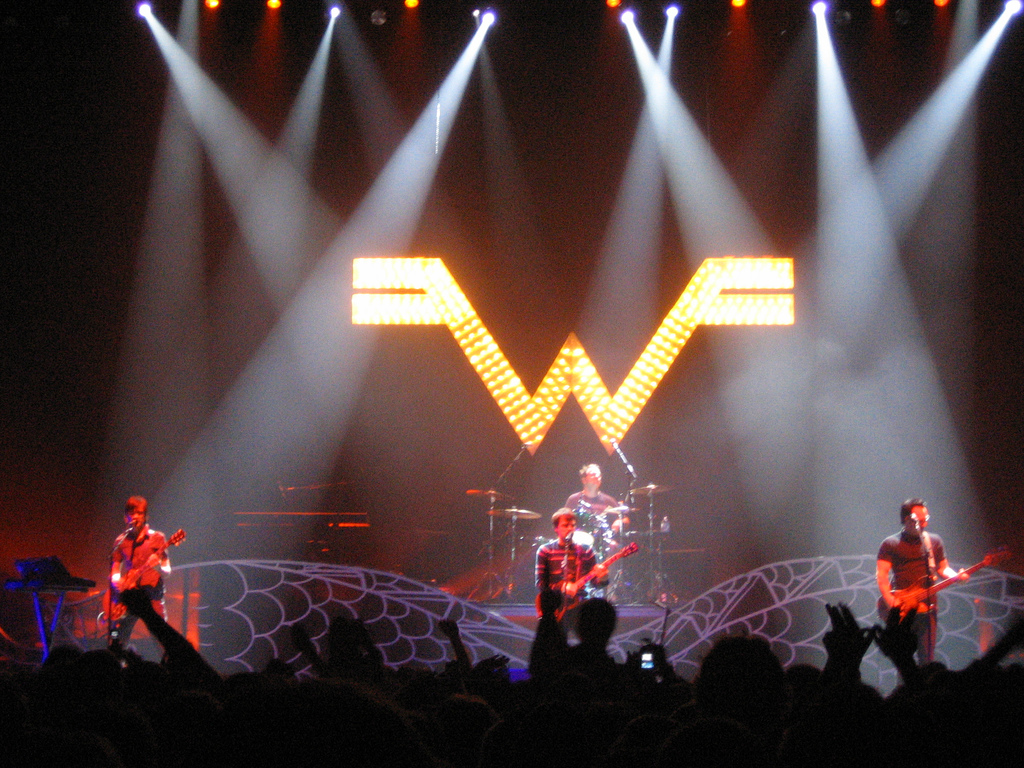 There are plenty of approaches to songwriting. This can involve altering the music of the song – switching chords around, adding chord variations to break an otherwise banal progression, or adding vocal melodies to bend the song in a fresh direction. The other side of the same coin is the content, or lyrics of the song.
We at Uberchord find something strangely powerful in the contrast of happy sounding songs which feature dark or even twisted lyrics. It's a strong dynamic, and one which can add irony, depth and even humour to a song. We've asked around the office and are happy to share with you some our favourites for happy songs with surprisingly dark content.
Weezer – No-one Else
Weezer's debut 'Blue Album' is a treasure chest of alt-rock classics, lifted by strong pop melodies. No-One Else ranks up there with the most catchy songs in the band's catalogue, and was the first incarnation of Weezer's many '4 chord songs' (songs featuring the 1-5-4m-6 chord progression) to come. The lyrics, as singable as they may be, portray the jealousies of a possessive boyfriend, whose emotional grip over his girlfriend stops her from leaving the house or even wearing makeup for other people. Although a great song, it's always faintly perverse to see young people singing along to this at concerts, even ironically.
Smashing Pumpkins – Today
This cheery 90's anthem from alt-rock heroes The Smashing Pumpkins was always going to be a strong contender for this list. The song is a catharsis of singer Billy Corgan's darkest and most suicidal thoughts. Brimming with irony, opening line 'Today is the greatest day I've ever known' over a buoyant 1-5-4 chord progression gives the impression of youthful optimism. Indeed, 'Today' will most likely remain the band's most enduring song, having played over countless montages and 'euphoric' film sequences. Separated from its happy chord progression and put under inspection, the song's lyrics in full express the bleak thoughts of a suicidal artist, with lucid reference to self mutilation in the song's tense chorus – 'Pink ribbon scars that never forget'.
Nena – 99 Red Balloons
https://www.youtube.com/watch?v=sq1K2gc5xsE
German 80's synth pop has always been niche territory. Try approaching the DJ at your local 80's throwback night with a request for some Klaus Nomi and see where that gets you. If you have a spare second by the way, youtube Klaus Nomi now – they don't make them like that anymore. Anyways, of all the dusty gems from this period, Nena's 99 Red Balloons is likely the most recognisable. The song features a driving bass line and an unforgettable, bouncy synth melody. The kind that's so unrelentingly cheerful it could only have originated in Cold War Berlin, where it was enjoyed unironically.
Its lyrics may sound nonsensical, but listen closely and they tell a sad and terrifying plausible vision of a world war. The exact content varies slightly between the English and original German version, with the former stressing a devastating nuclear outcome –
It's all over and I'm standing pretty
In this dust that was a city
If I could find a souvenir
Just to prove the world was here
Nirvana – Polly
Pretty dark one, this. In the years following his death, and fuelled by the tragedy surrounding it, Kurt Cobain's private collection of journals and personal materials were slowly leaked into the public domain. It became clear that the singer indulged a disturbing fascination with the macabre and disfigured, as suggested in the album artwork and stage design of record In Utero. 'Polly', one of the band's more memorable songs, may at first appear to be a cryptic song about a parrot, but the reality is much darker. The song is about a real life incident, where a young girl named Polly was abducted from a highway and imprisoned in the house of her captor, who then raped her repeatedly.
This pushes lyrics such as 'she asks me to untie her', and 'maybe she would like some food' into a new and grim light, contrasting with the tune's pretty chord structure. Because it's so easy to play, Polly is often one of the first songs which beginners may learn on guitar.
The 88- At Least It Was Here
Most widely known as the theme tune for cult series Community, 'At Least It Was Here' by indie rock band The 88 makes the last entry on our list. Musically, the song appears to project all the breezy cheeriness you would expect as the theme for a colourful, corporate network American sitcom with a handsome cast. It's light and catchy enough to lay hooks in the viewer's mind. If we examine the entire lyrics outside of the 30-second edit however, they paint a much darker picture. The song is a first-person narration of the futility and hopelessness felt by someone considering suicide. 'I can't count the reasons I should stay. One by one they all just fade away'.
That's us folks. Rape, nuclear war, two songs about suicide and one song written by a guy who actually did kill himself. It's been a fun ride. Of all the information piped into your brain via the internet every day, we hope we've played our little role in enriching your day. Until next time.
Please feel free to share your suggestions in the comments section below.
Now if you're ready to take a break from the darkness, we've got more articles for you to check out. Check out our articles on the mother we share guitar chords, famous chord progressions guitar, and oh thinking about our younger years chords. There's a lot in here that'll help you find a brighter light! 
Neelesh plays demented lead guitar in the Canadian alternative band We The Crooked. Check out their YouTube here.