The 10 Most Underrated Rhythm Guitarists #4: Izzy Stradlin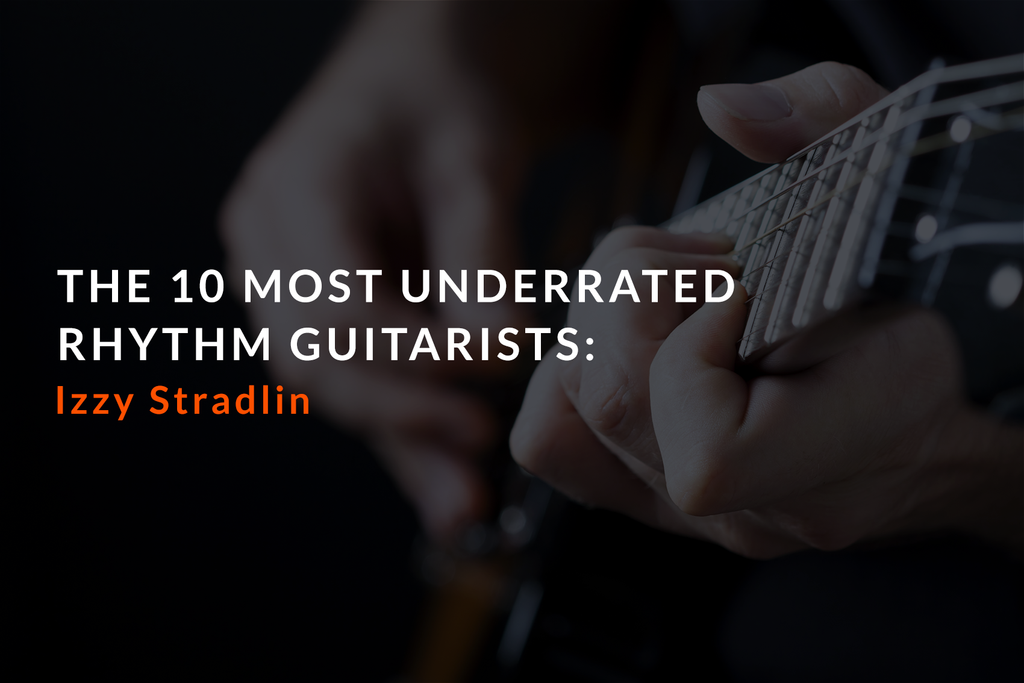 Izzy Stradlin
Think of the band Guns N Roses. Think of them right now. The image swirling up through the cracks of your brain is most likely one featuring a certain lead guitarist and singer.
This is understandable, of course. Axl Rose and Slash indisputably provided the sonic and visual candy in the band. Undergirding the band's sound however, was always the loose and jangly tone of Izzy Stradlin's rhythm guitar.
With respect to the theme of 'underrated', the point to be made here is that Guns N Roses was defined by Izzy Stradlin, who was the rhythmic lynchpin of the entire band prior to his departure.
Bolstered by a great rhythm section, he provided the canvass for Slash to play almost all of his most iconic solos over. Not widely known in GNR's heyday, it has also come to light that he was also the principle songwriter of the band during the fabled Appetite for Destruction era, duly complimented by Slash and occasionally Duff McKagan.
Open about his eclectic pool of influences, Izzy's sensibilities as a rhythm guitarist lie roughly at the confluence of upbeat punk music, and more traditional classic rock.
This is reflected clearly in song composition; Guns N Roses are a band who married the guttural energy of punk with accessible and occasionally even predictable chord movements.
Stradlin favoured some truly beautiful semi-acoustic Gibson guitars. Tonally, this provided a warm and resonant counterweight to Slash's more invasive Les Paul sound. As amplification, Izzy has favoured deeper, less distorted Fender amps.
The idea we want to hammer here is one of interplay between the guitarists, an understated attribute of all the best bands. GNR are a prime example, where this interplay manifests in both complimenting tones and interlocking guitar parts.
It wouldn't require the biggest stretch of imagination to picture two budding guitarists sat together in a rehearsal room trying to work out guitar parts, only to decide out of laziness or inexperience to play the same chords in the same way for a 'thicker' sound.
This would be a terrific waste of frequencies – guitar parts can always be double-tracked in the studio if need be. Izzy Stradlin's genius however, was to create rhythm guitar parts which would not only carry across the song, but also dance around and underneath Slash's more prominent lead rhythm. The result being that the guitars never competed but instead worked together and around each other, weaving in and out as the song demanded.
Exercises
Mr Brownstone
For our first exercise we focus on the scorching riff of 'Mr Brownstone', which demonstrates rhythmic interplay at its very finest. Played alone, Izzy's part sounds tight if not a little dry.
Going 'up the riff', Izzy doubles the main lick for the first half before switching to chords for the resolution. This allows Slash, with a hotter tone, to play the bouncy pull-offs at the end.
 Welcome to the Jungle
We come to the sonic firestorm that is the opening of Welcome to the Jungle. This was the moment where GNR screeched onto the scene with a fierce resolve to rise out of the vapid L.A scene which bore them. After an atmospheric intro, the song erupts into the riff, which again is a synthesis of Izzy and Slash's guitar parts. Together, this sounds like the following:
Izzy plays the riff 'open', in a choppy and almost displaced fashion. Note in the following sample how his playing when isolated sounds almost abbreviated; he hints at notes which are paved over by Slash.
---
You will get a lot of benefits from learning rhythm guitar from Izzy Stradlin! Slash and Axl get a lot of the credit, but he was one of the core songwriters for quite a long time. If you'd like to improve your rhythm chops even more, then please check out our free articles like you are so beautiful to me chords, essential chords, and sg vs strat playability.