invaluable app with lots of free functionality. thanks uberchord for your help learning the guitar and learning some music theory techniques as well! really precise tuner as well.
Three steps to success
Real-time feedback
Learn guitar with real-time feedback and personal progress statistics. Uberchord listens to you play and seamlessly adapts to your skill level. It's fun and incredible effective.
Get Uberchord for iPhone
I'm so much more focused with practice and having 100 percent more fun.
The Chords
Learn and master guitar chords with real-time feedback on your fingering, accuracy and timing.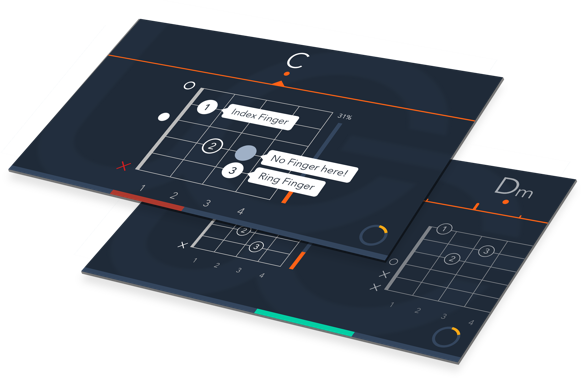 The Rhythm
Learn strumming and rhythm patterns with the world's first interactive strumming trainer. Your timing will be spot on in no time.
The Song
Uberchord's brand new song trainer teaches you your favorite tunes step by step, making sure you learn at the right pace.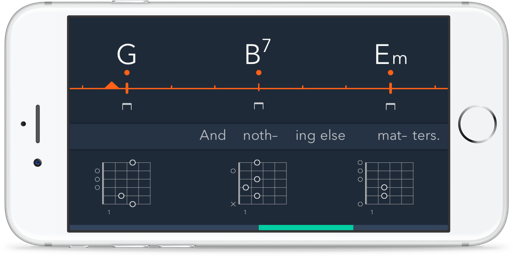 Your Success
Earn picks, experience points and keep track of your progress.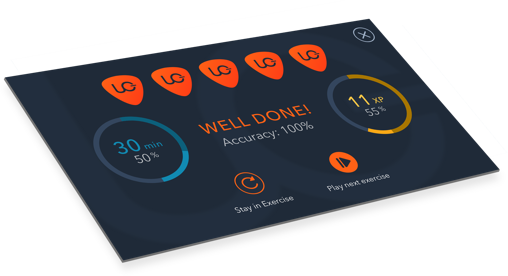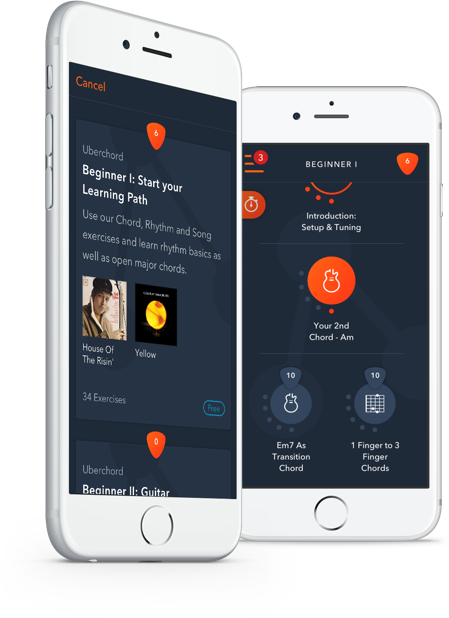 The all new Uberpath
Unlock your next level!
This is Uberchord's all new personal learning experience with your favorite songs and unlockable challenges. And it grows with your abilities.
Get Uberchord for iPhone
I have been trying to teach myself to play the guitar for about 6 months. I tried several different apps but this is the only one that actually taught me not only the chords but strumming and rhythm.
THE CATALOG
We are incredibly proud to introduce a new era of Uberchord: The song catalog with 100 famous songs, each of them a handcrafted course. It's been a year's worth of work to put this together and we couldn't be more excited.
Songs by Ed Sheeran, Michael Jackson, U2, Pearl Jam, Coldplay, The Police, Bryan Adams, Paul Simon, The xx, Foo Fighters and many, many more — and new songs every week.
Get Uberchord for iPhone
A good application for training
Changing the way we learn music instruments
Personal Training
Your daily guitar workout
Commit to a daily practice routine, set yourself goals and monitor your progress with statistics and reminders. Your personal workout program continuously adapts to your progress. One click and you are making music.
Get Uberchord for iPhone
One of the finest apps on the App Store. In any category. Pure genius. Buy it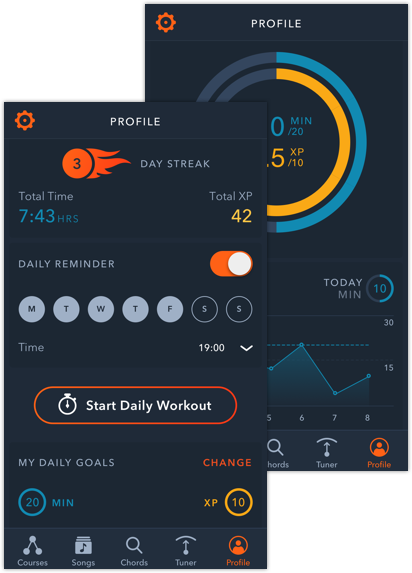 Chord Recognition App
What's the name of that awesome chord again? Just play it.
Uberchord uses the iPhone's built-in microphone to identify chords in real-time, including evil Jazz chords you've never heard of. If you can play it, Uberchord will know it.
Get Uberchord for iPhone
Stoked to pick up my guitar and use Uberchord! I can see major progression in my playing. 🙌🏻🤙
Chord finder
Find any chord, in 19 tunings
Using the powerful Chord Finder, you can easily look up voicings for virtually any guitar chord.
Get Uberchord for iPhone
Overall this app is amazing and very intuitive. The feedback system is cruelly correct in that you cannot progress until you've done the exercise correctly. Well done.
Our chord finder is also available as a web app.
GO TO CHORD FINDER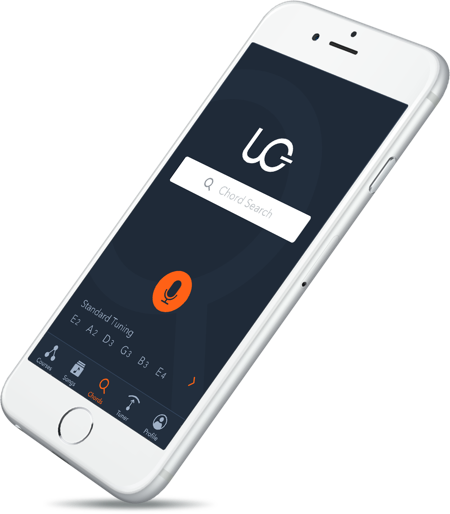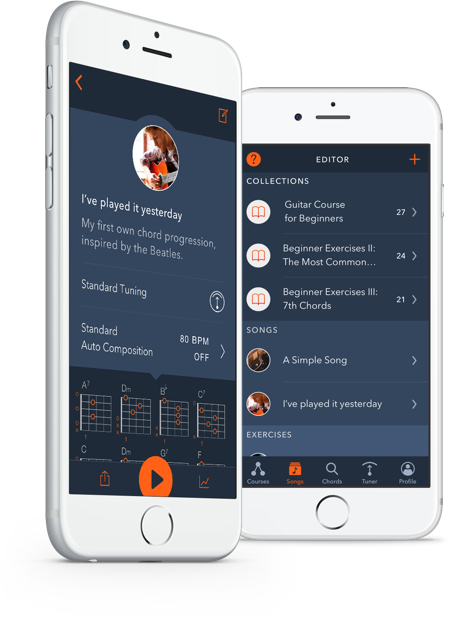 Lesson Editor
Create your own content
Use the Lesson Editor to easily create your own songs or build your own exercises. Instantly share your creation with family, friends or your students.
Get Uberchord for iPhone
Fantastic app! I am really enjoying it and will continue to be committed to learning and practicing the guitar!
High Precision Tuner
Fast, precise, stable
Save time by tuning your guitar with the built-in high precision tuner.
Get Uberchord for iPhone
Great App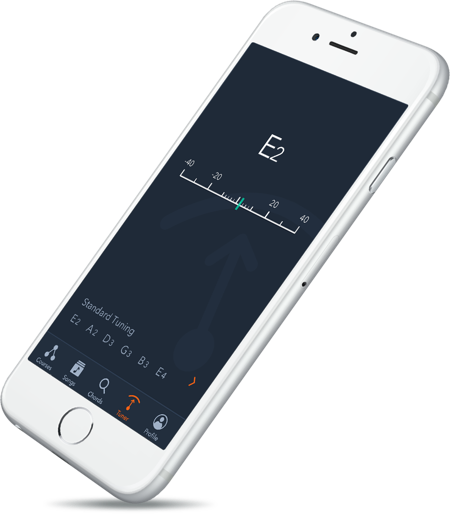 FAQ
Yes! Uberchord's advanced audio technology listens to you playing a real guitar through your phone's microphone and provides feedback in real time.

Yes. Uberchord is not only a guitar teacher, but also a chord recognition app, and the world's most advanced at that. Play any chord, no matter how crazy, and Uberchord will use its microphone to identify that chord and tell you not only the name but also all the alternative voicings, finger positions, and inversions. It's absolutely awesome.

While there are many great features in the app which are and will remain absolutely free, like Daily Workout, Chord Finder, Beginner Course 1 and two great song courses to name a few, for just 14.99 USD per month or 89.99 USD per year you can subscribe to our exclusive and premium content and select songs and level based on your choice.

Yes. Creating a profile will allow you to track your daily progress and synchronize it across all devices. It allows you to personalize your Daily Workout which is a free feature of the app. This also allows you to share your progress with your friends on social media and most useful of all – set daily reminders and goals. Try it, we promise, you will not regret.

Yes! Absolutely free and not only that, it even comes with 19 different guitar tunings. Believe or not!

Great question! We expect you to ask this since we were a free app once upon a time. Our intention (and wish) is to offer you the best content including your favorite songs to learn on the guitar. With Universal Music on board, we have licensing costs of songs which we feature in the app and have to share from our revenue generation. We have come a long way with your love and support and we do not wish to face the same fate as other music tech start-ups which unfortunately shut down due to lack of funds. We are a small team and want to be able to provide you with the best content and best support to learn guitar while striving to keep away from featuring any in-app advertising, like you, we hate it too.