Numb by Linkin Park | Lyrics With Guitar Chords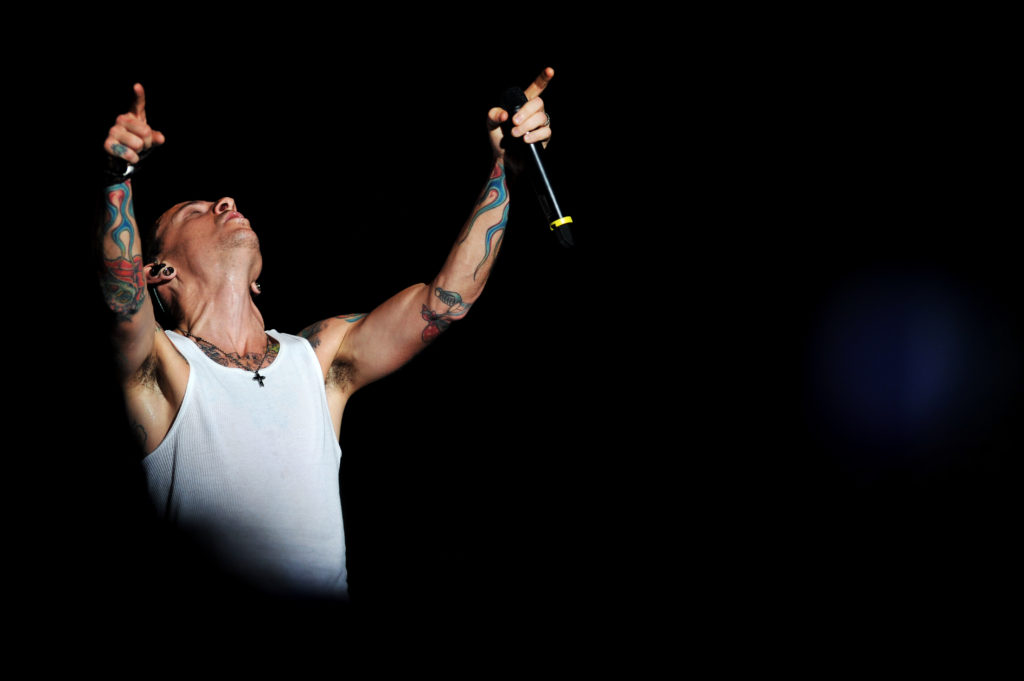 Numb by Linkin Park was released in 2003. Along with "In The End" it has also surpassed 1 billion streams on Spotify. A remix of the song with Jay-Z later won the band a Grammy for best rap/sung collaboration.
You can learn to play Numb by Linkin Park with guitar chords, lyrics and a strumming trainer directly in the Uberchord app. This app helps listen to guitar chords as well as play songs and identify chords too.
Key of the Song:
The original key of Numb by Linkin Park is in C major.
Guitar Chords for Numb by Linkin Park
Numb's chord progression is perfect for many beginners as it uses several basic chord shapes, and the progression doesn't change for the entire song.
When practicing these chord changes, keep in mind what fingers can stay in place and which ones need to quickly move to other frets. This will require a lot of thinking at first, but once you know these shapes better it will take less thinking.
You can also play these chords as powerchords instead.
Video Lesson for Numb by Linkin Park
Numb by Linkin Park – Lyrics with Chords
[Intro]


Em

  

C

  

G

  

D




Em

  

C

  

G

  

D


 
 


[Verse 1]


Em

                            

C




  I'm tired of being what you want me to be


G

                         

D




Feeling so faithless lost under the surface


Em

                         

C




  Don't know what you're expecting of me


    

G

                     

D

                 

C

    

D




Put under the pressure of walking in your shoes


 


(Caught in the undertow, just caught in the undertow)


      

Em

               

G

                

C

    

D




Every step I take is another mistake to you


 


(Caught in the undertow, just caught in the undertow)


 
 


[Chorus]


Em

             

C

                      

G




I've become so numb, I can't feel you there


               

D

                    

Em




I've become so tired, so much more aware


             

C

                   

G




I'm becoming this, all I want to do


                

D

                   

Em




Is be more like me and be less like you


 
 


[Verse 2]


                          

C




Can't you see that you're smothering me


G

                    

D

                  

Em




Holding too tightly afraid to lose control


                             

C




Cause everything that you thought I would be


    

G

             

D

                

C

    

D




Has fallen apart right in front of you


 


(Caught in the undertow, just caught in the undertow)


      

Em

                    

G

                

C

    

D




Every step that I take is another mistake to you


 


(Caught in the undertow, just caught in the undertow)


          

Em

                          

G

       

D




And every second I waste is more than I can take


 
 


[Chorus]


Em

             

C

                      

G




I've become so numb, I can't feel you there


               

D

                    

Em




I've become so tired, so much more aware


             

C

                   

G




I'm becoming this, all I want to do


                

D

                   

C




Is be more like me and be less like you


 
 


[Bridge]


Hint: starting with the C the bass tones should ascend till G/B and then go back down to C. The ascendance


of the bass tones is crucial for the intensification of this part.


 
      

D




And I know


      

Em

  

D/F#

 

G

   

Bm7

 

C




I may end up   failing too


        

D




But I know


         

B

                         

Bsus4




You were just like me with someone disappointed in you


 
 


[Chorus]


Em

             

C

                      

G




I've become so numb, I can't feel you there


               

D

                    

Em




I've become so tired, so much more aware


             

C

                   

G




I'm becoming this, all I want to do


                

D

                   

Em




Is be more like me and be less like you


               

C

                      

G




I've become so numb, I can't feel you there


                          

D




(Tired of being what you want me to be)


Em

             

C

                      

G




I've become so numb, I can't feel you there


                          

D




(Tired of being what you want me to be)


 
 


[Outro]


Em

  

C

  

G

  

D