Need You Tonight by INXS – Lyrics with Guitar Chords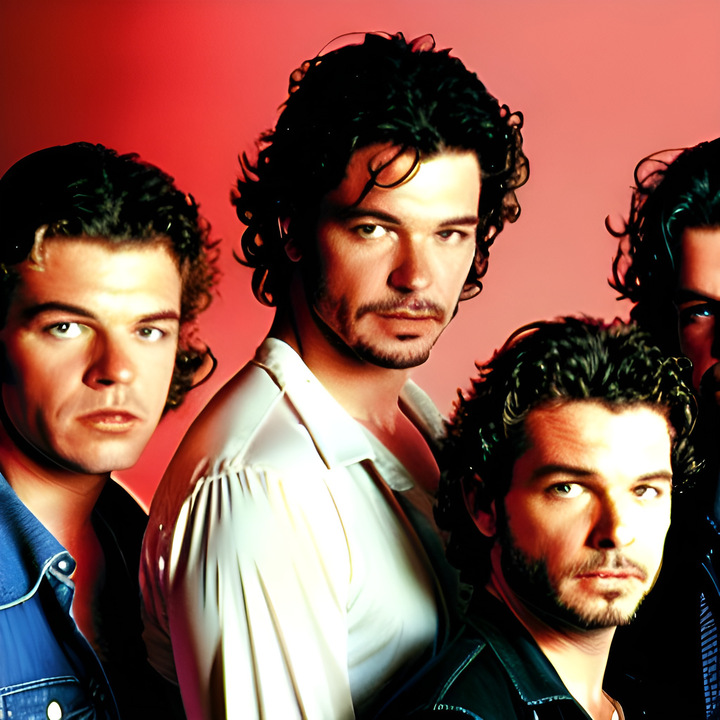 Need You Tonight by INXS is the band's only no. 1 chart topping single, as well as their signature song. The famous riff came to the band's composer while waiting for a cab, which prompted him to return to his hotel room to record it while the driver waited. 
You can learn to play Need You Tonight by INXS with guitar chords, lyrics and a strumming trainer directly in the Uberchord app. This app listens to your guitar chords and gives you visual feedback in real-time in case you make a mistake.
Key of the Song:
The original key of Need You Tonight by INXS is in F major.
Guitar Chords for Need You Tonight by INXS
There's no guitar tab for this song, but the chord shapes were chosen so that you can easily hear how they match to the song. If you're here now, you probably have the rhythm of the main riff ingrained in your head. Many lessons will give you an exact outline of the rhythm, but all you need is those shapes and to make a few mistakes to get the feel of it. The best musicians all learn songs this way!
Video Lesson
Need You Tonight by INXS – Lyrics with Chords
[Intro]


C

  

Eb

  x2
 


[Verse]


C

 

Bb

 

C

  

F

                        

C

 

Bb

 

C

  

F




          all you got is this moment


                               

C

   

Bb

 

C

  

F




the twenty-first century's yesterday


                      

C

 

Bb

 

C

  

F

                      

C

     

Bb

 

C

  

F




You can care all you want       everybody does yeah that's okay


 


[Chorus]


     

C

                 

Eb

          

C

           

C




So slide over here and give me a moment your moves are so raw


      

Eb

             

C

         

C

                 

Eb

 

C

                 

C

  

Eb

 

C




I've got to let you know I've got to let you know   you're one of my kind


 


[Verse]


C

 

Bb

 

C

  

F

               

C

 

Bb

 

C

  

F

                 

C

  

Bb

  

C

  

F




          I need you tonight     'cause I'm not sleeping


                    

C

   

Bb

   

C

  

F

                 

C

 

Bb

 

C

  

F




There's something about you girl  that makes me sweat


 


[Bridge]


C

            

Bb

 

C




How do you feel


  

F

     

C

 

F




I'm lonely.


C

            

Bb

 

C




what do you think.


      

F

        

C

 

F




Can't take it all


C

             

Bb

 

C




whatcha gonna do 


F

              

C

 

F




gonna live my life


 


[Chorus]


     

C

                 

Eb

          

C

           

C




So slide over here and give me a moment your moves are so raw


      

Eb

             

C

         

C

                 

Eb

 

C

                 

C

  

Eb

 

C




I've got to let you know I've got to let you know   you're one of my kind


 


[Verse]


C

 

Bb

 

C

  

F

               

C

 

Bb

 

C

  

F

                 

C

  

Bb

  

C

  

F




          I need you tonight     'cause I'm not sleeping


                    

C

   

Bb

   

C

  

F

                 

C

 

Bb

 

C

  

F




There's something about you girl  that makes me sweat


 


[Bridge]


C

            

Bb

 

C




How do you feel


     

Eb

 

C




I'm lonely.


C

            

Bb

 

C




what do you think.


      

Eb

       

C




Can't take it all


C

             

Bb

 

C




whatcha gonna do


       

Eb

      

C




gonna live my life


C

            

Bb

 

C




How do you feel


  

F




I'm lonely.........


C

            

Bb

 

C




what do you think.


       

Eb

      

C




Can't take it all


C

             

Bb

 

C




whatcha gonna do


       

Eb

      

C




gonna live my life


 


[Chorus]


     

C

                  

F

                      

C




So slide over here and give me a moment your moves are so raw


      

F

                        

Eb

             

C




I've got to let you know I've got to let you know


     

C

    

Bb

   

C

        

F

    

C

     

F




So slide over here and give me a moment


      

C

      

Bb

      

C

         

F

                                     

C




I've got to let you know I've got to let you know. You're one of my kind