Everywhere by Fleetwood Mac | Lyrics with Guitar Chords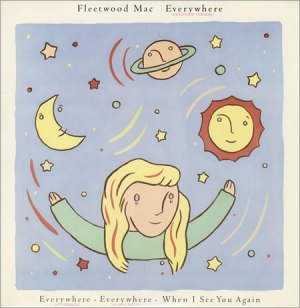 Everywhere by Fleetwood Mac was released in 1987. This song comes from their album Tango In The Night and was produced in part by Lindsey Buckingham. Everywhere, like the song Little Lies from this album, was also written by keyboardist/vocalist Christine McVie.
You can learn to play Everywhere by Fleetwood Mac with guitar chords, lyrics and a strumming trainer directly in the Uberchord app. This app listens to your guitar chords and gives you visual feedback in real-time in case you make a mistake.
Key of the Song:
The original key of Everywhere by Fleetwood Mac is in E Major.
Guitar Chords for Everywhere by Fleetwood Mac
This chord progression will challenge your barre chord abilities. You will be changing from an E barre chord to a B barre chord and back. Later, you'll play a C#m barre chord at the 4th position.
The key mastering changes like these is to play slowly and allow your fret hand to memorize the little movements needed to play this smoothly.
Video Lesson
Everywhere by Fleetwood Mac – Lyrics with Chords
[Intro]


E

 

B

 

E

 

B

 

E

 

B

 

C#m

 

A

 (x2)
 


[Verse 1]


E

               

B

       

E

        

B




Can you hear me calling out your name?


E

                 

B

             

C#m




You know that I'm falling and I don't 


             

A




know what to say.


E

                   

B

       

E

         

B




I'll speak a little louder..I'll even shout..


E

                 

B

                 

C#m




You know that I'm proud and I can't get the 


      

A




words out.


 


[Chorus]


B

     

C#m

 

A

 

B

 

C#m

           

B

           

A

          

B




Ohhhh.............I want to be with you everywhere.


B

     

C#m

 

A

 

B

 

C#m

           

B

           

A

          

B




Ohhhh.............I want to be with you everywhere.


(Wanna be with you everywhere.)


 


[Verse 2]


E

           

B

          

E

            

B




Something's happening..happening to me.


E

          

B

              

C#m




My friends say I'm acting peculiarly.


E

        

B

        

E

             

A




Come on, baby, we better make a start.


E

                  

B

                

C#m

            

A




You better make it soon..before you break my heart.


 


[Chorus]


B

     

C#m

 

A

 

B

 

C#m

           

B

           

A

          

B




Ohhhh.............I want to be with you everywhere


B

     

C#m

 

A

 

B

 

C#m

           

B

           

A

          

B




Ohhhh.............I want to be with you everywhere.


(Wanna be with you everywhere.)


 


[Verse 3]


E

               

B

       

E

        

B




Can you hear me calling out your name?


E

                 

B

             

C#m




You know that I'm falling and I don't 


             

A




know what to say.


E

        

B

        

E

             

B




Come on, baby, we better make a start.


E

                  

B

                

C#m

            

A




You better make it soon..before you break my heart.


 


[Chorus]


B

     

C#m

 

A

 

B

 

C#m

           

B

           

A

          

B




Ohhhh.............I want to be with you everywhere. 


B

     

C#m

 

A

 

B

 

C#m

           

B

           

A

          

B




Ohhhh.............I want to be with you everywhere.


(Wanna be with you everywhere.)


 


[Outro]


B

     

C#m

 

A

 

B

 

C#m

           

B

           

A

          

B




Ohhhh.............I want to be with you everywhere.


B

     

C#m

 

A

 

B

 

C#m

           

B

           

A

          

B




Ohhhh.............I want to be with you everywhere.


 


[Outro]


(Wanna be with you everywhere.)


E

 

A

 

E

 

A

 

E

 

A