Ultimate Guitar is Among the 10 Best Music Blogs Every Guitar Player Should Follow: Musictheory.net, Songsterr, No Treble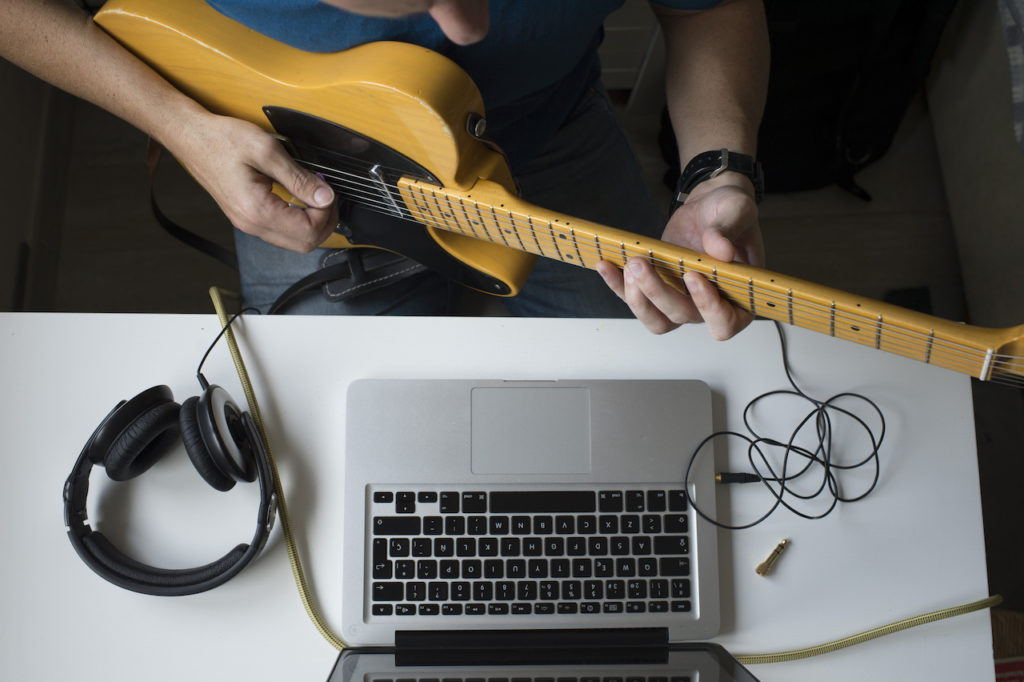 Here on the Uberchord blog we regularly create some awesome content for guitar enthusiasts of all skill levels to come and learn anything and everything they can about guitar. In case you haven't got onto it yet, we also have a really nifty app to help you learn guitar faster and better, here is a free download. But that doesn't mean we don't really appreciate what some other fantastic people are creating out there in the guitar community. So, if you haven't already heard of them- here are 10 blogs totally worth following.
1. Guitar Player Magazine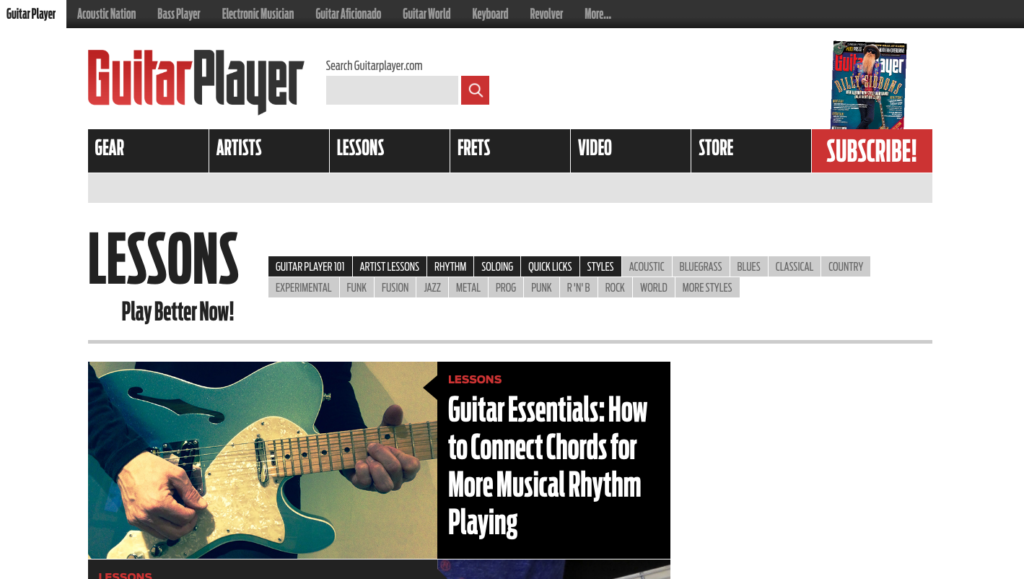 Let's start with an obvious one. I hope it goes without saying that every guitarist should be keeping at least a little bit up to date with what's going on over at Guitar Player Magazine. I've followed this magazine for as long as I've played guitar and probably have a stack of these magazines from back when printed copies were still around (though, if that is your thing- they do still offer a print subscription package!). Now it's all online, making it super quick and easy to access any time you want. The website itself has everything you could possibly need to be in the know- gear reviews, guitar reviews, interviews and some awesome technical and improvisation exercises too. It is THE guitar player magazine to be following. So get onto it!
2. iHeart Guitar Blog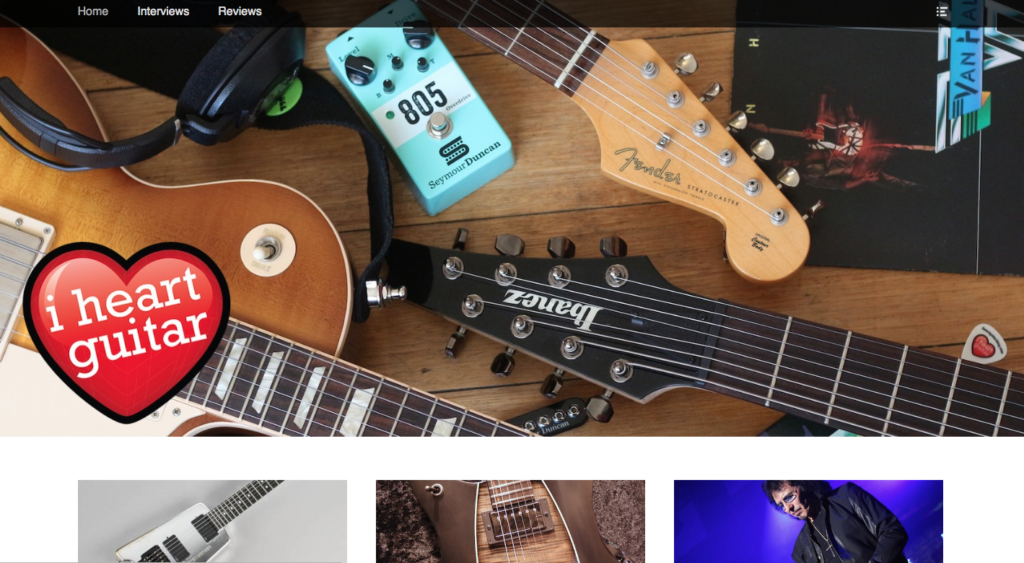 I have a lot of respect for Peter Hodgson, who writes over at iHeart Guitar. He's an industry pro who has written for Gibson, Australian Guitar, Mixdown Magazine and a host of other publications, which means he's got a wealth of knowledge about anything and everything guitar related. This site is packed full of interviews and great gear reviews. Whenever I'm in the market for some new stuff, I check here first to see what he's got to say. Peter also has his finger on the pulse when it comes to rare or new releases. Depending on what you usually follow, this is the content you might not necessarily get via the mainstream so it's definitely worth a look.
3. Ultimate Guitar Tab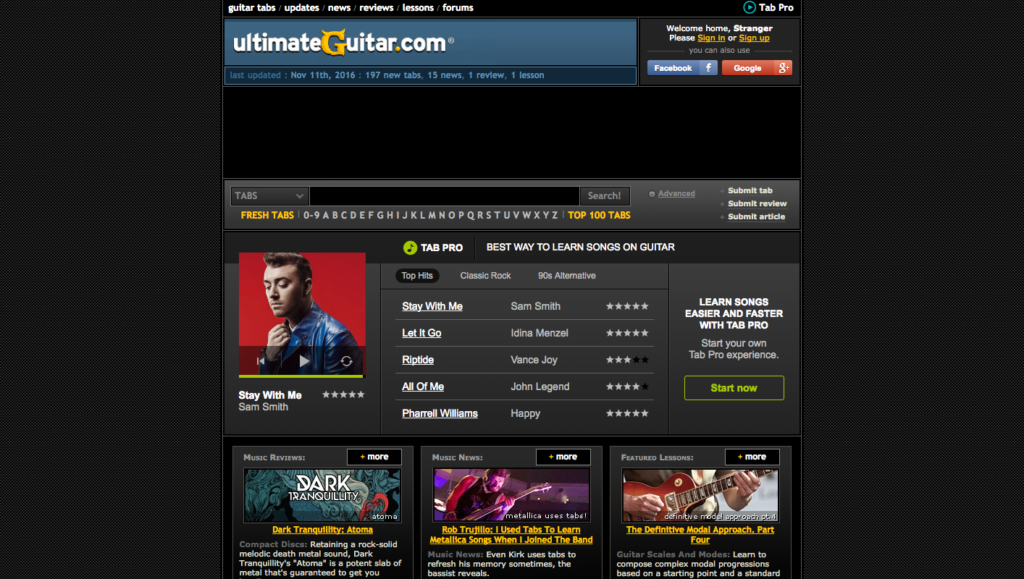 Ultimate Guitar is where I learned to read tab and where I can safely say I learned nearly all of the songs I ever learned prior to figuring things out for myself by ear. But it's not just a website full of guitar tab. It also has a tonne of news, reviews, featured lessons and forums that cover every topic you could think of. If you're not a fan of traditional tablature and you're okay with paying a small fee, there's also a handy Tab Pro feature where you can learn songs with the rhythms provided.
4. Songsterr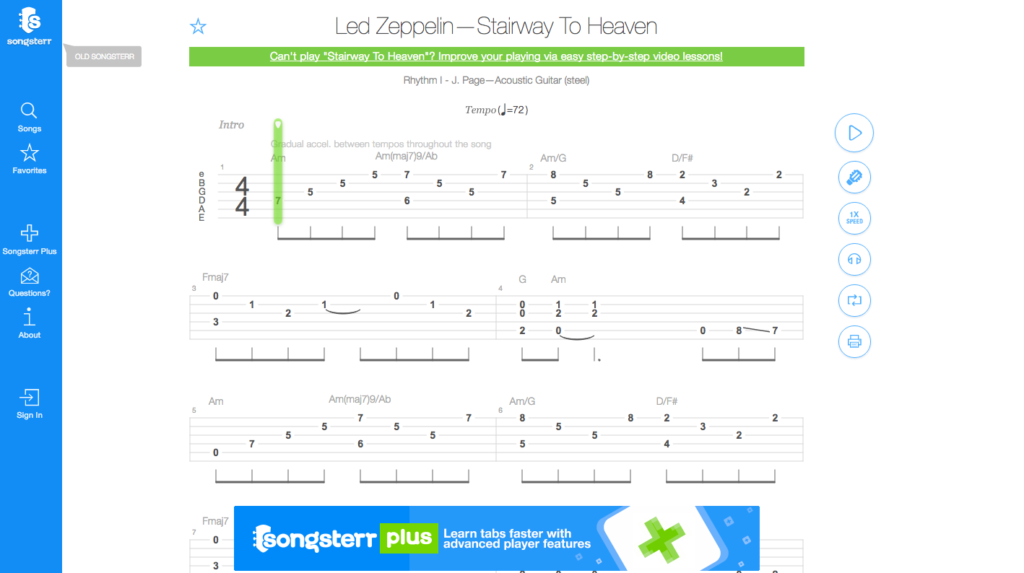 What's that? You don't want to pay for a tab service like Tab Pro but still want tab with rhythms? Lucky for you, Songsterr has you covered. Unfortunately, it doesn't quite have the massive data base of songs as Ultimate Guitar but it still boasts a formidable collection of guitar, bass and drum tabs. Songsterr is an especially good free platform for learning songs
with trickier rhythms because of the free in-built play-along feature. The only down side is that the free version doesn't come with tempo control (among a few other restrictions like screen size and printing). But hey, there's always Songsterr Plus- the paid version. Either way, this is a good site to keep in mind- especially if Ultimate Guitar doesn't have what you need.
5. MusicTheory.Net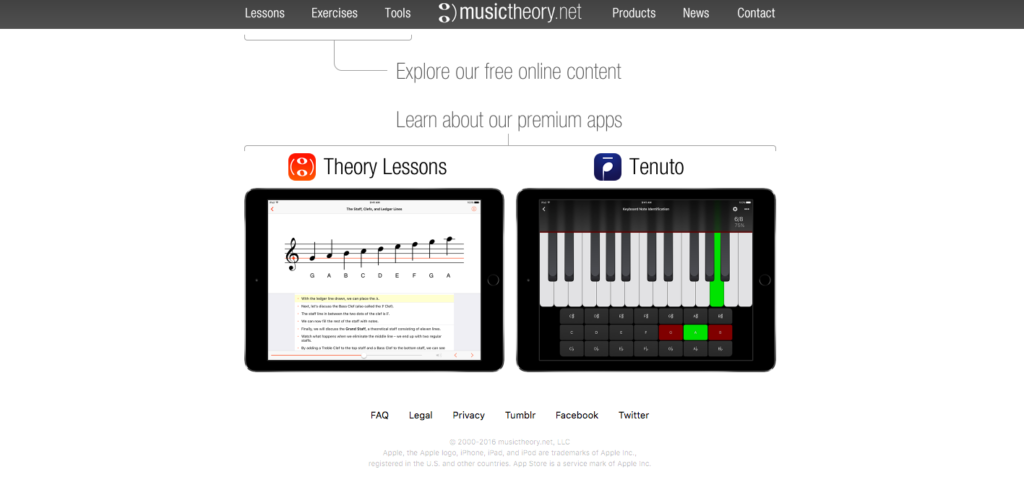 While we're on the subject of tab being confusing- have you ever tried reading notation? The chances are that if you're self-taught (or just have a guitar teacher who doesn't get you reading much), you've probably been tempted to bypass all of the music theory and just go straight to learn the songs you want to play. That's exactly what I did at first too. But if you ever get to a point in your playing where you realise you don't know quite enough to join in on some improvisational stuff with a band, or you're trying to get a solo started but things just aren't clicking, it might be worth going back to basics and learning the theory.
Music Theory.Net has you covered here. It's great if you're just starting out because it lays out the basics and builds up from there. They have a lessons section and then an exercises section where you can test your skills (which can also just be a great refresher if you already know a bit about what you're doing). It's rare for a site this comprehensive to be providing everything for free, so I'd recommend taking advantage of it.
While you're here though, we can't help but suggest a few things if you're learning about music theory. Music theory is a subject that is needlessly complicated when it comes to the guitar. On piano and violin, it's much simpler because sheet music is a lot more straightforward. For guitar though, some notes on a music staff can be played in several places. So even though musictheory.net may help you out when it gets confusing like this, we suggest you start with our 10 part series of music theory articles……
6. ClassicalGuitar.Org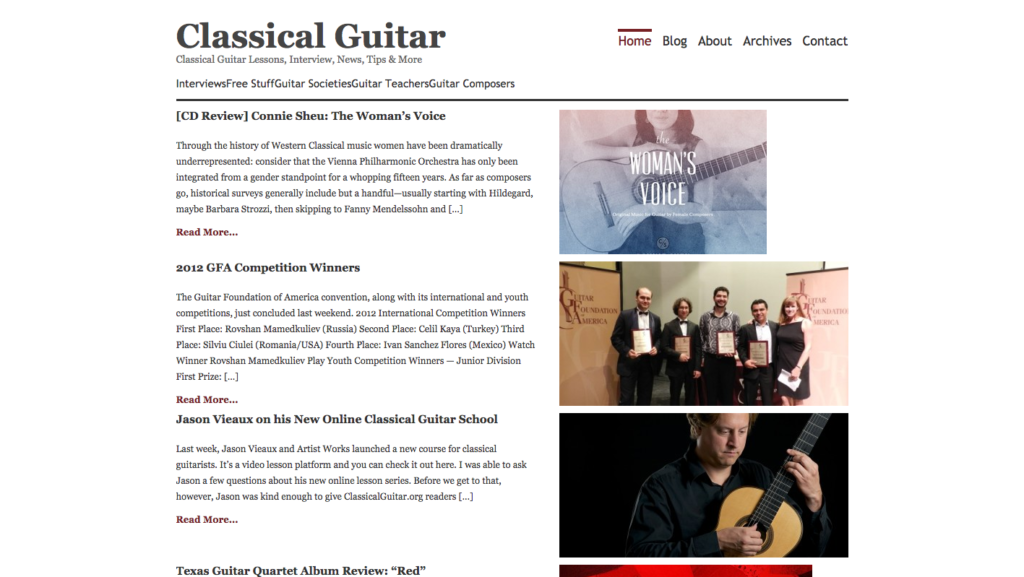 It can be really hard to find decent classical content on the internet without some kind of price tag attached. For casual enthusiasts, the chances are you're not interest in spending on simple exercises and manuscripts. Luckily, Christopher has us covered over at ClassicalGuitar.Org. His free resources are extensive and come in easy PDF formats for you to take what you need. Frankly, I'm still amazed that this is all free- it's great quality. He's also got a range of interviews with some highly skilled classical guitarists, as well as links to guitar societies and teachers in all corners of the world. So this is a really fabulous place to get involved in the classical guitar scene (because why wouldn't you want to do that?)
7. Home Studio Corner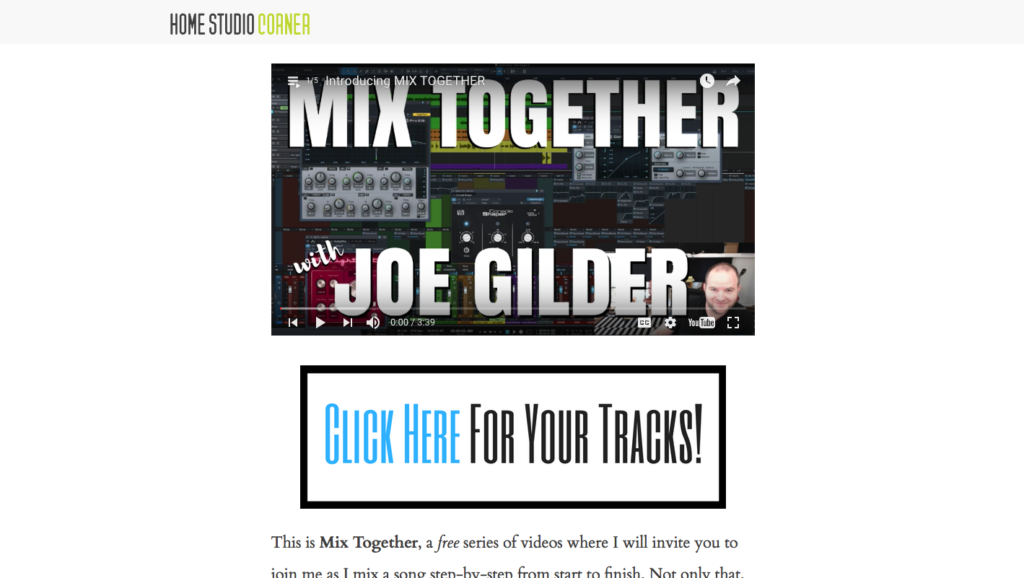 This one's for all the people looking to create their own music who can't afford a pricey studio session. Joe Gilder is a master of the home recording techniques. He talks about editing, mixing, mastering and even gives tips on room treatment (because yes, that is important!). So if you're looking at recording from home, have a look through the archives over at Home Studio Corner first. Joe probably has the answer to a problem you didn't even know you'd be facing yet.
8. Six String Soul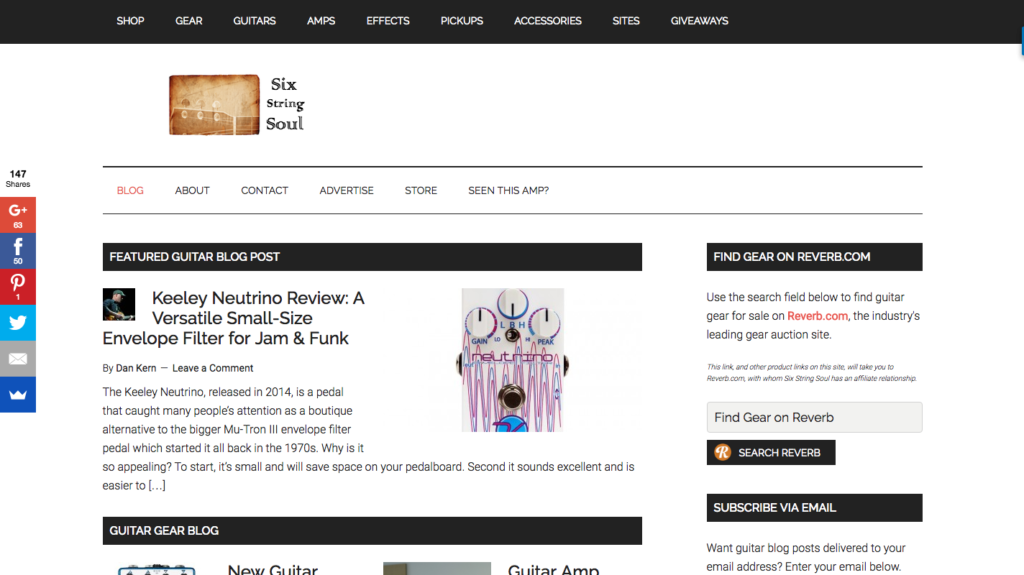 Another fantastically diverse catalogue of guitar gear reviews, equipment features, technique builders, website and forum recommendations and other industry know-how is Six String Soul. Be sure to check out the interview section for some really interesting stuff from popular guitarists and industry pros. The creator is also open to content suggestions, so feel free to get in contact with him if you have any requests.
9. Share My Guitar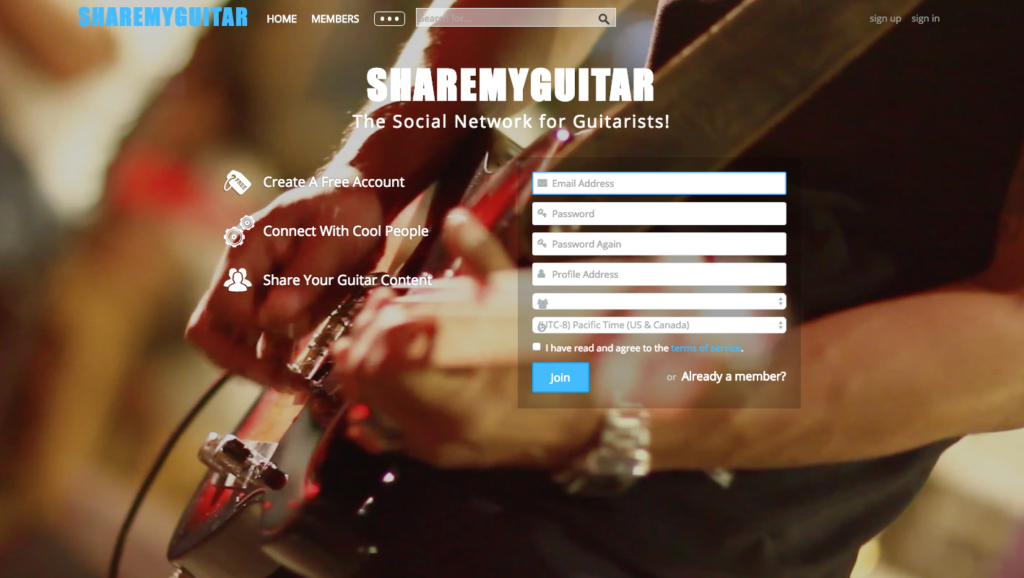 One of the great things about being a guitarist is getting involved with an amazing community of musicians who want to share their skills and experience with you. Share My Guitar is one of many fantastic places that exists for this exact purpose. Product reviews, features, gear recommendations and artist reviews are written by guitarists, for guitarists. They love a chat too, so be sure to leave a few comments!
10. No Treble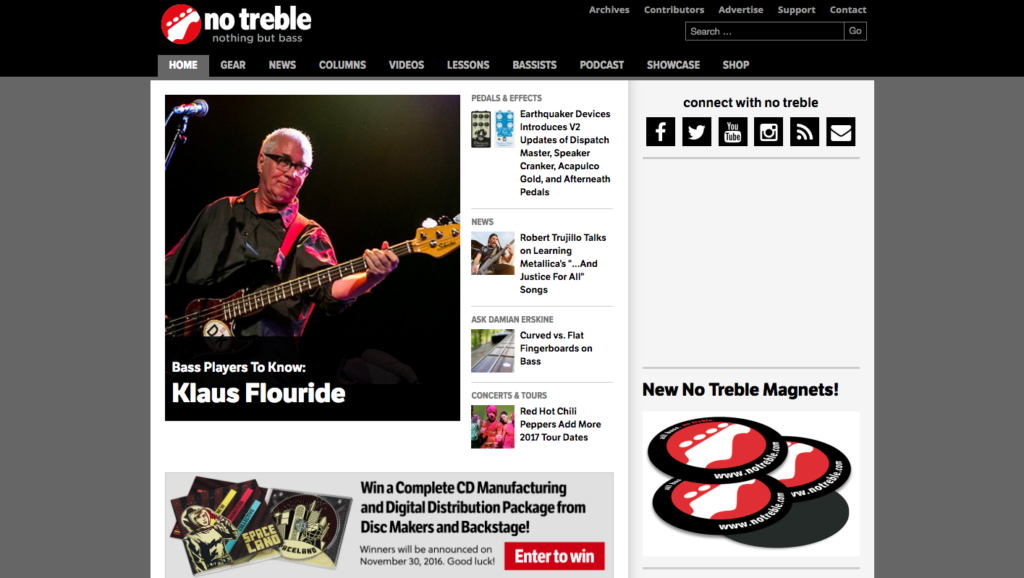 When I included this site on the list, I wasn't sure if I'd get away with recommending a bass – only website to a bunch of guitar enthusiasts. But as someone who has also played bass for many years (and who spent a great amount of time arrogantly convinced it was just a downgraded guitar), I think this is as good a time as any to point out how amazing the bass can be if you take time to explore it. Let's face it, most guitarists have probably picked up a bass from time to time, but have you ever really played a bass?
Diversifying your skills a little bit to include some knowledge of how the bass exists in the scheme of all things music will probably make you a better performer (and definitely a better bandmate). Check out No Treble to see exactly how much this awesome instrument can do. The site frequently updates with stunning performances, podcasts, lessons, interviews and gear reviews for everything bass-related.
New Additions: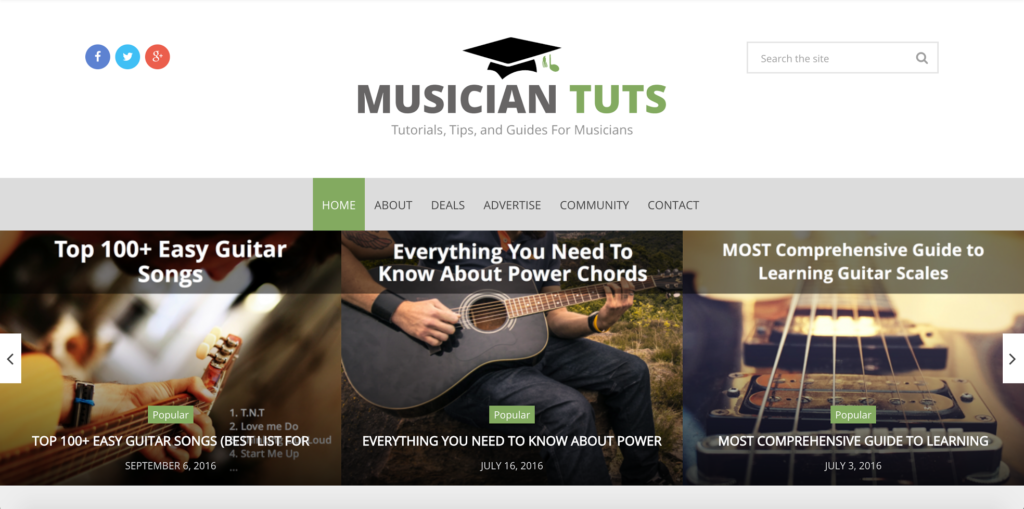 As an addition to this growing list here is another great guitar resource: Musician Tuts is a fast-growing tutorial hub for musicians. Currently mainly focussed towards guitar players, they publish extremely in-depth tutorials, reviews, and guides. They also offer additional bonuses to readers such as a "Deals" page with exclusive discounts, a community site to discuss music-related topics with others and frequently run giveaways. The creator of Musician Tuts is always open to new content ideas or partnerships so don't hesitate to reach out to him if you have something in mind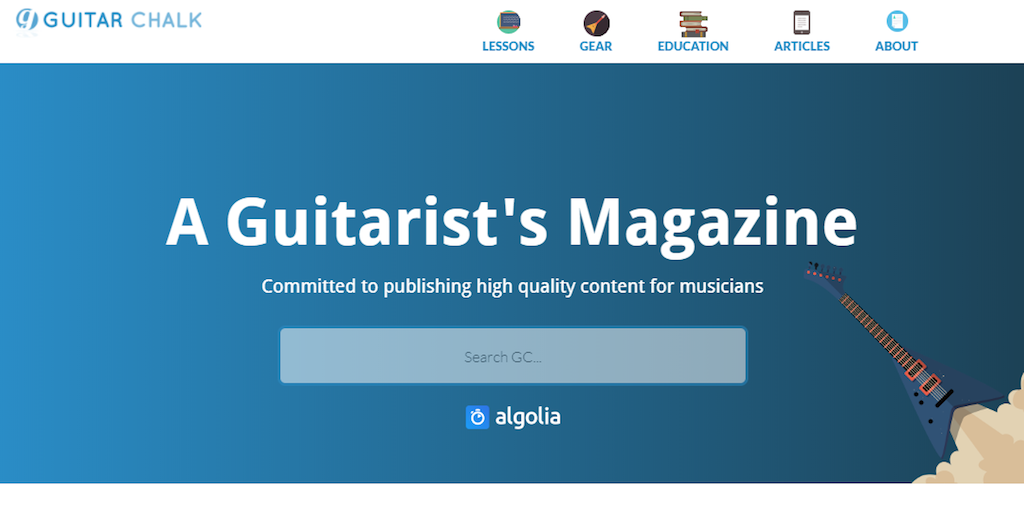 Guitar Chalk is an online magazine that focuses on guitar lesson resources, gear recommendations, and their own educational articles. Content is designed for guitar players, students, and music teachers.
Content is primarily written and developed by Bobby Kittleberger, as well as a slew of professional and amateur contributors, which has included the likes of Linda Taylor from "Whose Line Is It Anyway," Tommy Emmanuel, EMU music professor Mark Whetzel, Guitar Gate's Michael Palmisano and a number of other qualified consultants and guitar-enthusiasts.
In other words, Guitar Chalk's content is not written by marketers, SEOs or internet gurus trying to start an "authority" or affiliate site. It's real advice and thorough ideas, developed by people who actually play guitar in a professional or semi-professional capacity.
And, hey, if you've any suggestions for other music and guitar blogs for us, please share in the comments section below, we would love to know them.
The great thing about you being here is that you're already on a great blog! Uberchord's free content will only help accelerate your learning and playing skills. Take a look around our sight, or check out our topics we've published recently like what key is equivalent to b flat minor, 1-7 progression, and the meludia app.