10 Best Guitar Amps for Beginners | 2016 |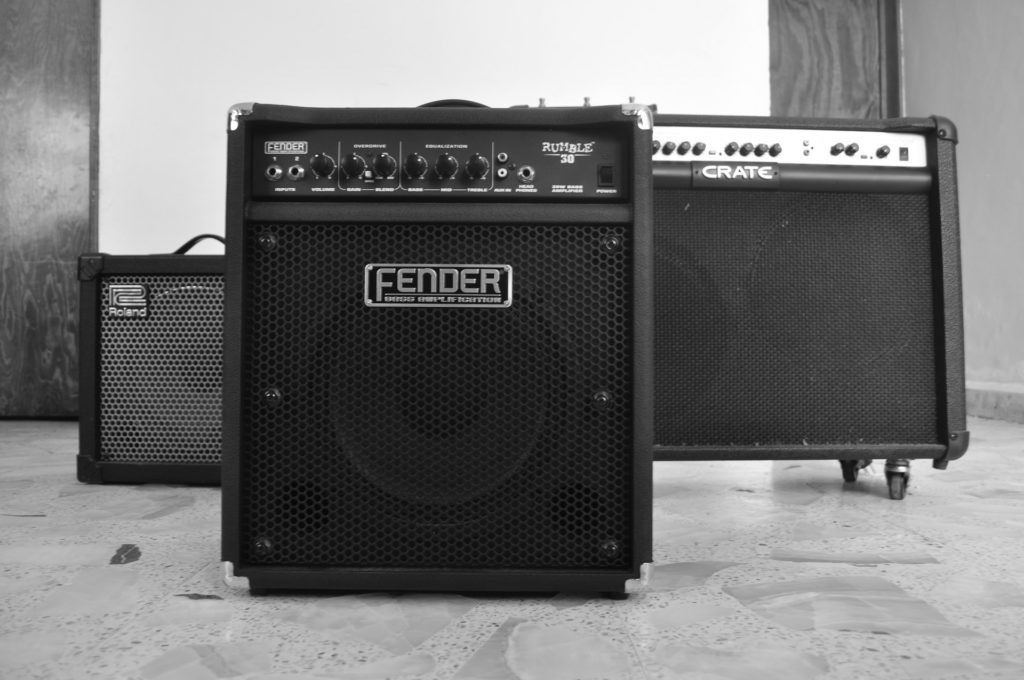 After covering the Top 5 Guitar Plugins You Need To Know and 5 Best Multi Effects for Beginner Guitar Players and 5 Guitar Stomp Box Pedals Every Guitarist Needs let's face it: probably half of our sound comes from our amplifiers. That makes them kind of important… and with so many little things to consider, from size and reliability to power output and built-in effects, you might appreciate some suggestions. So without further ado, here are my Top 10 recommendations (in no particular order) for beginner Guitar Amps to get you started.
1. Blackstar ID:Core Stereo 20
Particularly if you want to get into recording and production, this Blackstar model is ideal. With six distinct "voices" from Clean Warm to OD2, as well as 12 stereo effects, there is a huge range of tones and options to play with. Together with the patented ISF control it allows for a nuanced choice of timbres, allowing you to immerse into exactly the sound you are after in gloriously deep Super Wide Stereo.
Other standard features include a tuner, headphone output, aux input and a memory bank to store your favourite sounds. And: it comes with the excellent Insider software. Simply connect it to your Mac or PC to start recording, looping and manipulating your creations and sharing them online!
2. Marshall MG30CFX
Most guitarists like a bit of rock, which is why most guitarist should have a Marshall knocking about somewhere…
The MG30 is a good place to start. A reliable and lightweight transistor amp, loud enough for jamming and with straight-forward features, it's especially good for beginners to understand how amps work (e.g. figuring out what the "mids" are on the EQ). Along with a headphones output and aux input (to play along to songs) it also has a useful effects bank with a choice of chorus, phase, flanger or delay, plus two types of reverb!
Add to that four channels (Clean, Crunch, OD1 and OD2), an inbuilt tuner and optional footswitch… what more can you want? Oh, and a really nice classic Marshall roar!
3. Line6 Spider IV
Having perfected the modelling amp concept, Line 6 have become experts at delivering a huge variety of great sounds in a convenient, affordable package. Experiment with 12 different amp models, from classic 1960s Fender tone to the "Insane Red", inspired by the mental Mesa/Boogie Dual Rectifier, and sculpt your tone further with the seven built-in effects.
The 30 watts of Celestion speakers produce a powerful sound, loud enough for band practice and even small venues. And at only 200€, you'll get a lot of amp for not much money.
4. Roland Cube Street EX
Fancy doing some busking, or a no-frills gig at an outdoors picnic? The Roland Cube Street EX not only comes with 15 hours battery life, but also has multiple inputs for playing guitar plus other instrument/vocals, each with its independent channel!
While both channels have an EQ, gain settings and simple reverb/delay options, the guitar channel has more effects and a choice of 8 different amp models. It doubles as practice amp, convenient gig tool as well as super powerful portable speakers for outdoor partying. It will even find use as a wedge monitor.
With its lightweight (<6kg) and robust construction, it has become the standard among battery-powered amps; and if 5 watts is not enough, there's always the older brother with 50 watts.
5. Vox Valvetronix VT20+
Tube or solid-state? One has the nice warm vintage tone, but the other is just so much simpler and free of hassle. Vox make one of the best hybrid amps, which heats up your guitar signal with a proper 12AX7 tube in the preamp before it becomes amplified by conventional transistors to deliver up to 30 Watts. A warm tone with smooth overdrive, but without the aggravation.
It has tons of effects: 33 amp presets, 33 song presets modelled on the most iconic tunes, and if that weren't enough, you still have 11 pedal effects, 11 modulation types and 3 reverbs (all on independent controls), to really get stuck in and sculpt your own sound. Save it for later on the memory bank.
With so many options and a real valve sound, this is the perfect first "tube" amp before moving on to an AC30.
6. DV Mark Little Jazz
For those who are after a clean sound, either for shimmering chord work, Jazz improv or even stuff like funk and blues, Italian manufacturer DV Mark make an amazing amp which packs a lot of power into a tiny package.
This amazing amp is so small it would fit into a budget airline's hand luggage, and yet produces 45 solid state watts in a surprisingly rich and spacious sound. Simple features include a three-band EQ, Reverb and Volume, as well as outputs for headphone, XLR and external cab.
If you need a loud and great-sounding amp but don't fancy the idea of lugging a huge heavy box around, look no further.
7. Yamaha THR10
Perhaps an entirely new category, this is what might be called a "office amp": it was designed as a smart and high-quality amp for living room situations, combining a wonderful tube tone with clean aesthetics for you to practice and play without annoying anyone.
From Clean to Modern, chose from 8 amp settings, four modulation effects and four delay/reverb effects, with tap tempo. Its Hi-Fi sound can be sculpted by a three-band EQ, giving it a lovely spacious sound distribution; and special off-stage circuit gives it excellent overdrive qualities even at low, discreet volumes. Finally, its sleek designer looks will fit into any living space, especially with its soft tube glow.
8. Orange Tiny Terror

If you want something a bit more serious, check out the Orange Tiny Terror. This is an amp head, you will need a speaker cabinet to go with it; but it's worth it for the complex and rich tube sound.
There are no frills: a single channel controlled with a Volume, Tone and Gain knob. You can switch between 15 and 7 watts, and don't forget that for an all-tube amp, that is a lot of volume! While not having effects may sound like a bummer, the stripped-down circuitry helps your guitar signal to maintain its purest tone. Simple, raw and with attitude, cool looks and a mere 5.5kg; be prepared to rattle your brain with an authentic "British" sound.
9. Fender Pro Junior III   
Fender has a reputation for amps just as much as for guitars; and for their famous tone, the Pro Junior III is a great place to start.
Particularly suited to clean tones, bluesy chords or a warm crunch at higher volumes, this is a simple 15 watt combo which is a delight for home, studio or small gig settings. It's a reliable little amp with a dynamic, sensitive feel to let you hear every nuance and also improve your playing.
It's as simple as it gets: On/Off, Tone and a "clean-to-drive" Volume switch that becomes dirtier at higher volumes. Anything else you will need stomp-boxes, which this amp pairs well with thanks to its no-frills concept. Just do yourself the favour and invest in high-end pedals – otherwise you will ruin the amp's exquisite tone with unsuitable digital effects.
10. Vox amPlug 2
Batteries – remember them? You'll need some for this, because it's a headphone amp! Ok, it's a bit of a wildcard, but it has the triple advantage of 1) fitting in your pocket or guitar case, 2) you can play without annoying your relatives/neighbours late at night and 3) it won't cost a fortune.
It has up to 15 hours battery life (with two AAA batteries). Simply plug it into the guitar jack, stick in your headphones and use it like a normal amp. It has knobs for Gain, Tone and Volume – and even has an aux input so that you can jam along to your favourite tunes from your iPod.
Vox makes three different ones, each with unique gain types (AC, Classic and Metal). So next time you go travelling, why not take your electric along?
Obviously it's always best to test them out in your local music shop – depending on who works there you might even get some great advice. If you have any recommendations for me, please leave a comment below.